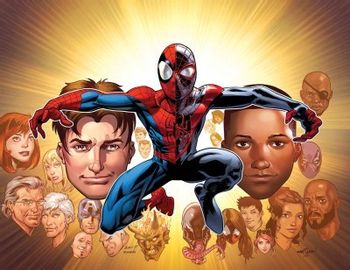 Mark Raxton
: Man...what's so special about this Peter Parker?
Mary Jane Watson
: Everything.
— Issue 78
Ultimate Spider-Man, part of the Ultimate Marvel line, is a retelling of the original Spider-Man comic written by Brian Michael Bendis and drawn, originally, by Mark Bagley and later by Stuart Immonen. The Bendis and Bagley collaboration, which lasted for 111 issues, holds the record for longest Comic Book Run on a Marvel Comics series by two people, breaking the record set by Stan Lee and Jack Kirby on Fantastic Four.
Issue #1 was published in 2000, and it proved to be the first title in Ultimate Marvel and the most famous and influential title in that label. It provided a Setting Update to Peter's high-school and teenage era and origins from the early '60s to the late '90s. Peter gets bitten by a genetically altered spider developed by Oscorp, and his classic villains have a set of powers and skills that are slightly different from how readers expect them to be. But fundamentally Peter is motivated by the guilt of his Uncle's death, by the idea that "With Great Power Comes Great Responsibility" and as the series evolves he comes to be the moral and emotional center of the entire Ultimate Marvel universe, and a Hope Bringer for his friends, loved ones, and allies.
After a six-month Time Skip following Ultimatum, the series was re-launched as Ultimate Comics: Spider-Man until the comic reached its 150th issue (counting both pre- and post-Ultimatum issues) and returned to its original numbering and naming format for 10 issues. The series ended with issue 160, followed by the miniseries Ultimate Fallout. A third volume came out with a new character Miles Morales and the title Ultimate Comics: Spider-Man, Volume 2 or Ultimate Comics: All-New Spider-Man with new numbering. In 2012, as part of the 50th anniversary of Spider-Man titles, the first 616 and Ultimate Universe crossover, Spider-Men was launched, which saw the 616 Peter arrive into the ultimate universe and meet Miles. In 2014, The fourth and final volume, called Miles Morales: Ultimate Spider-Man, began in the wake of the Cataclysm Crisis Crossover. This title ended with #12 and led into Secret Wars (2015) at the end of which Miles Morales was imported directly into the main 616 Continuity, as a part of the All-New, All-Different Marvel line-up, not only starring in All-New All-Different Avengers, but also starring in Spider-Man, written by Bendis with Miles as the main Spider-Man with the original Peter Parker serving as a mentor for the younger web-slinger. The crossover Spider-Men II provided a coda for Ultimate Spider-Man and Ultimate Marvel.
There's also the 2005 tie-in game, which introduced Ultimate Beetle and was marketed as being in continuity with the series but this has since been the subject of Canon Discontinuity. A version of the game's plot and events was adapted between USM #123-128 ("War of the Symbiotes"). And on the subject of video games, Ultimate Spidey also made an appearance in 2010's Spider-Man: Shattered Dimensions as one of the four playable characters (on home consoles). Not to be confused with the Ultimate Spider-Man animated show, which is In Name Only, has a different premise; though as with most Marvel adaptions it does have some Ultimate Universe elements incorporated into it.
Please Note: Due to the comic changing main characters at the end of Volume 2, tropes for the first two volumes of the title are separate from tropes for the third volume. As such, all tropes relating to Miles Morales will be collected under the tropes for Volumes 3 & 4.
---
Ultimate Spider-Man provide examples of the following tropes:
open/close all folders
Volumes 1 & 2
Volumes 3 & 4
---