This page contains unmarked spoilers for The Amazing Spider-Man Issue #700, and the story arc as a whole. You Have Been Warned.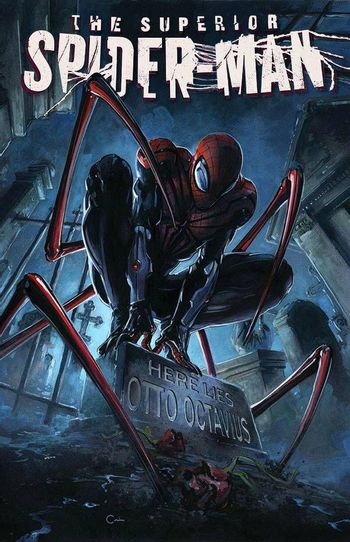 "I've come to say goodbye to my old life. A life wasted on villainy and failed schemes. A man whose sole victory was cheating death... by switching places with his greatest enemy. Farewell, 'Otto Octavius.' From now on, my name is Peter Parker. And from this point on... I am Spider-Man."
Part of Marvel Comics' Marvel NOW! initiative, Superior Spider-Man is a Spider-Man series released in January 2013, taking the place of Amazing Spider-Man. After the events of the 700th and final issue of the original volume of Amazing Spider-Man, Peter Parker and Dr. Octopus have switched bodies and Peter dies in the body of Dr Otto Octavius, but not before forcing him to relive Peter's life and force a Heel–Face Turn. Now there's a new Spider-Man in town - smarter, stronger, and SUPERIOR.
The title ended in April of 2014, after which Peter Parker retakes his body and resumes his normal operations to a degree in a new The Amazing Spider-Man title, just in time for The Amazing Spider-Man 2, however, two more issues are released in August and September taking place in a time travel interval during issue #19, setting the stage for Spider-Verse in which Otto plays a significant part.
In September of 2018, it was revealed that the title will be relaunched in the aftermath of the Spider-Geddon event, where Otto's friendship with the Peter Parker of Spider-Man (PS4) inspired him to become a hero again.
This was loosely adapted into the "Superior Spider-Man" arc in Marvel's Spider-Man.
open/close all folders
Storylines
All storylines are written by Dan Slott.
Troubled Mind (No. 7-9) - Octavius has a lot of problems on his mind: the Avengers are worried about their friend Spider-Man, Cardiac is on the move again and, oh, yeah, Ghost-Peter is active in his mind. Time to clear his head of those problems.
No Escape (No. 11-13 — with Christos Gage) - Alistaire Smythe, the Spider-Slayer, is set to be executed for causing the death of Mayor Jameson's wife Marla. However, the madman isn't ready to go just yet and to stop him, Otto'll need to pull some smooth moves.
Run, Goblin, Run (No. 15-16) - Phil Urich, the Hobgoblin, is back in town and Otto's actions are set to make him a deadlier foe.
Necessary Evil (No. 17-19) - Miguel O'Hara, Spider-Man 2099, is sent back into the past to save his timeline. Will Otto's actions save him or will it send the Marvel Universe into a darker path?
Darkest Hours (No. 22-25 — with Christos Gage) - Flash Thompson, Agent Venom, is back in New York. However, no one told Otto that Flash is on the side of the angels, and he sees something even better with the Venom Symbiote. Something... superior.
Goblin Nation (No. 26-31, including prelude chapter) - The Green Goblin's army rises to claim New York City as its own. With New York hating Spider-Man for his recent actions, Otto can only watch as everything he's built is torn down. There's only one man who can stop this madness, and he's simply Amazing.
Edge of Spider-Verse (No. 32-33) - The untold story of Otto's missing time during Necessary Evil. Flung into the distant future of 2099, Otto discovers that a new threat is attacking Spider-Men across the multiverse. Can he and a ragtag group of web-slingers save the day?
---
Tropes pertaining the Superior Spider-Man series:
2013 Run
2018 Run
---