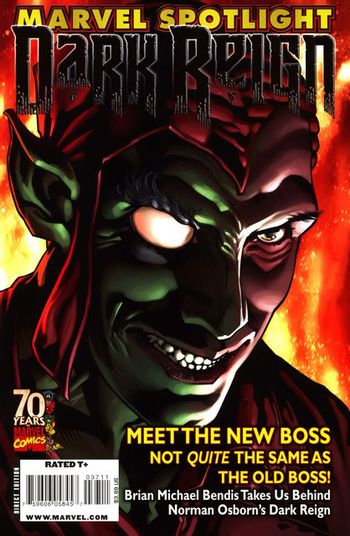 Marvel Comics' non-Crossover (read: a verse-wide storyline described by Joe Quesada as "it's not a crossover, just what's happening in the Marvel Universe") which follows the aftermath of Secret Invasion (2008). It's a Crisis Crossover-sized event, but is not a crossover in the common meaning of the word - comics were not tied to a strict plot, but were showing multiple heroes dealing with a Villain with Good Publicity becoming one of the most powerful men in the United States.
After Secret Invasion (2008), the general public blames Iron Man, then director of S.H.I.E.L.D., for not preventing the Alien Invasion. Meanwhile, Spider-Man's Arch-Enemy Norman Osborn, leader of the Thunderbolts, gains himself some huge points in the battle of public opinion, as news networks featured him being a leader in the fight against the Skrulls, and eventually ending the entire conflict by blowing the head off the Skrull queen before any of the assembled heroes could kill her. This televised act of heroism (which may have been staged, depending on whether you believe Deadpool or not) led The President to dismiss Stark and replace him with Osborn. Norman, very happy with how things went, quickly replaced S.H.I.E.L.D. with his own organization, H.A.M.M.E.R., and formed the Cabal — an alliance between him, Emma Frost, Namor, Loki, The Hood, and Doctor Doom. He also creates his own, twisted version of The Avengers — Dark Avengers, with most of the team members being supervillains in heroes' costumes led by Osborn himself in an Iron Man armor with a Red, White and Blue paint job, under the name of "Iron Patriot". At the same time, he sets up a plan to replace and kill half of his former Thunderbolts teammates, as they might have information that would make him look less appealing to the public at large (the other half joined the Dark Avengers). His allies from The Cabal are plotting against him, many heroes and a few villains want to get rid of him, but Osborn doesn't seem to care — he has a mysterious ally, somebody who can instill fear even in his fellow members of The Cabal.
Dark Reign spawned several tie-ins, but some plot points are also being resolved in titles not officially marked as such. Due to this, fans still consider everything which deals with Norman or any other member of Cabal as a part of the event.
Dark Reign started right after Secret Invasion (2008) and lasted a year before the Grand Finale four-part event Siege. It's followed by Heroic Age.
Has nothing to do with the Dark Reign game series.
open/close all folders
Ongoing titles
Limited series
Limited series
Dark Reign: Elektra
Dark Reign: Fantastic Four
Dark Reign: Hawkeye
Dark Reign: Lethal Legion
Dark Reign: Mister Negative
Dark Reign: The Hood
Dark Reign: The List
Dark Reign: The Sinister Spider-Man
Dark Reign: Young Avengers
Dark Reign: Zodiac
Dark X-Men: The Beginning & Dark X-Men
Doctor Voodoo: Avenger of the Supernatural
New Avengers: The Reunion
Skrull Kill Krew
Timestorm 2009–2099
The Torch
<!—/index—>
---
Tropes:
Darkest Hour: This was the Darkest Hour of the Marvel Universe: Osborn was in control and the superhero community was either still too divided from Civil War (2006) to effectively counter Osborn, recovering from being kidnapped by the Skrulls, or actively on the run from Osborn. Additionally, most of its traditional leadership was unavailable: Thor was dealing with being exiled from Asgard, Iron Man was on the run and wracked with guilt over his actions, and Captain America was dead.
Power Fantasy: Right after the first Cabal meeting, Doom imagines how he will overthrow Osborn, kill Namor and Hood and turn Emma and Loki into his slaves.

Namor: Sometimes I wonder what's up in that head of yours.
[Doom imagines himself killing Namor]
Doom: Doom. Always Doom.

Power of Trust: Inverted - people's lack of trust in Pym gave Chthon more power.
Redemption Equals Death:

Ares and Loki, who betray Osborn only for both of them to be killed by the Void.

Reed Richards Is Useless: And after Secret Invasion (2008), he got tired of it, went to look for an Alternate Universe where he wasn't, and it inspired him to start working to solve everything. Unfortunately, this is still making him useless in a sense, as while he's busy with this, the rest of the team is having to deal with Osborn.
Roaring Rampage of Revenge:

Subverted -

Kelda

started to go on one after

Bill

's death, only to be not quite killed by Doom, without doing any harm.
Played straight with Tigra. After what The Hood did to her, she's pissed, and wastes no time starting to hand out the torture to the minions who assisted or were there to witness.

Self-Made Orphan: Bullseye, who claims to have killed both of his parents Double Subverted when his father appears only to be murdered by Lester.
Ship Sinking: Mockingbird, the old love of Hawkeye has returned. The one who died many years ago was a Skrull. But then it was revealed that

when she declined her idea of asking for a divorce, she had already been replaced. Mockingbird has returned... but she's not married to Hawkeye.

Shut Up, Hannibal!: As expected, Spider-Man gets the final one on Osborn.
Sixth Ranger: Dracula wanted to become one for Cabal and his plan to conquer England was supposed to give him necessary position.
Smug Snake: Osborn himself is this. Though he's the head of H.A.M.M.E.R. and considered the main threat by the superhero community, his interactions with the rest of the Cabal has him attempt to deal those above his usual weight class.
So Proud of You: When Phobos managed to trick Osborn and then used his powers to scare the hell out of him, Ares was smiling proudly.
Social Media Before Reason: The Corruptor took over Captain America's mind, ordered him to kill Steve Rogers, and attempted to film it with his cell phone. Rogers manages to deflect the bullet, wich ricochets and get to the Corruptor's cell phone. He gets electrocuted as a result.
Straw Feminist: Boudica, Lyra's AI sidekick was programmed as one.
Strong as They Need to Be: Pretty much entire point of problems with Sentry.
Sympathy for the Devil: At the end of Siege, Dark Avengers, and the Reign itself, Norman makes his disgust for the insane, unstable world he wanted to help known, fears and anxieties that are surprisingly valid and human.

Though they are undermined by the fact that he is Norman Osborn, and is not exactly the person who should be complaining about other people being unstable or insane. Especially after this storyline, where his Character Arc consisted of one long Villainous Breakdown brought on by his denial about how he is, at the end of the day, a psychopathic supervillain, and one who is mentally ill on top of that.
The intended subversion is driven home by the fact that some of the things Norman says he fears are things he made worse for his own gain. For example, he worries that the Hulk will kill everyone, but it was Norman himself who turned Bruce Banner back into the Hulk so that Bruce would be too distracted to oppose him. Similarly, his fears about "the mutants" are rather undermined by his recruiting some of the most dangerous and amoral mutants for his "Dark X-Men." And then there's Norman deliberately putting the Void personality back in charge of the Sentry because it's more convenient for him.

Take That!:

The books read like a snub to all of the readers who thought the Stark Administration was evil.
One of the last pages of Siege shows the skyline of New York, as a digitally written "

Superhero Registration Act thrown out

" scrolls on a building. It almost seems the panel originally had confetti in it, really. Just add confetti and you'll have evidence that most of the writers had really had enough of the bucketload of crap Joe Quesada has put the Marvel Universe through. But since Quesada (as you can see in his comments about Siege in the pages of the miniseries itself) was so proud of the whole epic saga made up of the various Story Arcs (Avengers Disassembled, Civil War — and by extension, given it was exactly what Quesada was aiming at, One More Day — Secret Invasion and now this), maybe he himself demanded the confetti to be removed.

Tangled Family Tree: Considering Ultron originally created Jocasta to be his bride, the fact that they finally marry (albeit a "political marriage", as she still really hates him) isn't too bad. Then you remember that Jocasta's brain is based off his "mother". And that he created her, making himself her "father" in a sense. And she was dating his "father" at the time... who was her brain-source's ex-husband. Jesus Christ, this family.
Teeth-Clenched Teamwork: The Cabal. Though Osborn is the man in charge, he's having a hard time keeping his fellow members in check. Namor and Emma Frost turn on him, Doom has nothing but contempt for Osborn and betrays him as well at the start of Siege, his partnership with the Hood is tenuous at best, and Loki sees him as nothing more than a self-absorbed pawn for his own schemes.
There Is No Kill Like Overkill

War Machine provides the trope page's image.
Norman Osborn has the death of Punisher in his "To do" list. Hammer locates the abandoned warehouse where he has set his base. A tecnician proposed to deploy forces around it, to cover all exits and surround him. Norman refused the idea, that's a waste of time. It's just a man in a truck. You simply have to load the torpedos, aim to the whole port area, fire, and watch it all blow up.

as you may suspect, it was not enough

Unwitting Pawn: After pulling off a major Gambit Roulette in Secret Invasion (2008), this quickly becomes Norman Osborn's role over the course of the storyline, as every other member of the Cabal betrays him for their own purposes by the end. It's rather strongly foreshadowed from the beginning, though, and doesn't really lead to Villain Decay since, as a Spidey villain, even though he's totally out of his league he's still punching above his weight.
Use Their Own Weapon Against Them: Elektra has a rematch with Bullseye in the fourth issue of her tie-in book. He tries to replicate the outcome of their original battle by stabbing her with her own sai, only for her to take one of his arrows and stab him with it.
This Is for Emphasis, Bitch!: Pym's reaction when Reed Richards said he knows more about Pym Particles than Hank.
Too Dumb to Live: The whole premise of Dark Reign is the United States government giving Norman Osborn, who is known to have been the Green Goblin, authority over superhuman affairs, who in turn demonizes and makes outlaws of the superhero community save the Fantastic Four. While the government's stupidity could be accepted, the fact is that the American public actually embraced Osborn and joined in the demonizing of the superheroes. It really makes one wonder why the heroes don't just let Galactus eat the planet.
Took a Level in Badass:

Brother Voodoo. Rhodey did as well for a while. Becoming a walking, talking instrument of War that could add any arsenal to his body and unleash new levels of destruction, impressing even Ares and earning the title Champion of War.
Osborn doing this is the premise of the series; it's also his second in just over a decade, the first being when he came Back from the Dead and, firmly established himself once and for all as Spider-Man's Arch-Enemy, as well as becoming a purer and more powerful Corrupt Corporate Executive than he was in the 60's and 70's.

Tyrant Takes the Helm: Norman stars in this story arc. Also, thanks to him, Henry Gyrich has one with S.W.O.R.D., and Taskmaster and Hood with The Initiative. But considering the wild parties he likes to throw and all, Taskmaster's story is perhaps more Bait-and-Switch Tyrant.

It's worth nothing that Gyrich managed then to be pain even in Osborn's butt, making him possibly biggest tyrant of them all.
---