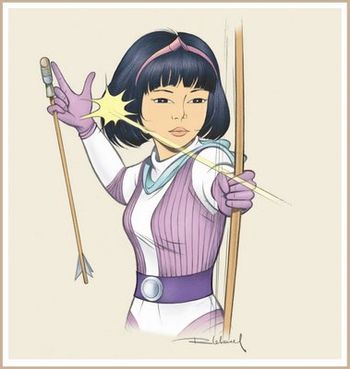 Yoko Tsuno (1970-) is a French-Belgian comic book series by Roger Leloup. The title character is a young Japanese woman of multiple talents, initially trained as an electrician but also skilled in airplane piloting, martial arts (karate, aikido, kyudo), computer programming, etc. She's fluent in many foreign languages: English (required learning in technology fields), French (she's living there...), German (...or close by), Cantonese (her grandmother was from there) and more (most, through sleep learning improved by future technologies). Her adventures usually involve scientific or technological elements, and regularly go into outright Science Fiction, with the recurring presence of a humanoid alien race, the Vineans.
Her sidekicks are two Westerners, Vic Video and Pol Pitron, and she is the adoptive mother of a Chinese girl, Morning Dew.
A novel, L'écume de l'aube (The Foam of the Dawn), tells the story of Yoko's childhood, her family, friends and relationships up to her first adventure outside Japan. The main story arc is about the the Foam of the Dawn, a diamond-colored pearl envisioned by Yoko's grandfather. He tried to create the pearl all his life, but never succeeded and as a result, his cultured pearl business failed and his family was nearly torn apart. Yoko believed in him and convinced him to try one more time.
The books are being translated in English by Cinebook. The first translations were done out of order (e.g. beginning with On the Edge of Life, which was the seventh book in the series), but the more recent ones (starting with The Curious Trio) follow the original order.
---
Yoko Tsuno contains examples of:
Aborted Arc:

Khany stated that 13 ships left Vinea when the planet was endangered 2 millions years ago. So far, the fate of only two ships have been revealed (including Khany's). Leloup says he's no longer interested in pursuing the other ships' fate as he feels he'll just be repeating the same story over and over.
At the beginning of Kifa's Exiles,

Queen Hegora

asks Yoko to ask a new program for

her

from Gobol that would allow

her

to become Yoko's friend. No mention of this is ever made again.

AB Negative: Ingrid has a rare blood type which is

the same as Magda. This kicks off the plot to save the little girl.

The Ace: Yoko has a long and impressive list of skills she excels in: martial arts, fluent in many languages, pilot of several types of aircraft. Her profession is in electronics, but she has taken computer programming. She works for a TV studio, but has also worked as a secretary and a model. And that's not even counting her mastery of Vinean vehicles and technologies, nor her experience in time traveling.
Action Girl: Yoko is a skilled martial artist and (later) equally skilled pilot and does not hesitate to jump into action whenever it presents itself.
Action Mom: Yoko becomes this after adopting Morning Dew.
After the End: Monya comes from a post-apocalyptic future in which the use of an antimatter weapon called the Contraction Bomb has rendered Earth uninhabitable. In fact, she travels back in time precisely to prevent that weapon being invented.
A.I. Is a Crapshoot:

In Curious Trio,

the accumulation of residual energy from the Vineans' computer system

gave rise to the spontaneous development of an evil AI.
Inverted in The Three Suns of Vinea, where the despotic AI ruling the entire planet Vinea turns out to be

a living brain's pattern that got stuck in a mental amplifier after its owner died and has been kept running for millenia

.

Queen Hegora

is another example. She's an android created to be a leader and a mother to a generation of Vinean children. She became a dictator.
Averted with Akar and Akina.

Aliens Are Bastards:

In the Dark Ages, one small faction of Vineans used humans as slaves.
Karpan wasn't the only human-hating Vinean. In Khany's Secret, there are several other Vineans who share his views and are quietly hiding their true nature, waiting for the right time to strike and take over the Earth.

Almighty Janitor: Aoki may be a simple gardener, but he's also a WWII veteran pilot. He's trained in ninjitsu and other martial arts. He taught everything he knows to Yoko.
Ambiguously Bi: Yoko has a lot of female friends, with whom she shares a very close bond (especially Khany and Ingrid). But she also is in some sort of relationship with Vic, and has shown attraction to a male Vinean once

revealed to be an android

.
Ambiguously Brown: Monya. She conveniently passes for Malaysian, but she isn't.
Anachronism Stew: A bunch of pteranodons showed up in The Morning of the World during a Stable Time Loop. No explanations were ever provided to why and how they existed... in 1350 AD!
An Aesop: The Titans is full of this:

You should not judge someone by his appearance.
The weak must not be culled from the strong.
Everyone is precious no matter how beneath they may seem.
Beings from different species must work together to create a world where they can all live in peace.

Apocalypse How:

Vinea

in the past went through a Planetary/Total extinction apocalypse. Most of the stories about

Vinea

involve picking up the pieces.
Class 6 in Earth's case. In the far future, Earth is rendered lifeless because of an antimatter bomb dropped by a warring faction. It destroyed the Earth's crust over 40 km, causing magma to spill all over the planet and melting entire continents. Yoko and Monya travel back in time to Set Right What Once Went Wrong.

Arbitrary Skepticism: Vic doesn't believe Monya is a time traveller from the future. And that's coming from a guy who met two different species of aliens and travelled to another galaxy more than once.
Arms Dealer: Both Kazuky and Sakamoto. Kazuky is more of the corporate type, while Sakamoto is more of the smuggler type.
Artificial Limbs:

The Vineans use them as replacements for lost limbs.
All Titans (big sentient insectoids) have cybernetics and equipment grafted to their bodies.

Art Evolution: In the first few albums the characters are drawn much more cartoonishly, which is particularly evident with Pol and Poky.

Actually, Pol was the last to change, while Yoko and Vic get an overhaul rather early in the comics.
It changes again in The Astrologer of Bruges where Yoko is noticeably older.
Characters tend to be less detailed in the later books.

Author Avatar: Leloup said that Yoko is a stand-in for him, as she gets to do stuff he always wanted to do, especially flying various aircraft.
Awesome, but Impractical:

When visiting the planet of Ixo, a team of Vineans deploy a vehicle that uses an energy beam to reshape the terrain so it will facilitate the passing of other ground vehicles. It's multi-crewed and the process is slow. Khany calls it a waste of time and energy. She and Yoko simply use air vehicles to fly ahead.
The Vineans of Ixo can transport energy and oxygen on a light beam to their space city, built on a shattered star. However, to send the beam that far, they must first reflect it on a gigantic mirror made of ice. The mirror must be concave and flawless, as any imperfection will cause the beam to fire off course. Preparation of the mirror takes two years and they are many injuries, radiation and deaths as the working conditions are horrible (Ixo is a waste dump). To top it all, Ixo is an orbiting moon and only come face to face with the space city every 5 years, meaning there's only a small window of opportunity to send the beam. All that could be resolved if those Vineans have access to more spaceships.

Backstory: Yoko's youth is explored in the novel L'écume de l'aube (The Foam of the Dawn).
Badass Driver: Both Yoko and Vic. In 3rd album, a car with thugs pushed Yoko's car into a ravine. Yoko hit the brakes but Vic shouted at her to accelerate and they both steer the wheel back onto the road. They narrowly avoid a plunge to their death.
Bald of Evil:
Batman Gambit: Yoko uses this against her enemies.
Beard of Evil: Karpan, Karl Moebius, Helmut and Mike all have beards and commit acts of evil.
Because You Were Nice to Me: Xunk's life was saved by Yoko, therefore, he comes to believe that not all humans (and Vineans) are bad. He later choose to help Yoko and Khany escape, even if it means turning his back on his kind.
Big Brother Is Watching: A heroic example. Peter Hertzel is at the head of a powerful company that has access to all databases in the world. He uses all this information for the good of mankind rather than profit. He knows everything about Yoko, including her secret mission with MI6 and it wouldn't be surprising if he knows about her Vinean friends too.
Big Creepy-Crawlies: Averted with the Titans, who are a race of giant insectoid aliens, but do possess individuality and redeeming qualities.
Big Damn Heroes: Yoko and Khany's ship is shot down by the

Supreme Guide

, piloting another craft. They survive the crash, but the enemy craft is still after them. Before it can take aim, it's blown up by Vynka and Vic's ship.
Big Good: Peter Hertzel may be this. He is very wealthy, powerful and has contacts with many organizations and agencies. He explains to Yoko that his goal is to preserve world peace, which is why he hired her and her friends to counter a band of crooks who ran off with Wotan's Fire.
Bigger Stick: When criminals got ahold of Wotan's fire, a lightning powered Death Ray, Professor Zimmer worked with Yoko and her friends to stop them by building a deadlier one. According to the professor, it's five times more powerful. Their ray has no trouble punching through the criminals' one.
Blow You Away: The Titans have weapons that shoot air. They are far from harmless and are actually quite deadly.
Body Backup Drive:

Queen Hegora has multiple backup copies of her android body. They are all eventually destroyed, save for one who is imprisoned in a block of crystal.

Body Double: Margaret, in The Prey and the Shadow, is blackmailed into becoming this for the local Ophelia, Cecilia. When Yoko finds out, Margaret begs her for help since she's too scared to openly rebel against Sir William, but wants to get free and help Cecilia.

Ito Kazuky has a lookalike serving as a decoy. However, the decoy is revealed to be even more ruthless than Kazuky and a little crazy.

Bold Inflation: Happens quite a lot on key elements of the story.
Bound and Gagged: Yoko fell victim of this once.
A Boy and His X: A girl (Morning Dew) and her Dragon (technically a genetically engineered giant lizard). Despite his gigantic size, Morning Dew isn't afraid of him. She feeds him and plays with him without any harm coming to her. This causes her to become the target of an unscrupulous businessman who wants to use her as bait to capture the Dragon.
Breakout Character: Yoko was originally envisioned as the #3 character of the trio, behind Vic and Pol, and the first thirteen pages of the first book were drawn that way. Then the publisher suggested Leloup try his hand at small character stories to begin with, and he started with the least important of the three... who promptly made #5 in overall character polls that year. Vic and Pol were demoted to sidekicks, Yoko promoted to star of the series, and the rest is history.
Breaking the Fourth Wall: In a very unique instance, at the end of On the Edge of Life, Yoko warns the reader that if they ever see a girl who reminds them of Magda in Rothenburg they shouldn't approach her.
Broken Aesop: Yoko goes back in time to save a young child from being murdered, saying her death was unjust because she was used as a political tool. Once in the past, she saved the girl, but her actions also caused the death of several peasants.
Butt-Monkey: Pol, to a T. If something bad happens to someone, it will be to him. Granted, there are a lot of times where he brings it on himself through his behaviour.
Character Development:

Yoko started out as fairly high-strung and willing to engage in violence when not absolutely necessary. She mellowed out in later years.
Pol can be aggressive enough for the whole trio.
Vynka, one of Khany's aides, is distrustful of the trio. However, over the course of the series, he has a change of heart and is now on friendly terms with them.

Children Are Innocent: Played straight with Poky and Morning Dew; subverted with Sin-yi, who is more of a Spoiled Brat. But then, she grew up as the child bride of a Tang dynasty Chinese emperor.
Christmas Episode: One story of Electronic Adventures takes place during Christmas and involves Yoko finding a job for an impoverished father after befriending his daughter.
Collapsing Lair: Webbs' mountaintop lab in The Time Spiral collapses when

all the antimatter it contained detonates to destroy the alien creature

.
Combat Tentacles: The alien creature use its tentacles to ransack the research lab in The Time Spiral. They were actually its nerves which it also uses to control the lab.
Comic-Book Time: Yoko and her friends haven't aged since the 70's, aside from an occasional Art Evolution, despite the fact that the world around them constantly changes and evolves. In his eyes, Leloup says that Yoko will always be 20 years old.
The Commissioner Gordon: Commissioner Lebrun who showed up in a handful of shorts.
Cool Helmet: The ones used by Ingrid's father and Karl are definitively cool looking. They look futuristic, despite being made in medieval times. Their purpose it to protect the wearers from the disrupting sounds of the Devil's organ.
Cool Plane: The series has no shortage of cool airplanes. Many of them are real life airplanes: Zero, F-5, F-16, MIG-21, Boeing 747, Seawind 3000 just to name a few. That's not counting the ones invented for the series. The Humming Bird is the most notable one. It's a small light aircraft used for reconnaissance.
Cool Starship: Comes in various shapes and sizes, all used by the Vineans. Later in the series, Yoko has her own personal ship, the Ryu.
Couch Gag: The title of the story on the book cover is always decorated with a head of Yoko. If the story involves the Vineans, she is wearing a helmet from her space suit.
Corrupt Corporate Executive: Ito Kazuky, a wealthy Japanese arms dealer. He's very powerful and has a hand in many financial ventures. Kazuky doesn't hesitate to resort to dirty tactics and cheating to get what he wants.
Creator Thumbprint:

Leloup is very fond of vehicles, airplanes in particular. Many are seen the series, either operated by Yoko or someone else.
He also loves insects, to the point where Vineans have many motifs patterned after them:

The Vineans cryo-pods are stored in a beehive-like pattern.
Robots and space vehicles have a insect-like designs.
One Vinean wore a helmet that vaguely looks like an ant's head.
While not Vineans, the Titans are giant intelligent insectoids that walk upright.

Flashes of energy floating are also a common occurrence.

Cryonics Failure:

The Supreme Guide

in The Three Suns of Vinea, to a point.
Curb-Stomp Battle: Poor Zhou-Chong. He actually thought he could poison a dragon and steal his pearl. Said dragon is two-headed, is mechanical and is of alien origin. Unsurprisingly, Zhou-Chong is fried into oblivion and the dragon didn't even break a sweat.
Damsel in Distress: Poor Ingrid. Sometimes, even Yoko would need rescuing after being hit with the Distress Ball.
The novel L'écume de l'aube (The Foam of the Dawn) contains examples of:
---