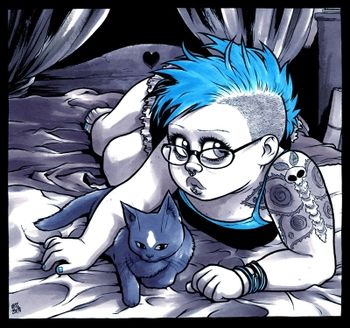 Wet Moon is a Slice of Life Graphic Novel series written and drawn by Sophie Campbell and published through Oni Press. It follows the lives of several young females living in the fictional southern backwater town of Wet Moon, as they deal with college, gaining employment, attending concerts and working through interpersonal problems.
Not to mention serial killers, strange FBI agents, giant boars, urban vigilantes and ghosts of people they know.
It's better than it probably sounds, largely due to the author writing a slow-burn plot with natural situations coupled with a David Lynchian atmosphere. Moreover, while most of the multiracial cast belongs to the goth/punk/emo/scenester subculture (with some characters also gay or bisexual), none of them are portrayed as stereotypically as they are in other media. This even extends to the author's particular art style, which readily acknowledges the varied body types different kinds of women inherit or grow into.
Storywise, it initially centers on the daily pitfalls of Cleo Lovedrop, a local resident and college student in Wet Moon and her friends Trilby Bernarde, Mara Zuzanny and Audrey Richter. As the series progresses, Cleo enters a relationship with dorm neighbor Myrtle Turenne while the focus shifts around the cast, like the growing relationship between Trilby and her new boyfriend Martin, Mara's encounters with fellow dorm resident Natalie Ringtree, Audrey's romance and body-image problems and several other small, odd glimpses of minor characters in off-key situations. Elements of horror and paranormal mystery have begun to creep into the plot very gradually, possibly regarding Fern, a hairless, one-armed and perpetually closed-eyed heiress living in her parent's old estate near the town swamps. There's also an FBI agent with a pet monkey walking around. Not to mention an amateur crimefighter. Yeah...
As of now, six paperback volumes have been released through Oni Press, all of which can be bought here
or at your local comic book shop
. For more information about Sophie Campbell, stop by her Web page
or check out her DeviantArt account
.
---
Provides examples of:
---