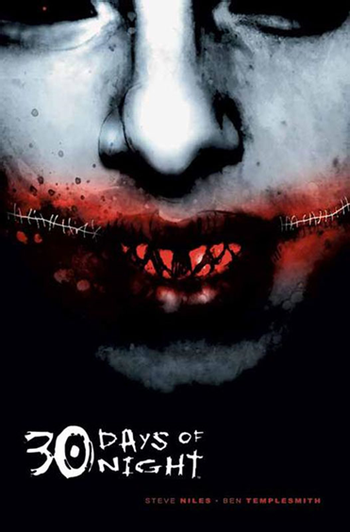 30 Days of Night is a three-issue comic book miniseries written by Steve Niles, illustrated by Ben Templesmith, and published by IDW Publishing in 2002.
Welcome to Barrow, Alaska. This small, secluded town is located so far north that in the winter there is a span of thirty days when the sun does not rise above the horizon. Usually this is only a minor inconvenience to the residents, but this year, the dead of winter will become a terrifying fight for survival.
This year, the vampires are coming to take advantage of the prolonged darkness.
List of comics in the 30 Days of Night series:
30 Days of Night (2002): The original miniseries.
Dark Days (2003)
Annual 2004
30 Days of Night: Return to Barrow (2004)
30 Days of Night: Bloodsucker Tales (2004-2005)
Annual 2005
30 Days of Night: Dead Space (2006)
30 Days of Night: Spreading the Disease (2006-2007)
30 Days of Night: Eben and Stella (2007)
30 Days of Night: Red Snow (2007)
30 Days of Night: Beyond Barrow (2007-2008)
30 Days of Night: 30 Days 'Til Death (2008-2009)
The X-Files/30 Days of Night (2010-2011) - Crossover with The X-Files
30 Days of Night: Night Again (2011)
30 Days of Night (2011-2012)
Infestation 2 (2012) - A crossover event with other IDW properties and the Cthulhu Mythos.
Criminal Macabre: Final Night - The 30 Days of Night Crossover (2012-2013)
30 Days of Night (2017-2018)
Other media includes:
Books include:
30 Days of Night: Rumors of the Undead (2006)
30 Days of Night: Immortal Remains (2007)
30 Days of Night: Eternal Damnation (2008)
30 Days of Night: Light of Day (2009)
30 Days of Night: Fear of the Dark (2010)
30 Days of Night: Night, Again (2011)
30 Days of Night (2007) - Novelization of The Film
---
The comic provides examples of:
---