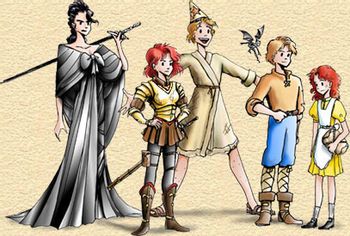 Thieves & Kings
is an all-ages comic book series by Mark Oakley, with six volumes published and more to come. Not much is available online, though there are sample
chapters
, a few webstrips
and a spin-off
.
T&K is a Fantasy story, with a Fairy Tale feel, but surprising depth. The story format shifts back and forth from text with drawn background to pure comics, depending on which format suits the moment.
---
Tropes:
Black Bead Eyes: Usually. Every once in a while, a character's eyes will be drawn with more detail than usual to emphasize an important moment.
Born Winner:

Everyone with Fairy Blood is this.
Quinton. Soracia laments that even after spending a century practicing painting, she still couldn't do as good as what Quinton did on his first try. Using a stick he picked up from the ground, a nearby tent for canvas, and some berries mixed with mud for paint. His second try was even better, only he got bored in the middle of it, and walked away. That's Quinton for you.
Crazy-Prepared: Quinton takes this over the top. As in "I planted this tree 100 years ago because I knew I'd need it right about now."
Create Your Own Villain: Quinton accidentally became responsible for Locumire's Start of Darkness when he mistook her for one of the Red Sorceress's incarnations.
Mayfly–December Romance: What Soracia's relationship with Rubel would be. Which is why she wanted to steal his soul, so they could be together forever.
Medieval Stasis: Without explanation — there have been (many, many) wars, mind, but Heath moves from centuries in the past to join the other main characters and no one even comments on her accent.
---