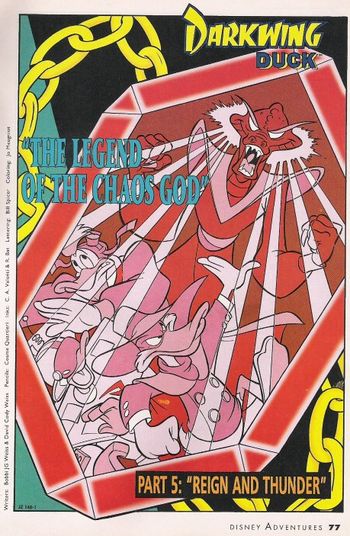 Gadget: It calls itself Solego, and all I know is that it wants the medallion and something terrible will happen if it gets it!
Solego: Nothing will happen that shouldn't have happened centuries ago!!
An epic five-part comic story that ran in Disney Adventures in the later half of 1994, The Legend of the Chaos God, written by Bobbi J.G. Weiss and David Cody Weiss and illustrated by Cosme Quartieri, features a Cross Through linking together The Disney Afternoon shows TaleSpin, Chip 'n Dale: Rescue Rangers, Goof Troop, DuckTales, and Darkwing Duck. The story's Big Bad is Solego, the titular Chaos God, who is accidentally released from an imprisonment that separated his body and soul. He wreaks havoc across the worlds of the various Disney Afternoon series as he tries to reintegrate himself, then use his unfathomable powers to Take Over the World.
The magazine started publishing the comic at the end of Marv Wolfman's tenure as the comics editor, right before the start of Heidi MacDonald's run in that position. While Disney Adventures likely intended to build up to and commemorate the magazine's 50th issue, the comic ended one issue later than planned. Despite that little delay, numerous Disney Afternoon fans still think of this comic as the magazine's magnum opus.
The Legend of the Chaos God also marked a swan song for the TaleSpin, Chip 'n Dale Rescue Rangers, and DuckTales comics in Disney Adventures — those shows never had another full-length story in the magazine afterwards (with the exception of a DuckTales story in 1996 that Disney had scheduled to run in an earlier issue). The story was not reprinted until Fantagraphics included
it in a 2021 Disney Afternoon comics collection.
---
The Legend of the Chaos God contains examples of the following tropes:
---