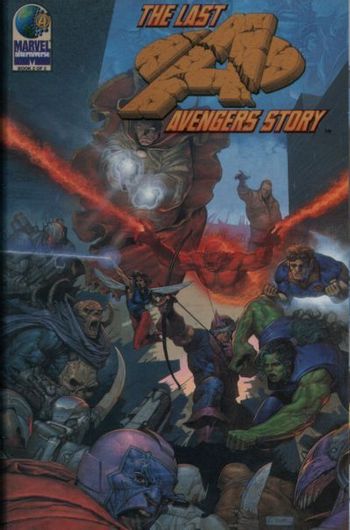 "That's the problem with heroes, really. Their only purpose in life is to thwart others. They make no plans, develop no strategies. They react instead of act. Without villains, heroes would stagnate. Without heroes, villains would be running the world. Heroes have morals. Villains have work ethic."
—Ultron 59
A 1995 limited series written by Peter David and Ariel Olivetti depicting the theoretical end to The Avengers, taking place in a Bad Future where many super-powered heroes and villains are either dead, retired or missing. This is one of the few comic series to use the Alternaverse brand in order to differentiate it from the What If brand.
The story starts off with Kang the Conqueror killing some guards and entering a Time Capsule that has many memorabilia and souvenirs of many, many heroes, including independent heroes, the Avengers, and the X-Men. Kang, however, finds something more interesting and informative than anything in the Time Capsule; a book titled ''The Last Avengers Story'' depicting, well, the end of the Avengers.
Two years later, Kang nukes The Avengers Nuclear Facility, the current headquarters of the current iteration of the Avengers, killing everyone inside. As expected, this attracted some heavy attention to the news media, and they interview what's left of the original Avengers, starting with Hank Pym and his wife, Janet Pym née van Dyne. After driving off the paparazzi, Ultron-59 teleports right next to Hank and Janet, telling them that the "final battle" is about to begin, and Hank has the choice of gathering what's left of the Avengers and fight off Ultron's forces as a team, or take a fatal chance and fight Ultron individually. After choosing the former option, Hank sets out to assemble a team of able-body and capable heroes including the the Human Torch, Jessica Wingfoot, the daughter of Wyatt Wingfoot and the MIA She-Hulk and the blind Hawkeye and his wife, Mockingbird while Ultron gathers up Kang, the Grim Reaper Billy Maximoff, the son of The Vision and the deceased Scarlet Witch, and his friend, Oddball, Psycho Serum incarnate.
It all culminates into one large battle over the fate of the Avengers and Earth itself.
Tropes used in The Last Avengers Story:
---