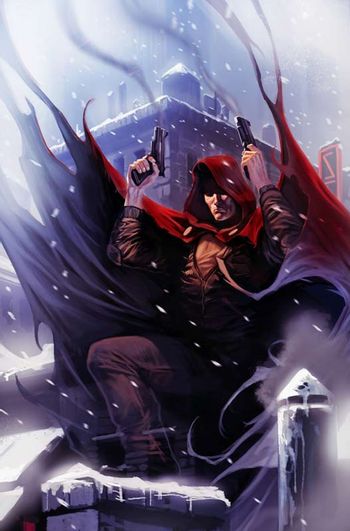 So. You've found a suit of clothes that give you superpowers. Will you use them for good? Will you become a Super Hero and fight evil, even if it means sacrificing your own life, health, and happiness in the process?
Hell no! You're no Peter Parker. Your name is Parker Robbins. Your mom is (nearly)brain-dead, your father is dead-dead, your girlfriend is pregnant, your only cousin is an alcoholic and a thief and you have to pay your favourite Russian prostitute. You need money, and you will do anything to get it. And this nice hood and shoes that give you superpowers, stolen from a strange demon, could come in pretty handy.
The Hood was a six-issue limited series (July-December, 2002), from Marvel Comics' MAX imprint, written by Brian K. Vaughan, the same man who created Runaways and Y: The Last Man. After years of being a part of the Marvel Universe, the Hood became a really lucky villain - Brian Michael Bendis, then-current writer of Avengers titles, took him under his wing, and turned him into a first-class villain, king of New York's underground. After Civil War, Hood became a secondary Big Bad for the New Avengers — while he's not their only, or even greatest, threat (that title was claimed first by the Skrulls and later by Norman Osborn), he's certainly a legitimate menace. Originally his powers came from an unknown demon, later revealed to be none other than the Dread Dormammu himself; since then he has gone up and down the power scale as he gains and loses "patrons."
Not to be confused with the similarly monikered Thunderbirds villain.
---
The Hood Provides examples of:
---