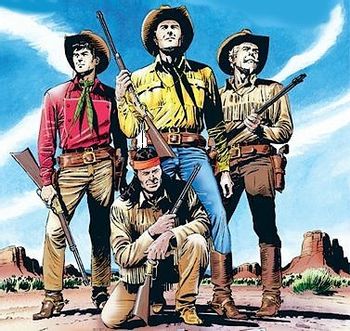 Tex Willer, or Tex, is a very popular Italian western comic. Created by Gian Luigi Bonelli and Aurelio Galleppini in 1948, it became a success thanks to its beautiful artwork, fine cast of likable characters and engrossing stories, and it is still ongoing.
The comic depicts the adventures of a heroic Texas Ranger named Tex Willer who rights wrongs in the Old West with his snarky friend Kit Carson, his resourceful son Kit Willer and his trusty Navajo ally Tiger Jack.
The comic portrays Native Americans sympathetically and has deep, thought-provoking storylines with a good balance of humour and drama. The story began with Tex's early adventures, and he gradually aged in subsequent years while gaining friends, fathering a son and attracting the attention of many notorious and dangerous villains (and villainesses) along the way.
Tex is also well-known outside of Italy, particularly in Brazil, with publishing in various formats,
◊ and the Nordic countries, where it almost rivals the Disney Ducks Comic Universe fandom.
Now that you're here, have a look at the Characters sheet too.
---
Tex Willer provides examples of:
---