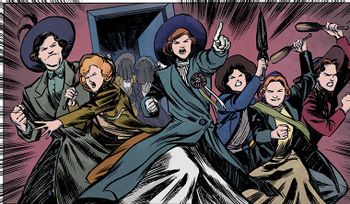 Suffrajitsu is a graphic novel trilogy written by Tony Wolf, illustrated by Joao Vieira and published by Jet City Comics. Issue #1 was published on January 28, 2015.
The trilogy is part of the "Foreworld Saga", a multi-media alternative history series initiated by speculative fiction authors Neal Stephenson and Mark Teppo.
Suffrajitsu is set in 1914 and presents the adventures of Miss Persephone Wright and her team of "Amazons"; a secret society of women, trained in the martial art of Bartitsu, who serve as bodyguards and field agents for the fugitive leaders of the radical women's rights movement in London.
---
Suffrajitsu: Mrs. Pankhurst's Amazons provides examples of:
---