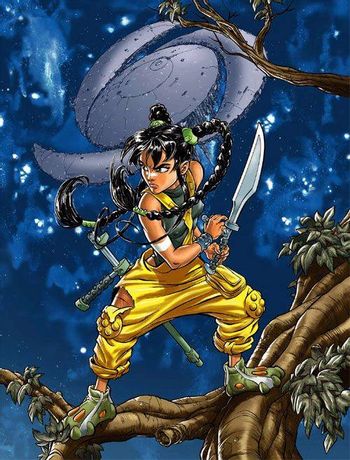 Sillage (the English title is Wake, as in "the current caused by a passing ship") is a French science-fiction comic written by Jean-David Morvan and illustrated by Philippe Buchet.
The eponymous Sillage is a giant convoy of spaceships traversing the galaxy. The protagonist of the series is Nävis, the only human Sillage ever encountered. She was raised by robots on an uncivilized jungle planet after a spaceship crash. After initial difficulties — due to her lack of psychic powers she is not recognized as a person at first — she joins Sillage as a sort of special agent.
While there are bigger themes tying the series together — mainly Nävis trying to find out what she is — each album is mostly self-contained. Often using different planets that are visited as settings, the feel of the series can change a lot from album to album.
There are three spin-off series, but so far, none of them have been officially translated into English. Nävis has a humorous tone and deals with Nävis' childhood. Les Chroniques de Sillage (Wake's chronicles) is a series of short stories set between chapters of the main story. Sillage Premières Armes deals with Nävis' training to become a Sillage agent. There are also two art books, BlockBuster and 1000 Nävis, which literally has 1000 images of Nävis.
---
Sillage provides examples of:
---