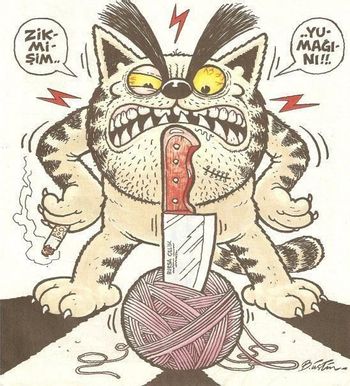 Satire has always been popular in Turkey. Despite being published in a conservative Middle Eastern country, Turkish humor magazines enjoy a high level of tolerance, which allows Turkish comic book artists to explore violence, nudity and profanity without reserve.
First serialized in the monthly humor magazine L-Manyak ("L-Maniac") in 1996, Serafettin the Bad Cat (usually called "Shero") is a resident of Cihangir, a rather seedy neighborhood in İstanbul. Armed with a short temper, violent disposition and bulletproof eyebrows, the Bad Cat defends the weak against evil... when he's not sexually harassing female cats or overindulging in cheap wine.
He was named after the late cat of his creator, Bulent Ustun. An animated film depicting his exploits was released in February 2016, just titled "Bad Cat" for international release.
---
The main series provides examples of: