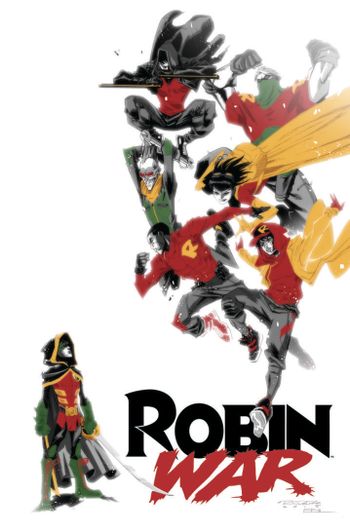 Robin War is the 2015 Bat Family Crossover storyline concerning the characters who bear the title Robin, as a celebration (along with Batman and Robin Eternal) of the character's 75th anniversary. The storyline portrays the continuing changing face of Gotham in the aftermath of Batman: Endgame, this time focusing on the sidekicks.
Damian Wayne, the current Robin, has returned from his worldwide sojourn only to find out that things are completely different: his father, Bruce Wayne, is no longer Batman, the GCPD is running around with their own, armored Batman, and what's worse, there's a bunch of kids running around calling themselves Robin. To Damian, this just will not do. The GCPD agree and are out to put away anyone bearing the "R". Even more, Dick Grayson, Red Robin and Red Hood have returned to Gotham and get tangled up in the mess. And hiding in the shadows, the Court of Owls make their move, unfettered without the original Batman's influence...
The main story is told across the following titles...
... while aftermath of the story will be depicted in:
Though not official installments of this story, the following served as complementary tie-ins:
Robin War uses these Tropes:
---