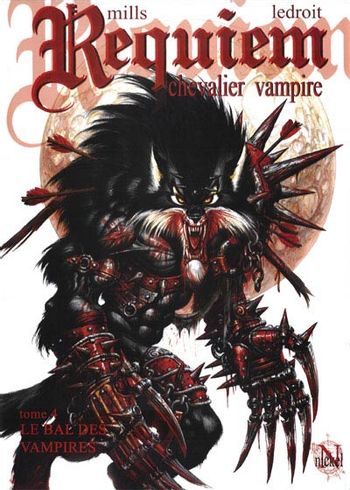 An age-old adage was that, if you were bad in life, when you died it generally got worse. Nowhere is this idea more assaulted, mugged, curb-stomped and left for dead face-down in a rancid gutter than in the world of Résurrection, the brainchild of Pat Mills and illustrated in excruciatingly loving and gory detail by Olivier Ledroit, originally published in French by Nickel Editions as Requiem Chevalier Vampire, and currently being translated into English and published in Heavy Metal magazine as Requiem Vampire Knight.
The comic begins in the real world. Enter Heinrich Augsburg, a young, suicidal and currently rather dying Nazi soldier on the Eastern Front facing the Soviet Army. Within about two or three pages of his introduction, he gets shot in the head. Exit Heinrich.
Only not, because our 'hero' is transported to Résurrection and promptly gets set upon by a gang of looting zombies. He blows them away with an impaling gun and earns the gratitude of the weapon's owner, Otto von Todt, who identifies Heinrich as a person guilty of terrible crimes and therefore now a member of the ruling class of this world (as is Otto himself): a vampire. And from there, it only gets better.
For some.
Because everything is inverted on Résurrection. Where the sea was on Earth there is now land, and likewise for the oceans. Instead of growing older, people regress in age, until they turn into foetuses and are then entirely forgotten. Technology from Earth, when discovered, is promptly buried or hidden away. And most important of all, the more cruel a person was in life, the better they are rewarded in their reincarnation, while the innocent are outcasts at best and food or entertainment at worst. As such, morality and good feeling towards others is pretty much out the window - which is something of a problem for Heinrich, now known as Requiem, since for some reason he still possesses a conscience, a sense of honour and a disinterest in ripping little girls apart for kicks.
And because of that pesky conscience, he's pretty interested in finding out what happened to a certain love of his former life, name of Rebecca...
See also Sha for another Mills/Ledroit collaboration.
Has no connection with the manga Vampire Knight.
---
Tropes:
---