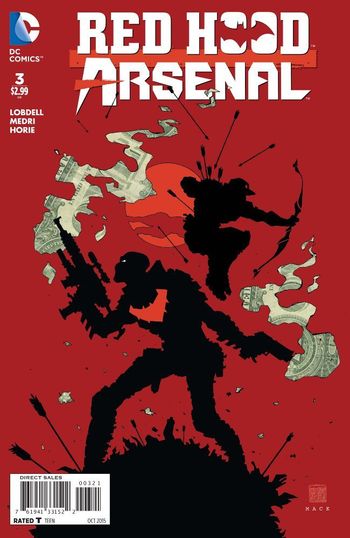 Jason Todd: "See?! This is exactly why we don't do this for a living "
Roy Harper: "Okay, so maybe we don't take every job that comes our way. But you have to admit that being in this business together is kinda fun. "
Jason Todd:
"Oh yeah. I'm having a blast. Idiot. "
Red Hood/Arsenal #1 -
Was a monthly comic book series published by DC Comics' on June 2015 as part of their new editorial direction post-Convergence
Following the events of Red Hood and the Outlaws, Arsenal (Roy Harper) is on his own, trying to help people whether they want his help or not. After a trade between a Mexican cartel and a Washington power broker goes wrong despite Arsenal's best efforts, he's reunited with his fellow Outlaw Red Hood (Jason Todd) and together they successfully defuse the situation. The power broker then offers them a job and while they decline the offer, Roy later convinces Jason of going legit as Vigilantes-for-Hire
This work is part of the following storyline:
---
This comic provides examples of: