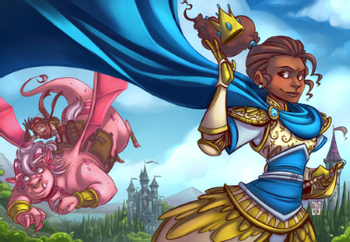 "Don't let the dragon hit you on the way out."
Princeless is an Eisner award-nominated comic book series written by Jeremy Whitley and drawn by Mia Goodwin. Set in a relatively standard fairy tale setting, the series stars Adrienne, a young black princess who has, since childhood, thought that the tradition of sticking princesses in towers to be rescued is stupid. She especially hates that the princesses are all helpless and can't help themselves. Adrienne swears she will never be one of those pitiful princesses stuck in a tower to wait for some guy to "deserve" being her husband by slaying a dragon.
Her parents, however, overrule her and uphold tradition. Finding herself in the tower, Adrienne decides that she is not sitting still for this. She befriends her dragon, tells her what her role in the tableau is, and that she is done being a Damsel in Distress. Escaping from the tower where she is being held prisoner with the aid of the dragon that was guarding her, and donning armor left over from the dead previous suitors, Adrienne sets out to rescue her sisters from the prisons they are being held in.
The series takes delight in taking many fantasy tropes and turning them on their heads, while also telling a tale about love and family. The series also boasts a diverse cast, lampshading the fact that most mass media versions of fairy tales, despite coming from all over the world, are made with white people.
Volume 3 of the comic, Princeless: The Pirate Princess, began in 2015, in which Adrienne and her Sidekick Bedelia befriend and rescue Raven, an Asian pirate princess. After parting ways Raven decides it's time to start her own pirate crew and take back the title of Pirate Queen. That adventure is covered in a spinoff, Princeless - Raven: The Pirate Princess.
The series is currently on indefinite hiatus due to Jeremy Whitley and the rest of the book's creative team falling out with Action Lab Comics over their allegedly unethical business practices resulting in them going unpaid for their work.
---
This comic provides examples of:
---