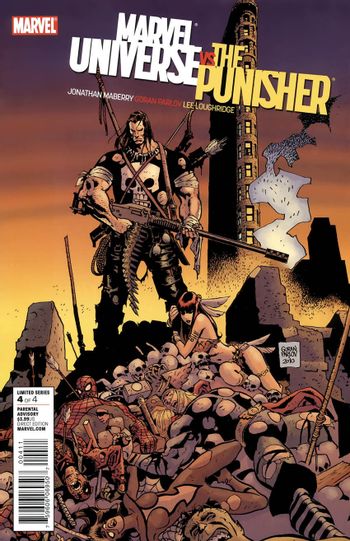 A terrible plague has swept the Earth, turning everyone – human, hero, villain, god and monster — into sadistic cannibal predators. As Spider-Man, the Hulk, the Thing and other infected start a feeding frenzy, the world falls in a wave of insatiable violence. Now, five years later, one man hunts the wasteland that was New York City. One man stands against the hordes of monsters who hunt the night. He is the Punisher, the Last Gun on Earth, and he has an endless supply of ammunition.
Marvel Universe vs. the Punisher is a four-issue miniseries by Jonathan Maberry and Goran Parlov, set in an alternate universe where an accidental bio-weapon spill has mutated almost every major Marvel character with the notable exception of Frank Castle. In an effort to make up for having caused that spill, Castle hunts the former heroes and villains throughout what used to be New York City.
The original miniseries was followed by a prequel, Marvel Universe vs. Wolverine. Set during the original outbreak, it follows Logan and a handful of other surviving heroes as they do their best to survive against overwhelming odds. Unfortunately for Wolverine, as we know from the original series, there's one big obstacle in their way. His name is the Hulk.
A third volume began in October of 2012, The Marvel Universe vs. the Avengers. It's primarily focused on Hawkeye, who manages to survive when the other heroes and villains are falling all around him, and ends where Punisher begins.
Not to be confused with the 1995 one-shot comic, The Punisher Kills the Marvel Universe, by Garth Ennis and Doug Braithwaite. Compare the Marvel Zombies series.
---
Provides examples of:
---