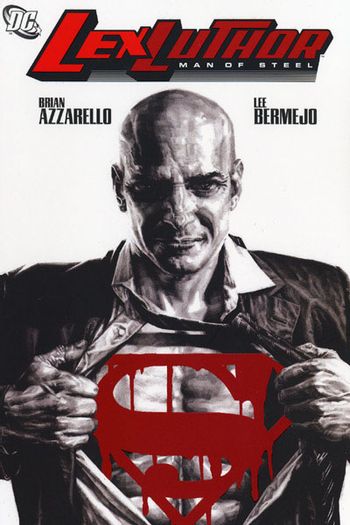 "Those red eyes, I'm sure they look right through me, like I am nothing more than a nuisance. But when I see you? I see something no man can ever be. I see the end. The end of our potential. The end of our achievements. The end of our dreams. You are my nightmare."
— Lex Luthor
The Alien says that he is humanity's savior. That he fights for "Truth, Justice and the American Way". He makes the entire world love him and look up to him.
And yet, there is one man who can see what a threat the alien truly represents, one man who is willing to stand against the being who has been compared with God: Lex Luthor. The battle will be ugly, but the truth shall prevail.
An Alternate Character Interpretation of Superman's arch-nemesis, Lex Luthor: Man of Steel was first published in 2005 by DC Comics. It's a bit of a departure from other stories about Luthor, which up until then (and indeed for twenty years previous) had shown him as little more than an unrepentant jerk who just wanted to kill Superman. It speaks to humanist traits the character had taken on since about 2000. First is this: when other comics on the stands in 2005 were about Luthor heading up a large Legion of Doom and manipulating Superboy For the Evulz, an empathetic view into the mind of Lex was seen as an odd thing, though not unwelcomed; many readers came away noting that Luthor may have had a point at times. As it turns out, the story was very well-received.
Was re-released and given the more laconic yet intimidating title Luthor
. Works nicely as a companion piece to Azzarello's later work, Joker; even the trade dress, typefaces, and titles (in both incarnations; Lex Luthor: Man of Steel/Joker: The Dark Knight and Luthor/Joker) play up the differences between the two characters.
---
Tropes:
Would Hurt a Child: Whoever bombed the jewellery store didn't know or care that it was next to a daycare centre and ended up killing over a hundred people, more than seventy of whom were young children. Toyman gets the blame for this but desperately denies planting the bomb, even in private to himself. It is strongly implied that Lex was responsible for the explosion and that the daycare center was even the actual target. His mook, who is willing to at least threaten to hurt somebody's family, is appalled and makes no secret that he blames Lex for the attack (and is seemingly murdered on the orders of Lex as well).
Xanatos Gambit: It's strongly hinted that Lex is behind

the bombing of the daycare

and that his plan was to make Metropolis turn against Superman because he knew Superman would refuse to kill the bomber. Plus,

the daycare center that was destroyed in the explosion triggered by Toyman just "happened" to be the same one used by the family of a prominent scientist used by Luthor in the construction of Hope, and the scientist dies in the blast along with his entire family.

One might be given to suspect that Luthor, not one for loose ends, planned it that way...
---