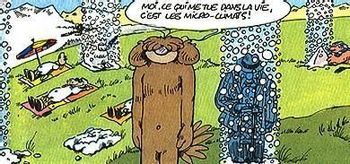 Le Génie des Alpages is a French-Belgian comic book series by Richard Peyzaret, who uses the idiosyncratic Pen Name F'murrr.
The series is a humoristic take on life in the alpages, the high-altitude grazing fields where sheep are traditionally sent to spend the summer in the French Alps. The main characters are Athanase the young shepherd, his unnamed pet dog, and the restless, squabbling sheeps.
The humor is firmly of the absurd type, and partly inspired by Monty Python. Random developments such as the vegetation picking itself up by the roots and walking about, or a sentient fog playing accordion with the mountains, are to be expected. Beyond the absurdity, the tone of the series is gently anarchist, with authority figures being turned into ridicule.
---
Tropes:
---