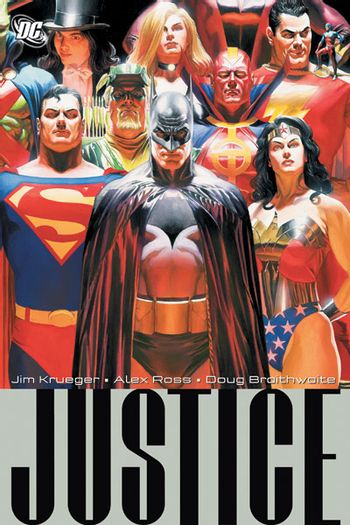 Justice is a 12-issue limited series published by DC Comics from 2005-2007, created by Jim Krueger, Alex Ross, and Doug Braithwaite. It's a departure from normal continuity, but not quite an Elseworld story. It takes the concepts of the DC Comics characters as they were in the Silver and Bronze Ages and writes a new story using them. The plot concerns the villains reforming and using their abilities to help mankind. Naturally, it's not all as it seems, as the entire plot to "help" humanity requires the use of Brainiac's Mind Control worms. It's up to the assorted superhero teams (Justice League, Doom Patrol, Teen Titans, Metal Men) to save the day.
Notable for being very idealistic on the sliding scale, while not veering into Lighter and Softer or Camp territory. It's almost a higher-quality Superfriends.
Not to be confused with The New Universe comic of the same name. Or the French electronic band. Or the DC game/comic series Injustice.
---
Justice provides examples of:
---