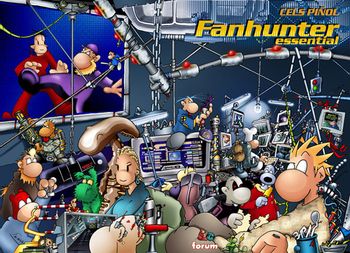 A Spanish comic-book series.
Fanhunter tells us the story of an alternate world: In 1996, in the city of Barcelona, Alejo Cuervo (an insane ex-librarian who thinks he is possessed by the spirit of Philip K. Dick), proclaims himself as the new Pope Alejo I (killing the old one blowing up the Vatican City), submitting (and bribing some governments) all of Europe to the boring "Dick's Rule" by forbidding almost any form of subculture (video games, comics, DVDs, role-playing games, hopscotch...) allowing just what he likes (the works of Philip K. Dick... and, strangely, Breakfast at Tiffany's) Alejo I decided to create a special force, the Fanhunters, and use the cloned soldiers "Tintin Macutes" (not so intelligent) to annihilate the civilians who still resist: otakus, gamers, comic fans and geeks left in Europe. Barcelona is renamed as Barnacity, being the capital of Europe, now renamed Europe of Dick.
To defend themselves, the rebels created a group, The Resistance, to fight against Pope Alejo I and his evil forces. Many fans organised to defend their ideals and lifestyle, stopping the destruction of imagination that moves the World, using their knowledge of movies, comics, TV shows, books, manga & anime, etc.
It started as a self-edited fanzine, and its creator-artist-writer Cels Piñol personally distributed it among the comic book shops. As time went by, its popularity rose, and then it became a nationwide phenomenon, and went outside Spain, attracting the interest of the South American readers.
Graphically limited (simple, but effective artwork), Piñol attracted the attention of thousands of readers who are identified with his comics, games, characters and concepts. In the 1990s, Fanhunter passed from a fanzine to a big publisher, Planeta De Agostini, and there was a huge production of the series. An expanded line with different authors, role-playing games (Fanhunter, Outfan...), novels (Fanhunter: Herencia...), etc. was created.
The humoristic world of the future that Fanhunter reflects, where everything related with comic books, Internet, video games, role-playing games and other expressions of leisure are forbidden, is a subtle and intelligent reflection about the dangers of totalitarian regimes, intolerance and fundamentalism.
You can find more info here
.
---
This comic provides examples of: