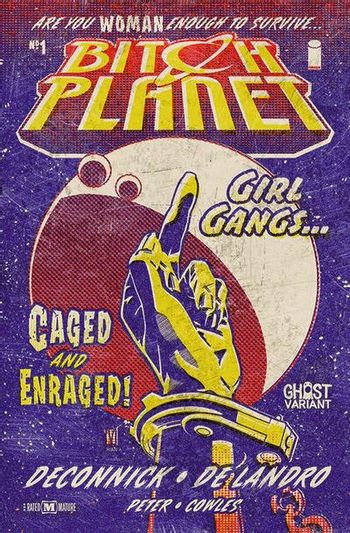 Earth is the father.
And your father...
Has cast you out.
For your trespasses...
Your gluttony...
Your pride...
Your weakness...
And your wickedness...
Are such that you are beyond correction or castigation. Like a cancer you must be excised from the world that bore you. For the well-being of us all...
Lest your sickness spread.
- The History Teacher
Bitch Planet is a 2014 comic book series written by Kelly Sue DeConnick with art by Valentine DeLandro, published by Image Comics. The world is a No Woman's Land, where women who are ruled Non-Compliant are sent to the Auxiliary Compliance Outpost, popularly known as Bitch Planet. The resulting comic is a feminist send-up of the Girls Behind Bars genre.
---
Tropes:
---