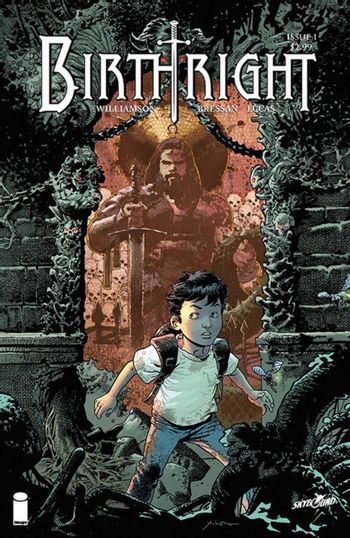 Michael Rhodes was just a normal kid, when during his birthday, he mysteriously disappears without a trace while playing with his father in the woods. His disappearance deals a tragic blow that tears his family apart, specially when his father is suspected of having murdered him. One year later, they are still coping with Mikey's loss until he reappears just as mysteriously as he had vanished in the first place, but radically changed as he is now an hulking, fully grown, battle-worn warrior. As its turns out, he was transported to the fantasy world of Terrenos, where he was revealed to be The Chosen One destined to free it from the tyrannical grasp of God-King Lore. He supposedly defeated the tyrant and restored peace to Terrenos, but his servants had escaped to Earth and now plan to merge the two worlds. He returned home to warn his people of this evil but, when nobody believes him, he's forced to take matters into his own hands and becomes a fugitive of the law, with his father Aaron and brother Brennan following him. Things, however, don't really turn out to be what they seem, and there is more to Mikey than he lets out to be: in reality, he had betrayed his allies and sided with Lore to come back home and the war criminals are in fact heroes from Terrenos trying to protect Earth from their world's tyrant.
Birthright is a comic series by Image Comics written by Joshua Williamson with art provided by Andrei Bressan and colors by Adriano Lucas, not only focusing on Mikey's attempts at re-connecting with his family but also serving as a desconstruction for the typical story of the Kid Hero Trapped in Another World and destined to defeat the Big Bad and the subject of prophecies in general.
If you are looking for the similarly titled Superman comic, see Superman: Birthright. Also not related to the tabletop game of the same name, nor with the sequel of Albedo: Erma Felna EDF, named Birthright.
---
This comics provides examples of:
---