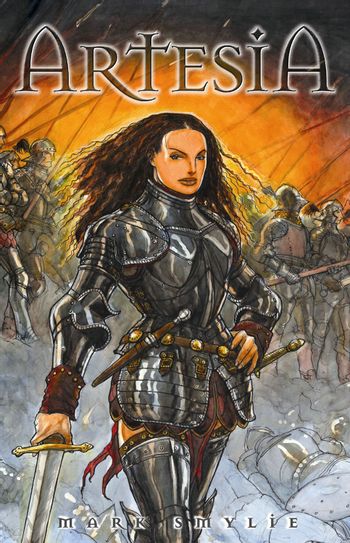 A
Low Fantasy
graphic novel
written and illustrated by Mark Smylie, published by
Archaia Studios Press.
The main character is the eponymous Artesia of Dara Dess, a warrior-queen, witch, spirit-walker and former concubine. The series details her campaigns in support of the larger Middle Kingdoms against the opposing Thessid-Golan Empire, a war long in coming due to a religious schism between the Kingdoms and the Empire.
The original 6 issue mini-series lasted from January to June, 1999. Several mini-series have followed over the years. Particularly notable due to very mature subject matter, a lack of many common Fantasy tropes, and the Technology Level is approximately that of 15th-Century Europe. The art is fully painted - no computer coloring here.
Has spawned a Tabletop RPG called Artesia: Adventures in the Known World. It runs on the Fuzion system, and is highly complex and detailed, making for a very rich and involved gaming experience.
In 2014, Mark Smylie came out with the full-length novel The Barrow which is set in the world of Artesia and has since been followed up in 2019 with Black Heart.
---
Tropes:
The Wild Hunt: People must ward themselves and their homes and fortresses from the reach of the Wild Hunt, which, aside from the one day they are allowed to break free from Hell, can sometimes loose their chains on their own, bringing woe to all they catch unprepared and unwarded.