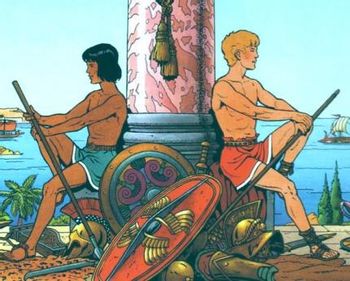 Alix is a French-Belgian comic series created by Jacques Martin in 1948. It may be considered the serious, historically accurate counterpart to the more famous and cartoonish Asterix, which it actually predates. It is a classic example of the ligne claire school popularized by Hergé.
The title character is a young Gaul from the 1st century BCE who, after being captured and enslaved, is adopted by a rich Roman and becomes a Roman citizen himself. He goes through various adventures that take him all over The Roman Republic and beyond—at one point, all the way to Han Dynasty China—and becomes a friend of Julius Caesar. His sidekick is a teenage Egyptian boy, Enak, and his nemesis is a scheming Greek named Arbaces.
In 1999, the comics were adapted into an animated series that ran for twenty-six episodes.
In 2012, a sequel series titled Alix Senator started. As the name implies, it takes place several years later, with Julius Caesar long dead, Alix now a Roman Senator, and Enak having disappeared long ago.
In 2019, a prequel series titled Alix Origines started. It tells the story of Alix's life as a child when he still lived free in Gaul. It has a different art style closer to mangas. Death and other atrocities are present but, heavily toned down.
See the recap page for the list of albums and tropes in specific albums.
---
Tropes in the original series as a whole:
Tropes in specific albums of the original series:
Tropes in albums that have a specific page can be found on that page (see the recap page for the list of album pages).
Tropes in Alix Senator:
Tropes in Alix Origines:
---