Beware of major spoilers, Late Arrival Spoilers and Walking Spoilers!
This is the lists of the Lancers, the heroes from Yu-Gi-Oh! ARC-V.
---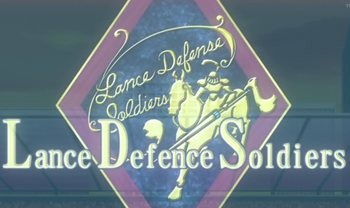 open/close all folders
The Lancers (General)
Lancers
The Lancers—also known as the Lance Defense Force—are the brainchild of Reiji Akaba. Their goal is to oppose Duel Academy and protect all dimensions threatened by it. Yusho Sakaki was originally meant to lead the group at Reiji's suggestion, but he declined the offer before his disappearance. Once the group is finalized at the end of the Arc League Championship, Reiji chooses to lead the group personally.
---
Tropes associated with the Lancers:
Current Members
The members that Reiji handpicked personally for the skills they demonstrated during the ARC League City Tournament and for repelling the initial invasion of Duel Academy. Reiji himself is the
founder and leader of this group
.
Yuya Sakaki
Yuya Sakaki
The protagonist of
ARC-V
and the creator of Pendulum Summoning who aspires to a professional entertainer. Later joins Reiji's Lancers in an effort to save the dimensions threaten by the malignant force known as Academia.
Reiji Akaba (Declan Akaba)
Reiji Akaba (Declan Akaba)
The brilliant 16-year-old CEO of Leo Corporation and leader/founder of the Lancers. He's calm, calculating, and somewhat manipulative, but he still has a softer side. Reiji quickly develops an interest in Yuya's Pendulum Summoning, working on finding out about it from behind the scenes.
Reiji uses a D/Dnote Pronounced "double dee" and not to be confused with D.D. deck based around abusing Contract cards and Pendulum Monster to loop through summons and quickly bring out powerful monsters, such as the D/D/D Extra Deck monsters. He's also one of the few characters to utilize all three Extra Deck monster types (Fusion, Synchro and Xyz).
---
Noboru Gongenzaka (Gong Strong)
Noboru Gongaenzaka (Gong Strong)
Voiced by: Yohei Obayashi (JP), Billy Bob Thompson (EN)
One of Yuya's friends; he isn't actually a You Show student due to being the heir to his family's dojo, but tends to hang around there a lot. He's an advocate of a method of Dueling he calls "Steadfast Dueling", which is taught by his family's dojo; basically the exact opposite of Action Dueling, it discourages unnecessary movement (and thus the use of Action Cards).
Gongenzaka uses a Superheavy Samurai deck with no Spell or Trap cards at all, and many of his monster effects can only be activated when he has no Spells or Traps in his Graveyard. Superheavy Samurai can also attack while in defense position, using their DEF points for damage calculation. Under the tutelage of Yaiba, Gongenzaka adds Tuner and Synchro monsters to his deck to evolve his playstyle. As a member of the Lancers, he adds the Superheavy General sub-archetype of Pendulum Monsters to his deck.
---
Shingo Sawatari (Sylvio Sawatari)
Shingo Sawatari (Sylvio Sawatari)
Voiced by: Shogo Yano (JP), Michael Crouch (EN)
An egotistical LID student from the composite course and The Rival to Yuya in the first season. Initially he equates rarity with power, filling his deck with the rarest cards in the game and attempting to steal Yuya's one-of-a-kind Pendulum Summoning monsters for his own use. After meeting Yuya, he is inspired by the "Dueltaining" style and begins to incorporate showmanship into his duels, becoming a better person for it.
He frequently changes decks throughout the first season. His first one is a Darts Shooter deck; his second is a WATER Monarch deck implicitly designed to counter Yuya's Pendulum cards; his third is a Yosenju deck; his fourth and final is an Abyss Actor deck. His Abyss Actor deck utilizes Abyss Script cards to power up his monsters, and later incorporates measures to counter Extra Deck summoning.
---
Reira Akaba (Riley Akaba)
Reira Akaba (Riley Akaba)
Reiji's little sister, first introduced in the ARC League as Ayu's first opponent. Reira is quiet to the point of no emotion, but seems to be constantly scared of something. She uses a CC deck, which revolves around copying the opponent's cards, and specializes in multiple types of Special Summonings, like Reiji. As her brother is confident about Reira's skills and power, he makes her one of the Lancers.
---
Tsukikage (Moon Shadow)
Tsukikage (Moon Shadow)
Voiced by: Manabu Sakamaki (JP), Eddy Lee (EN)
Tsukikage is Hikage's twin brother and fellow participant in the Junior Youth class of the Maiami Championship. After losing his brother to Academia, he joined the Lancers. Unlike the rest of the Lancers who specialize in a summoning mechanic note Sawatari with his Pendulum, Serena with her Fusion, Kurosaki and Dennis with their Xyz, Gongenzaka with his Synchro and Yuya and Reiji with every summoning mechanic , Tsukikage focuses on utilizing the tricky and powerful effects of his Ninja Effect Monsters, while exploiting the Action Cards to great effect.
He serves as one of the most useful characters in the entire series, guarding Reiji and Reira from physical harm and taking advantage of his shinobi training to infiltrate even the most secure places to get the job done, which aids the Lancers greatly throughout the show. Eventually he's "carded" by BB in the Fusion Dimension but is later reborn when the Standard Dimension becomes the Pendulum Dimension. As a result, his deck undergoes an upgrade and his Ninja deck gains Pendulum cards by series end.
For tropes shared with his brother, see their folder in Maiami City.
---
Shun Kurosaki (Shay Obsidian)
Shun Kurosaki (Shay Obsidian)
Shun Kurosaki, along with Yuto, is one of the survivors of the invasion on the Xyz Dimension, as well as a member of Resistance. Originally a kind, if somewhat stoic, person, the invasion took its toll on his psyche. What makes this worse is learning his younger sister Ruri was captured by Duel Academy. As a result, Shun became very cold and anger-driven, desperate to save his younger sister, no matter the cost. In Standard, he mistakenly assumes that LDS is connected with Duel Academy, and he seals some members of LDS into cards. However, as Reiji figures out that this was caused by a misunderstanding, he convinces Shun to join him to fight Professor Leo Akaba and wrangles him into the Arc League Championship as a LDS student, becoming one of the first Lancer candidates. He beats Sora during the tournament, thus their rivalry has been born. Now he's one of the nine Lancers.
Despite his very harsh and cynical character and him often showing the cold shoulder towards other people, he deeply cares for his comrades, particularly his best friend Yuto. As the series goes on, Shun gradually learns to trust others besides his own kin from his home dimension. Eventually, by series end, he reunites with his sister and best friend, becoming happy once again.
Shun uses a Raidraptor deck, which is made for swarming Winged-Beast-Type monsters to Xyz Summon monsters with low base-ATK, but powerful effects. He also has many Spell and Trap Cards that can counter various situations and exploits his Rank Up spells to evolve his Raidraptors into more powerful forms.
---
Tropes associated with Kurosaki:
Serena (Celina)
Sora Shiun'in (Sora Perse)
Sora Shiun'in (Sora Perse)
Voiced by:
Mie Sonozaki
(JP), Eileen Stevens (EN, anime), Jen Silverman (EN,
Duel Links
)
A mysterious boy who decides to become Yuya's apprentice, joining You Show Duel School. He uses his looks to charm the pants off everyone he meets, and constantly seems to know more than he lets on. After Yuzu loses to Masumi, she ask him to teach Fusion Summoning, which he greatly accepts. He has been revealed as a member of the faction that destroyed Shun's and Yuto's home, specifically a Duel Soldier from a school known as Duel Academy, located in the Fusion Dimension. With his identity revealed, Sora returns to Duel Academy and has become Yuya and the others' enemy. He returns later during the Synchro Dimension saga, replacing Dennis after his compromise with the Lancers, under orders to retrieve both Serena and Yuzu. However, Sora has other plans in mind...while protecting Yuzu to keep his promise with Yuya, Sora eventually realizes that he does not belong to Duel Academy anymore and that Yuya and Yuzu are his only friends he can stay loyal to, becoming an ally to the Lancers, and later joining them.
By series end, Sora becomes close friends with Asuka and stays with her to cheer on Yuya in his final duels with Kurosaki, Jack and Reiji.
Sora runs a Fluffal Deck, which based on cutesy monsters fusing with a certain Edge Imp monsters to become horrifying mash-up creatures, the Frightfurs.
---
Crow Hogan
Crow Hogan
An alternate version of Crow Hogan from Yu-Gi-Oh! 5D's. A member of Commons, he takes care of three orphans. Despite being friends with Shinji, Crow believes in a more peaceful solution for the City. After witnessing the attack by Obelisk Force, he becomes one of the few Synchro Allies for the Lancers, later joining them.
He uses an Assault Blackwing Deck, which includes the old Blackwings and new Assault Blackwings.
---
Former Members
Members that have proven they either weren't up to snuff with the pressures of war and/or were taken out by the enemy. Dennis has proven to be a
traitor and spy
on the Lancers; Reiji himself had prepared for such a possibility.
Dennis McField (Dennis Mackfield)
Dennis McField (Dennis Mackfield)
Dennis plays the role of The Mole to the Lancers, with secret ties to Academia.
LDS Youth
LDS Youth
The initial strike team that Reiji selected due to their proven skills in past tournaments and matches. They all lost miserably against Obelisk Force, leaving Yuu Sakuragi as the sole survivor. For more information about Sakuragi, click here.
Tropes Associated with LDS Youth:
---