Main Page | Day Class | Night Class | Other Characters | Other Vampires
open/close all folders
That incident ten years ago... was my "beginning."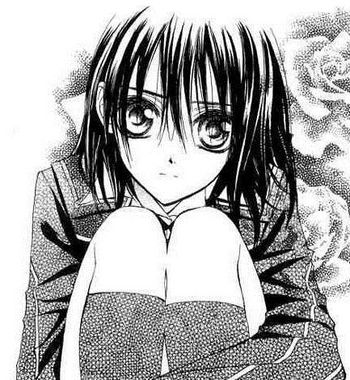 The main heroine. Yuuki is the adoptive daughter of Headmaster Cross and works with her childhood friend Zero as a Prefect, monitoring the Day Class and Night Class. She was saved from a vampire attack ten years ago by Kaname, who she has been in love with ever since. In actuality, she is the daughter of the two pureblood vampires, Haruka and Juuri Kuran, making Kaname her blood brother. Per tradition, they are destined to marry one another, despite being related to each other.
Due to dark circumstances, Yuuki lost some of her admiration for her brother and comes to have second thoughts about their relationship. Instead, she falls even deeper in love with Zero. By series end, Yuuki gives birth to Kaname's child after one last tryst with the man and she moves on with her life by marrying Zero and having his child. After Zero's death, she then sacrifices herself to bring Kaname back to life as a human, joining Zero in the afterlife and leaving Kaname in the hands of her children.
Zero Kiryuu
I will never allow that to happen... even if it makes Kuran my enemy... and even if you hate me for it.
Yuuki's childhood friend and a fellow Prefect. Zero is often aloof and unfriendly. He has a hatred for vampires ever since his family was murdered by a pureblood vampire five years ago. Zero was bitten by Pureblood vampire, Shizuka Hio, which is slowly causing him to transform into a vampire who inevitably become "Level E": a vampire who's lost all sense of reason. He also has not so subtle feelings for Yuuki. As a result of Kaname's "help" and his twin brother's sacrifice, Zero has managed to halt his descent into "Level E". However, later learning about Yuuki's true heritage and his fear and anger for Purebloods, as well as his own guilt, caused him to push Yuuki away from him, an action that he has then regretted since.
Years later, Zero learns that Kaname was responsible for the deaths of his family as part of some cruel elaborate scheme, which causes Yuuki to finally abandon Kaname and be by Zero's side. After Kaname's death, Zero finally marries the girl of his dreams and starts a family with her. At some point during their happy marriage, Zero ends up dying in Yuuki's arms from an external force. After the young hunter's death, he is later joined by Yuuki in the afterlife when she gives up her life to save and revive a redeemed Kaname.
Sayori "Yori" Wakaba
Yuuki... I feel like you're hiding something from me... I know you have "something" you can't tell me. And I know you're doing that to make me not worry about you. I'm lonely... Yuuki...
The best friend of Yuuki. Unlike the rest of the Day Class girls who are infatuated with the Night Class, she finds them scary and wouldn't mind dating a boy from the Day Class who's as handsome as Zero. Even after Yuuki's reveal as a Pureblood, she doesn't care. She ships Zero and Yuuki and expresses exasperation that they haven't gotten together yet. Later she falls for Aidou and marries the guy. However, for reasons unknown, she refused to become a vampire like him and dies a peaceful death from old age, leaving behind Aidou and her grandchildren.
Kasumi Kageyama
Voiced by: Takahiro Matsukawa (Japanese)
The Class President of Yuuki's class. He harbors unrequited feelings for Ruka.
Nadeshiko Shindou
Voiced by: Taya Fujimori (Japanese), Carrie Savage (English)
A Day Class student who develops a big crush on Zero after he rescues her.