The cast of Utawarerumono: Mask of Deception, sorted by status.
open/close all folders
Party Members
Haku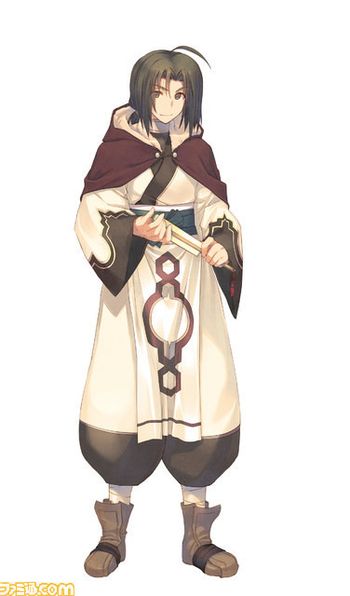 An amnesiac man found by Kuon in the mountains near Yamato.
---
Kuon
Voiced by:
Risa Taneda
(Japanese), Shanae'a Moore (English)
A doctor with ears and tail like an animal's. Having left from her homeland, she encounters Haku while traveling along leisurely. She possesses great strength, an immense appetite and much knowledge of medicine. Despite her attempts to hide it, it's clear that she's from a wealthy family and currently something of a runaway while she explores the world.
Apart from her apothecary abilities she's also quite versed in what history and lore remains of the time before the current world order, which allows her to quickly connect with Nekone.
---
Maroro
Voiced by:
Ouki Sugiyama (Japanese),
Jay Hickman
(English)
Apparently a court scholar tagging along with Ukon in order to provide knowledge and magic. He also serves as Dekoponpo's tactician.
---
Rulutieh & Kokopo
A timid girl who is also the last princess to Kujuuri, vassal state to the Yamato Empire. She's accompanied by Kokopo, her pet Hororon bird which resembles a giant flightless sparrow.
---
Nekone
Ukon's stern little sister. Incredibly smart for her age, but can't hold any official positions because she's too young.
---
Atuy
The princess of Shahhoro. Though one of many nobles who arrived as part of Yamato's Nativity Festival, she's Smitten Teenage Girl who sneaked away from her cohorts to have a little fun and to find a little love, being recruited into Haku's group in hopes of eventually finding someone.
---
Kiwru
The prince of Ennakamui, who is a sworn-brother to Oshtor. He comes to Yamato along with many other nobles as part of its Nativity Festival and is soon recruited to work alongside Haku. In the anime, he was originally sent to retrieve Atuy (and failed hilariously).
---
Nosuri
Voiced by: Nozomi Yamamoto (Japanese), Chelsea McCurdy (English)
An outlaw who considers herself an ally of justice of sorts. Alongside her brother, Ougi, they initially worked alongside Oshtor as inside sources of the criminal underworld. After their contract ends, they make a mess of things in Yamato.
---
Ougi
Nosuri's brother and partner in crime. He accompanies his bombastic sister in whatever shenanigans she gets into.
---
Uruuru & Saraana
Voiced by:
Ayane Sakura
(both) (Japanese), Karlii Hock (Uruuru), Robin Nennig (Saraana) (English)
Twin priestesses known as the Chains of Kamunagi. They are given to Haku to serve him, much to his consternation, as reward for resolving Anju's "kidnapping".
---
Jachdwalt
An incredible sword master and father of a daughter named Shinonon. Initially forced to fight for the Uzurushans against Yamato, but joins the party out of gratitude.
---
Yamato
Royalty
Emperor Mito
Voiced by: Masafumi Kimura (Japanese), Carl Masterson (English)
The Emperor of Yamato, said to have ruled for hundreds of years, yet rarely if ever shows his presence to his nation.
---
Honoka
The High Priestess of Yamato. She also serves as the Emperor's caretaker.
---
Anju
The current Princess of Yamato. She makes her appearance after sneaking out of her residence out of boredom, resulting in her generally making a mess of things.
---
Oshtor/Ukon
Voiced by:
Kentarou Tone (Japanese),
David Wald
(English)
First commander of the imperial guard in the Yamato Empire and loved by its people. Skilled both in tactics and combat, his face is a mystery to the masses due to the mask he always wears. Though from a family of minor nobility, he comes from a family way out in the boonies and thus has to climb the ladder all the way to his current position, which causes some resentment among his peers.
However, becoming too famous comes with its own burdens and after too many promotions it's difficult to actually get much done for the people, so he invented an alter ego known as Ukon who does what Oshtor cannot. Unfortunately, Ukon is also becoming to famous, leading him to hire Haku as his secret agent to handle dirty work Oshtor can't touch.
---
Mikazuchi
Voiced by: Yuuya Uchida (Japanese), Mike Yager (English)
Co-commander of the imperial guard alongside Oshtor, he is also in charge of the safety of the capital's people. He's a long-time friend of Oshtor, to the point of practically being brothers.
---
Munechika
One of the most trusted of the Eight Pillar Generals, she is tasked with defending the capital from invasion. She also serves as Anju's caretaker and possesses a mask that allows her to create massive barriers.
---
Vurai
The last of the Eight Pillar's Elite Four. He is a large, imposing man with an intimidating presence.
---
Dekoponpo
Voiced by: Toru Okawa

(Japanese), James Belcher (English)
An unlikely addition to the Eight Pillar Generals. And likely for good reason; he is also a corrupt official who has a history of abusing his power and status.
---
Raikou
Strategist of the Eight Pillar Generals, and Mikazuchi's older brother. Unlike the bombastic but otherwise good Mikazuchi, Raikou is ruthlessly cunning and will do anything to secure victory.
---
Woshis
Woshis is the most diplomatic and political member of the Eight Pillars. He also appears to control Yamato's spies and assassins.
---
Moznu
A lowly bandit. While he was considered a serious enemy during his first encounter, after that he's simply a recurring joke.
---
Tuskur Natives
As the name suggests, these are characters coming back from the prequel game and series. This folder lists changes or additions to the characters in Mask of Deception; please refer to the original page for their any unchanged characteristics.
Shared Tropes
Karulau
Nakwan mistress to Hakuowlo, and one of Kuon's mothers, though she prefers to be called "Big Sister". She came to Yamato to monitor its activity, while running a Ryokan.
---
Touka
Evenkuruga mistress to Hakuowlo, and one of Kuon's mothers. She tagged along with Karulau, disguising herself as one of the workers.
---
Camyu, Aruruu, and Mukkuru
Voiced by:
Rie Kugimiya
(Camyu),
Miyuki Sawashiro
(Aruruu), Yoshimitsu Shimoyama (Mukkuru) (Japanese), Serena Varghese (Camyu), Sasha Paysinger (Aruruu), Kyle Jones (Mukkuru) (English)
Younger siblings of Ulthury and Eruruu, and Aruruu's pet Tiger God respectively. They arrive to Yamato as messengers to forge an alliance between them and Tuskur, but stop to check up on their younger sister Kuon along while they're at it.
---
Benawi
Loyal vassal and officer to Hakuowlo. He serves as Tsukuru's Samurai General of its military.
---
Kurou
Loyal vassal and officer to Hakuowlo. He serves alongside Benawi as one of it strongest generals of Tuskur (and possibly the world).
---
Oboro
Hakuowlo's brother-in-arms and the man Kuon refers to as her father. He succeeds his dear friend as the current emperor of Tuskur.
---