Lawrence Talbot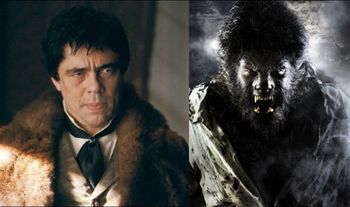 The main and title character. A stage actor, he returns to his home in England after his brother's murder. He wishes to look into it and, of course, is bitten by a werewolf. He finds out his father was the werewolf who bit him, killed his brother, and his mother.
---
Sir John Talbot
Lawrence's father, who had a strained relationship with his son. Lawrence returns home after his brother's death. It turns out Sir John is the werewolf that bit Lawrence, but also killed Lawrence's brother and mother.
---
Gwen Conliffe
Lawrence's love interest. Ben's former fiancee, who wants to know the truth about Ben's death. Over time, they get romantically attached. After finding out Lawrence is a werewolf, she sets out to help him and ends up killing him.
---
Inspector Francis Aberline
Based on the real life Inspector Fredrick Aberline of the Jack the Ripper murders, Francis is in charge of the investigation of the werewolf murders. He (correctly) suspects Lawrence of being the killer. He soon learns the truth and becomes bitten himself.
---
Maleva
A gypsy who warns Lawrence that he is in great danger. After he is bitten, she meets with Gwen who tells her that Lawrence can be killed/saved by someone who loves them.
---
Dr. Hoenneger
Played By: Antony Sher
The sadistic doctor at the asylum that Lawrence is sent to. He publicly tries to prove that Lawrence isn't a werewolf, but it only results in Lawrence transforming in front of everyone.
---
Ben Talbot
Played By: Simon Merrells
Lawrence's brother, who is killed in the opening of the film. His death sets the events of the film in motion.
---
Singh
Played By: Art Malik
Sir John's manservant.
---
McQueen
Played By: Clive Russell
A local man with a better idea than most of what is happening.
---
Colonel Montford
Played by
: Nicholas Day
One of the local leaders.
---
Reverend Fisk
Played by
: Roger Frost
The local minister.
---
---