Charles "Angry Grandpa" Green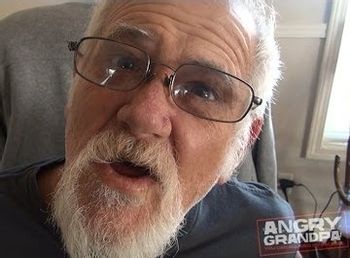 An angry old man with bipolar disorder, which causes him to rage out of control and destroy everything in sight.
Michael "Pickleboy" Green
Angry Grandpa's son and cameraman. He and his girlfriend Bridgette film everything Angry Grandpa does and post the videos on
YouTube
. Angry Grandpa calls him Pickleboy due to a prank that failed and got him back with pickle juice all over him. Michael is also a rapper known as Lyricold.
Bridgette "Princess" West
Michael's girlfriend. She often helps him film the videos and prank Grandpa.
Tina Green
Angry Grandpa's wife. They got married when she was pregnant with Michael's older brother, and is the mother of Michael. Tina works as a housekeeping maid at a motel, and she is obsessed with Elvis Presley. Since Tina's not that smart, she always spends her money on Elvis stuff instead of groceries and bills, making Angry Grandpa extremely angry. On January 9th, 2012, Tina had enough of Angry Grandpa's abuse and decided to pack her stuff and end her longtime marriage.
Tina the Neighbor
Angry Grandpa's (former) neighbor. She's appeared as an archnemesis of sorts for Angry Grandpa after a volatile Fourth of July confrontation. Just as loud and abrasive as Angry Grandpa, she is considered a Worthy Opponent in putting him in his place and getting the biggest rise out of him so far.