Click here to go back to the main character page.
Click here to go back to the main Angels character page.
---
open/close all folders
Archangels In Supernatural
"Archangels are fierce. They're absolute. They're Heaven's most terrifying weapon."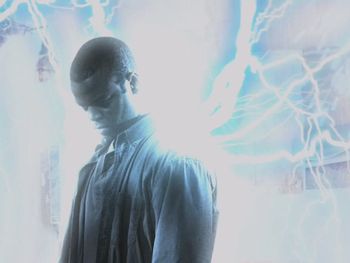 God created the four Archangels before the other angels, who would be more powerful than their brothers and sisters. Season 10 reveals that their first job was to seal away the Darkness. The oldest Archangel, Michael, loved his younger brother, Lucifer, the second Archangel. However, after God created humans and commanded the angels to bow before his new creation, Lucifer refused and was cast out.
After Lucifer twisted a human soul into a demon and became the leader of Hell, God ordered Michael to imprison Lucifer inside a Cage. The youngest Archangel Gabriel, who had served as God's messenger, wanted to avoid picking sides and left Heaven to avoid his brothers' dispute. Archangel Raphael continued to serve in Heaven and was the protector of the prophet Chuck Shurley.
Michael served as the leader of Heaven in God's absence. After the Apocalypse was ended and Michael was imprisoned along with Lucifer, Raphael served as Heaven's leader. This led to a civil war in Heaven between the angels loyal to Raphael and those who followed Castiel.
---
Tropes:
Michael
Rank in Heaven: Archangel; Commander of the Host of Heaven; Viceroy of Heaven.
Michael is the eldest Archangel, making him the oldest angel in Creation and one of the most powerful beings in the universe. He is the older brother of Lucifer, Raphael, and Gabriel. During the War in Heaven in the distant past, Michael banished his once-beloved brother Lucifer, who rebelled against their Father, from Heaven on God's command, later restricting him to a Cage deep in Hellbound by the 66 seals.
He was the Viceroy of Heaven in his father God's absence; as the highest-ranking Archangel, he issued the commands, which went to the higher-ranking angels to disperse down across the angelic chain. He commanded the Heavenly Host until he fell into the Cage with Lucifer.
For his Apocalypse World counterpart and tropes associated with that version of Michael, go here.
---
Affably Evil: Comes with his Just Following Orders mentality — he's not someone to cross, but he never displays the malice or Bad Boss tendencies of Lucifer. He has an almost friendly conversation with Dean when in John's body, even promising he won't burn him out as a vessel. Later, he continually gives Zachariah more chances to succeed, to the point that Zachariah himself is surprised, and is even willing to share a heartfelt reunion with Lucifer before they fight.
Age Lift: According to the Bible, Michael is younger than Lucifer.
Lucifer
"Okay, let's face it Cassandra, the truths I say hurt 'cause they're hard to swallow so people call them lies. Go figure."
The most pivotal angel in existence who changed the entire fate of Heaven, Lucifer, also known as "The Devil" and/or "Satan," is a fallen Archangel. He was God's favorite son and is known to be the most beautiful angel ever as well as Heaven's most beloved angel. He is the ruler of Hell and creator of demons, seen by them as a father figure.
As the second-created Archangel, Lucifer is the younger brother of Michael and the older brother of Raphael and Gabriel. According to Gabriel, he was God's favorite, but when God asked all angels to bow down to humanity, Lucifer refused and rebelled against God. He waged a war against God but was banished to Hell by Michael. All of Azazel's and Lilith's actions were motivated with the goal of eventually releasing Lucifer.
---
"
Let the Good Times Roll
":
Raphael
Portrayed by Demore Barnes and Lanette Ware
Rank in Heaven: Archangel; Protector of the Prophets; Commander of the Host of Heaven; Leader of the Angel Loyalists.
Raphael was one of four Archangels created by God. He was the older brother of Gabriel, but still younger than Michael and Lucifer. Raphael lived in Heaven with God and his brothers. When God created humans and asked all angels to bow down before them, Raphael was among those that did so, but when Lucifer rebelled against God and while Gabriel skipped out of Heaven and on to Earth, Raphael chose to side with God and Michael. After both his older brothers are hurled into the Cage, Raphael assumes the mantle of the ruler of Heaven before becoming embroiled in a civil war with Castiel over Raphael's plans to reignite the Apocalypse.
---
Gabriel (Spoilers)
Rank in Heaven: Archangel; Herald of God.
"I want it to be over! I have to sit back and watch my own brothers kill each other thanks to you two! Heaven, Hell—I don't care who wins! I just want it to be over."
Gabriel was one of four Archangels created by God. He is the youngest of the Archangels, but still very powerful. Gabriel was very compassionate towards his family. When his older brothers, Michael and Lucifer, turned on each other and began fighting one another, he couldn't bear it, retreating to Earth as an escape.
---
---