This character sheet comprises of those who make their appearance in the Third Super Robot Wars Z duology.
---
open/close all folders
Z-BLUE
Hibiki Kamishiro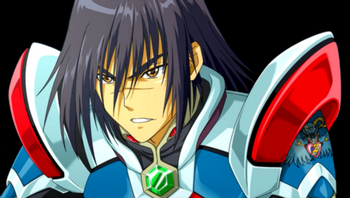 Voiced by:
Ryu Murakami
"No matter where you try to run... We WILL hunt you down!"
Headlining protagonist of the Third Super Robot Wars Z, Hibiki Kamishiro is a second-year high school transfer student at 2nd New Tokyo's Research Academy City with strong survival instincts and has a father who retired from the military. Before his transfer, Hibiki and his father were "beast hunters", specializing in destroying creatures that appear from parallel worlds. When Hibiki comes across an unknown machine and boards it, he is commissioned by "AG", an agent for the "DEMnote Dimension Energy Machinery Corporation", to become its test pilot. Now hired by his new contractors, Hibiki uses the Genion to accomplish his missions and will sacrifice anything to do it, preferring to close his heart off to everyone.
---
Theme Naming: All of the Genion GAI's attacks are named after elements from Norse Mythology - "Helheim"note , "Midgardsormr"note , "Vánagandr"note , "

Nibelung Annihilation

"note

Balmung is an alternate name of the "Gram", the sword Sigurd used to slay the dragon Fafnir.

Thinking Up Portals: Makes up a good part of his moveset with the

Geminion Ray

.
True Companions: Hibiki forms a close-knit friendship with Sousuke, Kouji Kabuto and Alto at school. Although Mikhail Blanc, Boss, Nuke and Mucha are included, it's primarily the four at the center.

Note Sousuke initially distrusts him (since he's trying to be a secret bodyguard and Hibiki's a pilot for an unclassified Humongous Mecha), while Alto and Sousuke despised one another in their first mission together (the former's an arrogant civilian, the latter a consummate professional. Fire-Forged Friends is definitely shown between them throughout Jigoku-hen.

The Unchosen One: Suzune was the intended pilot of the Genion. The black nucleus Hibiki touched at the beginning of Jigoku-hen was the Genion's manual and pilot registration system. The DEM Corporation sent it to scout Suzune as its pilot, but it wound up in Hibiki's hands instead.

Unlike the other Z originals, Hibiki isn't a Sphere Reactor at the start of the game. Rather, he ends up stealing the Sphere of the Quarreling Twins from Gadlight.
Zigzagged Trope:

He is chosen by Advent for being his "experiment sample". A particularly good one, as it is. Still, Advent had thousands of other samples out there in the universe just like Hibiki and he happened to be the lucky one.
Suzune Saijou
Female protagonist of the Third Z, 21 year-old Suzune Saijou is a high school student teacher appointed to Research Academy City. Her obliging, well-mannered personality has her popular among the students. Due to events in Jigoku-hen, she winds up boarding the Genion with Hibiki.
---
AG
---
Chrono
Advent
A mysterious young man who pilots the mobile weapon Asclepius. Always has a warm smile on his face and bears a gentle and graceful demeanor.
See the Walking Spoiler to see his true identity.
---
King
Queen
Geminis
Annalotta Stohls
Voiced by: Kazumi Togashi
---
Gadlight Meonsam
Voiced by: Shunsuke Sakuya
The leader of Geminis.
---
Sidereal
In General
Australis
---
Barbiel the Needle
---
Despair Event Horizon: Apparently Barbiel crossed it at some point, as An Ares' strongest attack hints at it.
Don't You Dare Pity Me!: He gets really angry when Setsuko gets freed out of captivity by

Asakim

. She tells him that she felt his sorrow and says that he is a sad person. In fact, sympathy towards the bearer of the Resentful Scorpion sphere causes its powers to weaken.
Dude Looks Like a Lady: He has purple hair and he wears makeup, making him look quite feminine.
Eternal Engine/Robotic Torture Device: One of the An Ares's attacks involves summoning a gigantic machine with plenty of gears and whipping his hapless foe into it. They suffer countless offscreen agonies and spit out, causing plenty of damage.
Exact Words: Simon reveals that Sidereal managed to steal the Chouginga Daigurren which obviously couldn't land on Earth and had to wait around in space while Simon and the others fought down below. Barbiel used his venom to take a great number of hostages, and used them to blackmail Simon into handing over the ship. Nia's the one who convinced them to give it up, stating that "We can always take back our hope, but life cannot be recovered once lost". And Barbiel honored his end of the agreement by releasing the hostages... who, contaminated by his venom, were berserking lunatics.
Freeze-Frame Bonus: Hit the pause button during the An Ares' strongest attack; images of Barbiel in despair and

the Supreme God Z

can be seen.
Hate Plague: The Sphere of the "Resentful Scorpion" awakens the latent hatred and resentment in other people, depriving them of their higher reasonings. When it is unleashed upon the people of

New Japan

during Sidereal's conquest, Zero had use his Geass to stop them in their tracks.
Human Shield: To capture Noriko and the Gunbuster, Barbiel used human shields to force a surrender from Noriko. As a result, Noriko (like the rest of Z-BLUE) has a grudge against Barbiel.
Jerkass: In case his mouth and his action doesn't obvious enough.
I Call It "Vera": He gave the An Ares its current name because

Gun (like in Gunbuster and Gundam) was a thing used everywhere in his world and it makes him saaad

.
Leitmotif: Sabbath of Resentment
Meaningful Name

An Ares is an obvious reference to the star Antares, the brightest star in the Scorpio constellation.
Barbiel is the angel representing the month of October; traditionally, the astrological Scorpio occurs in October.

Narcissist: Hates everything but himself
Nanomachines: When the An Ares poisons the Genion, Tieria Erde immediately identifies the poison infecting the Genion as this trope. Fortunately, these nanomachines can be shorted out with a simple "TRANS-AM Burst" or a Moonlight Butterfly. However, there's another variant, but it cannot distinguish between friend and foe.
Perverse Puppet: The machine with a spike jutting out one of its eyes is not the real An Ares. The real An Ares, during its strongest attack, reveals that it controls the fake through its stinger and that it is a scorpion.
Sole Survivor:

Barbiel is from a parallel Earth and the sole survivor. Everyone but him dying awakened the sphere in his robot, the Gun Ares (the An Ares' original name)

.
Too Many Belts: His abs are covered by the belts in his outfit.
Villainous Breakdown: Did this just before begin absorbed by Australis, Even begging Setsuko to help him. Also notice to be the only one out of the members to do this.
Villainous Crush: If Crowe attacks Barbiel in scenario 22 of the Rescue Sousuke route, Crowe delivers a fantastic taunt by pointing out that he's well aware of Barbiel's crush on Setsuko. This taunt works a treat.
Whip It Good: The An Ares uses an energy whip.
Shikuu
Voiced by: Koichi Sakaguchi
The mysterious pilot of the Shiseiten, he is the Reactor of the Sphere of the "Taciturn Giant Crab".
---
Straus