All spoilers regarding the Skywalker Saga and The Clone Wars are unmarked. Examples relating to Disney's films and EU can be spoiler-tagged if deemed necessary.
---
Tropes specifically applying to the characters based on their appearances in
Star Wars Legends
can be found
here
.
To return to the Character page for Star Wars, go here.
Grievous now has his own self-demonstrating page here. It may make a fine addition to your collection.
---
General Grievous (formerly Qymaen jai Sheelal)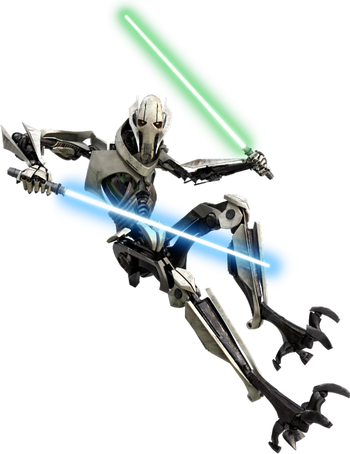 Species: Kaleesh (Cyborg)
Homeworld: Kalee
Grievous, formerly known as Qymaen jai Sheelal, was a Kaleesh warlord who served as the Supreme Commander of the Separatist droid army that engaged the Grand Army of the Republic throughout the pan-galactic conflict of the Clone Wars. Noted for his ruthlessness and extensive cybernetic enhancements, Grievous inspired fear as he traveled across the galaxy, invading entire worlds and engaging the Jedi Knights of the Republic. While not Force-sensitive, Grievous had extensive training in lightsaber combat courtesy of Count Dooku, and this plus his cyborg body enabled him to fight the Jedi on even footing.
---
open/close all folders
A-D
E-H
I-P
R-Y
---
"Time to abandon ship!"