To return to the main character page, click here.
Spider-Man
Alter ego: Peter Benjamin Parker
Notable Aliases: Bombastic Bag-Man, Ricochet, Dusk, Prodigy, Hornet, Ben Reilly, Scarlet Spider, Captain Universe, Liar
Editorial Names: Amazing Spider-Man; formerly Sensational Spider-Man, Peter Parker, the Spectacular Spider-Man, The Spectacular Spider-Man, Avenging Spider-Man, Friendly Neighborhood Spider-Man, Super Spider-Man, Astonishing Spider-Man
Species: Human mutate
First appearance: Amazing Fantasy #15 (August 1962)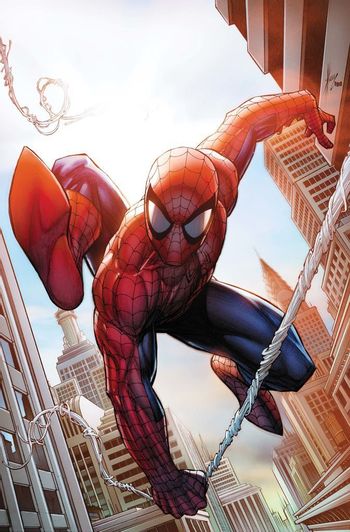 Peter Parker was a shy, timid, asocial and bullied science genius, described as "Midtown High's Professional Wallflower". During a science exhibition with some isotope generators, a little spider was hit by radioactive rays generated in the middle of two arcs. This spider crawled away and bit Peter Parker before dying. In a short while, Peter found out, to his initial delight, that he had gained super-strength, the ability to crawl on walls and other abilities. He was also able to use his genius to create a special web fluid and a pair of web shooters. Peter, who lived with his Uncle Ben and Aunt May, attempted to use these abilities to get some money for his poor family, but he chose to do so by courting fame and celebrity as a professional wrestler and TV showman. His success went to his head and one night after a performance, he let a burglar escape after one of his shows, only for this same burglar to kill his Uncle Ben a few days later. After this tragic event, he vowed to dedicate his life to helping innocent people with his powers to atone for his big mistake and to honor his uncle's beliefs in justice and responsibility.
Peter's life since then has been full of ups and downs. He graduated from high school to college, he worked at the Daily Bugle as a freelance photographer for his boss J. Jonah Jameson who just happens to despise Spider-Man. He has fallen in love with a few girls, dating Gwen Stacy, Mary Jane Watson, and Felicia Hardy, before marrying Mary Jane for twenty real-time years until a retcon. He has graduated college but has yet to fully escape grad school and complete his thesis. In addition to photographer, Peter has worked several small time jobs, before working for extensive periods of time as a high school teacher, a scientist for Horizon Labs, business owner of Parker Industries.
He has even been dead a few times, one of which involved him getting organic webbing for a while. More recently (2010-2019), he had a "death" with the Superior Spider-Man hijacking his body for a year and a half during which Otto, in Peter's body, started a company called Parker Industries and completed his graduate thesis under false circumstances. This company offered Peter success and fame for a while, though typically, Peter refused to draw a big salary from the venture, and eventually said period of success was overturned, and Peter returned to his mid-20s struggling self around the time of Nick Spencer's Spider-Man.
---
open/close all folders
Tropes A-F
Tropes G-L
The Gadfly: The Ultimate Superheroic Troll for Marvel, which is why his Marvel Team ups with Marvel's greatest characters are great and memorable. Peter basically pokes fun and teases his friends and foes for the tongue in cheek obviousness we as fans would get.
Genetic Memory: Every clone of Peter will invariably have his memories.
Genius Bruiser: Has an IQ of 250 and literally hits like a truck.
The Glasses Gotta Go: He started out wearing Nerd Glasses, but eventually lost them as he grew up and developed more confidence in his civilian identity. The interesting thing about how Peter learned he didn't need glasses in the comics was because of a boxing match. He agreed to a match with Flash Thompson, Flash got in one good blow that broke his glasses and Peter countered with a knockout. Once Pete realized the spider-bite fixed his vision, he really saw no need to buy a new pair or keep up the charade at that point.
The Gimmick: Spidey possesses several: The Spider theme, the quick wit, and, out of universe, being One of Us.
Going Commando: Per an early issue of New Avengers, he doesn't wear anything under that onsie. It should be noted, however, that this remains the only mention of Spidey ever going commando under his costume. He's been consistently shown wearing underwear when putting his costume since the 60s.
Good Is Not Dumb: He certainly has his flaws; he's hot-headed, neurotic and can occasionally descend into bouts of self-pity, yet he's still extremely loyal to his loved ones, lives by a very strict Thou Shalt Not Kill code and above all else, he values responsibility. He also happens to be a genius scientist.
Good Old Fisticuffs: Before his Kung Fu Lessons for Spider-Man.
Good People Have Good Sex:

Although always through Sexy Discretion Shot (it's still a family-friendly franchise, after all), his relationship with Mary Jane was always shown to be sexual. Peter's first time was with her at the end of issue 149 (albeit with a tasteful door closed behind). Particularly after they got married, since the marriage allowed the writers and artists to show them in explicitly sexual situations without fear of angering conservative types too much. (As for nowadays, the second issue of Nick Spencer's Spider-Man, their first scene after officially getting back together is them waking up in the same bed. Subtle that ain't.)
To a lesser extent, he's been shown quite sexually active with some of his other Love Interests as well, particularly Black Cat. Although with her it was portrayed as kinkier and less healthy due to her being turned off by the Peter Parker persona.

Guilt Complex: His guilty conscience makes him his own worst enemy at times. Otto says this is what separates him and Peter the most. Deep down, Peter knows he's better and smarter than other people, but it came at such a high cost that he willingly sabotages himself to ease the horrible guilt he feels.
Happily Married: He was (for about twenty years real-time) to Mary Jane Watson. But then Joe Quesada decided that made him feel too old and boring and retconned the marriage. The backlash of ending the marriage was so bad that even Stan Lee didn't fully agree with the new direction, and kept him married in the newspaper strip. In either case, Spider-Man's marriage in both the comic-strip and the main continuity, and in other continuities made him for a long time, and for some still does, the most prominent example of a superhero who was also married, and many cited that as one of his most unique qualities as compared to Batman and Superman, the latter of whom got married ten years later, and today has taken the crown from Peter as the most prominent superhero who is a married man.
Headache of Doom: His Spider-Sense will sometimes trigger when something really wrong or awful is about to happen, such as in The Infinity Gauntlet. In the Ultimate Universe, Venom triggers this automatically - his approach causing the Spider-Sense to go into overdrive. Spidey compares such occasions to a bad migraine.
Healing Factor: Peter heals A LOT faster than normal people, though it's pretty slow one by Marvel standards. An example would be that any time he gets his bones broken, expect them to heal in less than a week. He also one time had his eyes completely burned out... and woke up with 20/20 vision the next day. He was also able to heal from third-degree burns after a few days.
The Heart: Of the Marvel Universe, Steve Roger's, Jean Grey, Jen Walters, Kurt Wagner, Sue Richards, and possibly Kamala Kahn are very close contenders.
The Hero Dies:

During The Other, he sheds his body and gets a new one out of a cocoon, with many team-mates and his loved ones believing he had died.
Following Doc Ock's "Freaky Friday" Flip, Peter tries to get his body back but fails, though in his dying moments he convinces Octavius to pull a Heel–Face Turn. However, given that Death Is Cheap in the Marvel Universe, he came Back from the Dead albeit about a year and a half later during his longest absence in regular Marvel books ever.

Heroic Host:

He was the first host of the Venom symbiote until he found out what it was and rejected it out of fear and disgust. It still wants him, one way or another...
In the mid-2000's he was revealed to be the avatar of a totemic spider-god, though he later lost his connection to it and the powers it bestowed, which was acquired by his antiheroic clone, Kaine.

Heroic Fatigue: He's gone through this more than once. Peter got his powers as a teen, had no adult guidance and was trying to fight crime, help Aunt May with bills, keep up school work and try to have something resembling a social life all while being the quintessential Hero with Bad Publicity. He's been shown quitting, trying to get rid of his powers and even resorting to crime (albeit influenced by a malevolent being or force) to get a form of compensation.
Heroic Spirit: Spider-Man is capable of pushing himself far beyond his normal limits when he's motivated enough. Notably, his Marvel Zombies incarnation was the only infected character who refused to accept his Horror Hunger, even when Colonel America had completely given in. It could be argued his greatest superpower isn't his strength, Spider-Sense, or agility, but that he simply will not stay down no matter how hard you try to break his spirit, mind and body. Peter Parker always gets back up one more time.

Even dying doesn't stop him from being a hero. After his supposed death in Ock's body, he shows up later as an apparition, preventing Ock from killing the supervillain Boomerang, and then vowed to regain control of his body from Octavius.

If being killed once wasn't enough, having most of his essence and willpower erased by Ock after being found out he was still tagging along in his body still does not kill him, just buries him until he gains the strength to rise up again. Even when there's barely anything left of Peter Parker left in his body, he comes back swinging to regain control of his body and his life.

Heroes Want Redheads: Pete's love interests have varied quite a bit in hair color over the years (although two of the runners' up Gwen and Felicia are blonde). But the woman he eventually married and his most prominent love interest to date, was the redheaded Mary Jane.
Hero with Bad Publicity: The Trope Codifier. He saves countless people, the entire city, and even the entire universe many, many, many, times, but he will still not get the credit he deserves. That being said, he does have a number of fans (how often they show up depends on the writer, however), and most of the other heroes, at least nowadays, do show him considerable respect, enough that he was made an honorary member of the Fantastic Four and was offered a spot on two teams of the Avengers.

Deconstructed during Nick Spencer's run, where J. Jonah Jameson points out that all Spider-Man had to do to clear this up was talk, and that him constantly harassing JJ didn't help matters at all.

Heroism Won't Pay the Bills: A regular source of angst for him, being a full-time student, a part-time photographer, and a more than fulltime superhero.
He's Back: Peter got his body back from Doc Ock in March 2014, just in time to save New York from the Green Goblin in-universe and for the Amazing Spider-Man 2 movie in real life.
Heterosexual Life-Partners: Initially he was totally friendless, but in college after bad first impressions, he became best friends with Harry Osborn, albeit that friendship faded thanks to Norman. Among the superhero community, his longest and most endearing friendship is with Johnny Storm who was originally his Big Brother Mentor (a speech Johnny gave in college basically served as his Heroic Second Wind in his first fight with Dr. Octopus), and Johnny nominated him as his successor in his will during his brief "death". He also became pals with Daredevil in The '80s and The '90s. Years after they got over the whole bullying thing, Peter has become good friends with Flash Thompson surprisingly enough.
His Own Worst Enemy: It's pretty much his central character flaw, as for all of Peter's intelligence and amazing powers he could never truly become greater for all of the constant mishaps that happen in his life, whether if it was out of his control or not. As Otto can attest in Superior Spider-Man, it is that Peter secretly acknowledges his superiority to other people, but willingly sabotages himself to ease the horrible guilt he feels from the price that came with it.
Hollywood Dateless: He was married to one of the most beautiful women in the Marvel Universe. And before MJ, he had Betty Brant and Liz Allan fight over him and dated Gwen Stacy and the Black Cat. Even his least overtly attractive love interest, Debra Whitman, looked like a Hot Librarian. This despite him being described as a poor nebbish nerd (though Depending on the Artist not really looking like one). His friend the Human Torch even called him on it, as did the Chameleon while impersonating him.

Chameleon: Does Parker know anyone who isn't a stunningly beautiful woman?

Hollywood Nerd: Peter Parker is a famous example. He was a real nerd in Amazing Fantasy #15 but by later issues, when he stopped wearing glasses, started putting on muscles, and worked for a living, he was actually becoming a pretty handsome guy. Romita Sr. gave him his iconic redesign where Peter went from a dark-haired brunette to a light-haired one, had a more rugged and muscled look to the point that MJ and others would call him a "hunk" but later comics and stories still remind us from time to time his nerdy origins and kept lampshading his relationship with the gorgeous MJ even if he had dated other gorgeous women (such as Gwen) and was pretty easy on the eyes himself.
Honest Corporate Executive: When Parker Industries becomes a successful multi-national corporation, he's determined to keep his principles. When he opens a new branch in China, a journalist asks him point-blank if he just did it "for cheap Chinese labor". Peter responds that he's paying a fair salary to all of his workers, and even cuts his own salary down to the middle-management level to make up for the loss of potential profit.
Honorary True Companion: His relationship with the Fantastic Four for years. He initially tried to join them because he thought there'd be money in it (Aunt May was strapped for cash), but a close bond formed all the same. He finally joined them for real when Johnny Storm briefly died and he has the status of "fifth Beatle" with them in any case with them and the Future Foundation.
Hurting Hero: Some writers seem to think that the biggest appeal of Spider-Man is that things constantly go wrong for him. As a result, we get countless stories of Peter suffering humiliation, lack of money, sickly aunt, girl trouble and just all around unpleasantness, to the point that reading the stories can actually get a little depressing. Note that after John Romita Sr started working on the title with Stan Lee, the book became much Lighter and Softer than it had been recently, a move which led most fans to label it as the golden age of Spider-Man.
Hypocritical Humor: In one of the earlier issues, Spider-Man, of all people, tells Mysterio to quit it with the sarcasm.
I Am Not Left-Handed: Spider-Man tends to hold back against non-powered opponents most of the time. The gloves come off when he's fighting a dangerous opponent... or if he's really pissed off:

During Spider-Man's first fight with Green Goblin II, Harry had most of his father's equipment but none of his actual powers. Peter easily beat him up, and told Harry that if he hadn't pulled his punches, he probably would be dead.
Despite them being mostly normal humans, Punisher and Kingpin have had a long history of fighting Spider-Man and coming up (relatively) even... until the gloves come off. Aunt May gets shot by one of Kingpin's assassins during the events of One More Day; Punisher launches an assault on the Exchange building in Greg Rucka's Punisher run, resulting in massive collateral damage. Both events result in a pissed off Spidey tracking them down and beating the crap out of them, reminding them that he could easily destroy them if he really wanted to.

I Can't Sense Their Presence: One of the things that makes Venom such a threat is that he doesn't trigger Spider-Man's Spider-Sense. The Spider-Sense also can't detect the Spot's Teleport Spam or Spidey's clones.
I Just Want to Be Normal: He's tried to give up the superhero life several times, often because of how much he suffers and never gets the credit he deserves for his superheroics. It never lasts long; Peter's self-imposed responsibilities always end up drawing him back.
I Let Gwen Stacy Die: The Trope Namer.

In fact, he killed her himself by accident.

Incorruptible Pure Pureness: One of the driving forces of the character is that he is so strongly compelled to do what he sees as the right thing that he can't give up being a superhero, even with all the misery and ruined relationships that it brings to his life.
In Harm's Way: He is most definitely an adrenaline junkie, in addition to being something of a showman since his inception in the wrestling ring. His patter has more energy the more danger he's in. He often goes out to 'clear his head' with the hazardous sport of swinging from skyscrapers.
I Shall Taunt You: The Master of the battle insult. Since he usually fights purely on instinct, he actually thinks about making insults rather than focusing on the battle. He has gotten wittier over the years, and so he's able to do it when he IS focusing on the battle. It's been mentioned he becomes like this whenever he puts his mask on. And should he stop snarking...
I Work Alone: He normally works alone and finds it difficult to work in teams. This has diminished over time, with Spidey becoming a member of the Avengers and the Future Foundation.
Iconic Outfit:

Peter's best known and most-beloved costume is his red-and-blues, the exact appearance of which has changed over the years but in pattern, placement of details, color scheme has remained consistent to Steve Ditko's design.
The Black Suit is his second-most iconic costume, and he still wears a synthetic replica whenever he gets pissed off.

Idiot Ball: Spider-Man is tossed one of these nearly any time he is taken by surprise by an attack, considering that his comic named the trope for the ability to sense when something potentially dangerous is about to happen. Sometimes justified in that the Spider-Sense is not infallible. Pete has misinterpreted it at times and been too distracted or in too bad of a condition to pick up on it clearly at other times. It is danger precognition... not omniscience. At one point it was triggered by his own sneezing when he was suffering a truly awful cold.
Improbable Weapon User: He often has to get creative with his webbing in a fight.
Indy Ploy: Spider-Man's modus operandi is mostly just focused on his superpowers, but his creativity and ingenuity using his powers is also a huge factor. He initially had no training in battle or martial arts so to compensate he uses his powers at his fullest extent to fight unpredictably as he can to find weaknesses and openings in an opponent. Occasionally, he'll use technical knowledge like science and physics to improvise a quick idea to come up with a plan to defeat enemies and foes stronger than him and more deadly.
Informed Ability: Some Marvel Databooks state that Spidey can lift and support the weight of around 10 tons, and yet many writers had Spidey struggle with situations that his Super Strength could easily do the work; common examples are when he is saving people from some catastrophe that wrecked the city, so there are civilians stuck in cars (inside or under them) and debris, much of the time he is struggling to lift some car or piece of concrete that can't weigh over a ton and half. It seems Peter can only do justice to his informed strength when he is in determination mode, he has supported the weight of collapsing buildings more than once, which in itself is much more than he could possibly endure. Of course, databooks aren't always reliable.

It's more of a case of Depending on the Writer a lot of the time. In earlier comics he could tip a train car onto its side with a finger flick and threatened to crush a villain with it in another.
Likewise, Peter Parker's scientific genius has also been one for the majority of time across his publishing history. Aside from the adhesives of his web shooters which he invented, Peter doesn't seem especially brilliant compared to the likes of Tony Stark or Reed Richards who occupy the same universe. It's not even especially clear which field of science is his specialty. While he's quite a smart detective and gifted problem solver in general, his science genius is often told rather than shown. Granted, he doesn't get to spend a lot of time doing research when he's busy fighting crime all over New York City, and Peter would have surpassed the aforementioned scientists in time if he spent all of his time in academia according to Richards himself.

In-Series Nickname: "Spidey", "Webhead", "Webslinger" or "Wall-Crawler", "Your Friendly Neighberhood Spider-Man" or any combination thereof.
Instant Expert: His powers are hardwired into his reflexes and instincts, so he really has a harder time suppressing them than actually using them. That said, he's the Trope Namer for How Do I Shot Web? for a reason; his early days were plagued with misapplication of his powers that mostly came with not knowing how to consciously control them. Unconsciously, he reacts to his Spider-Sense and leaps over a car and sticking onto the side of a building mere moments after the life-changing spider-bite.
It's All My Fault: Tends to take the deaths of people he knows — friend and foe alike — personally. Carlie calls him out on this habit

after Rhino drowns himself and Silver Sable

. Peter does have a tendency to blame himself for things that are in no way his fault.
Jack-of-All-Stats: He's the strongest street-level hero, but he's still a street-level hero. He has surprising speed and agility, but he's no Quicksilver. He has super-strength, but not Hulk levels. He can take a lot of punishment, but not from super-powered individuals. This combination of powers, combined with his intellect, make him one of the most adaptable heroes in all of Marvel.

His bevy of superhuman powers are nothing compared to his greatest strength: his heart. The Hulk, The Juggernaut, Phoenix-Force empowered X-Men, Heralds of Galactus, Spidey has faced and defeated all these Omega-level threats not by being stronger than them, but by his sheer inability to give up.

Kick the Dog: His treatment of the Venom symbiote was rather unwarranted, at least before it was retconned.
Kid-Appeal Character: Being the original Kid Hero, it's fitting that he fills this role in The Avengers, (along with The Smart Guy), being rather young compared to the others.
Kid Hero: He's one of the first true teen solo superheroes that wasn't a Kid Sidekick, starting superheroics when he was fifteen.
Kid Hero All Grown Up: He's the original Kid Hero, starting when he was in high school. Over the course of the series, he grows up from that, to a college student, to a schoolteacher, to the leader of his own company, all while keeping up his superheroics. At the very least, ten years have passed in Spider-Man's 616 Continuity despite the floating time scale. And Peter's gone from the age of 15 to, as per Nick Spencer's run, in his "mid-20s". The end of Slott's run had him pushing thirty by establishing that thirteen years had passed since he became Spider-Man while he was the CEO of Parker Industries, and a couple of years have passed in-universe since then.
Knight in Sour Armor: The universe loves kicking him in the nuts while he's down. No matter how much good he does, Spider-Man almost never receives any real gratitude or credit for his actions, and he often loses friends and loved ones. He's contemplated and even attempted quitting at different points, but he always comes back and continues his heroics because With Great Power Comes Great Responsibility.
Kryptonite Factor: Of a sort. Because of the time he spent bonded to the Venom symbiote, Venom and all other symbiotes that spawned from it (or its "children") — and in some stories symbiotes in general — don't trigger his Spider-Sense. This would be a problem in itself, but Peter's reliance on his Spider-Sense to predict oncoming danger usually means he forgets this fact until it's too late.
The Lancer:

In many crossovers, he's presented as this instead of the leader.
He's technically this in Superior, up until the Grand Finale.

Le Parkour: He takes this trope Up to Eleven.
A Lesson Learned Too Well: He learned that "with great power comes great responsibility." Cue years later, where his family and friends never get any personal time, because he can't let go of his mission to protect the general public by stopping super-villains.
Lightning Bruiser: So far as street-level heroes go, Spider-Man is one of the fastest, strongest, and most durable — to the point that he deliberately holds back against opponents to avoid killing them.
Literally Loving Thy Neighbor: With MJ. Though to be technical about it, it's more like "literally loving thy neighbor's niece".
Logical Weakness:

He has been shown to be susceptible to pesticides that affect spiders. He also can't stick to surfaces that are sufficiently slick.
His Spider-Sense can also be rendered useless or even a drawback if faced with overwhelming danger from multiple sources. Iron Man also proved that if Peter can build a tracer that emits a signal detectable by his Spider-Sense, then others can build devices to trigger false positives in his Spider-Sense, rendering one of his greatest advantages useless.
Peter was the main host to the Venom symbiote for a while before he got rid of it. The close connection meant that the symbiote has an understanding of every part of his physiology, including the Spider-Sense, and has adapted itself to not set it off. Venom is one of the few foes who Peter can't see coming.
The sense isn't very specific, and can thus be fooled by misdirection. For instance, in one What If? story, the Punisher set a trap with a Dr. Octopus dummy and a bomb. Spidey assumed that his Spider-Sense was going off because he was about to tangle with Doc Ock and never realized the real threat until it was too late.
It also isn't touched on much but his Spider-Sense only identifies immediate, direct, danger/potential danger to Peter. It won't warn him of things that might hinder him but otherwise don't pose a threat nor will it warn him when something is a potential threat until it's activated like a bomb that was not active when he entered a room but then suddenly turned on. He won't know he's in trouble until trouble is basically knocking on his door or about to put its foot up his ass.

Loners Are Freaks: Spider-Man started off as one of the few Marvel Superheroes with no actual team affiliations. Albeit at the time there weren't many teams other than Fantastic Four (who were family first and team second) and the X-Men (an exclusive club of mutants). This went hand in hand with Peter's desire to keep his superhero life far away from his private life, to the point where there were literally only six superheroes who knew him well. This has changed rather drastically in the 2000s, where now Spider-Man is arguably one of the most connected heroes in the Marvel Universe.
Look Ma, No Plane!: Spider-Man swings by helicopters all the time. In the game of the second movie, you end up chasing one... if you go too close to the rotors, exactly what you'd expect happens.
Loser Protagonist: Part of the appeal is that, rather than being a millionaire playboy or any other kind of extra-awesome person that other superheroes are, Peter's a normal guy that has to deal with the same mundane problems as anyone else.
Lovable Nerd: The Trope Codifier for Marvel U. He is the sweetest geek ever.
Loves My Alter Ego: Played with in his relationship with Black Cat. She's perfectly aware of his secret identity, but she only has real interest in the Spider-Man persona. Due to this, coupled to her cat-burglar tendencies, their relationship never sticks.
Tropes M-R
Tropes S-Z
---