RuPaul's Drag Race:
Remember, spoiler policy forbids spoilering tropes, so THERE WILL BE UNMARKED SPOILERS!
---
Dax ExclamationPoint (12th/11th)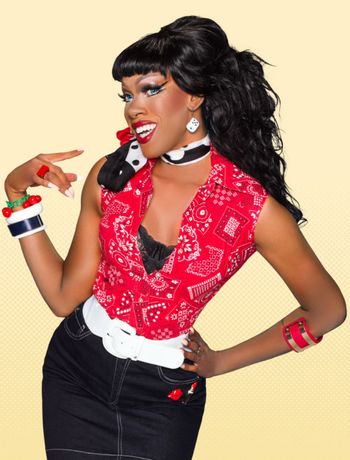 Real Name: Dax Martin
"What's up nerds?"
---
Laila McQueen (12th/11th)
Real Name: Tyler Devlin
"Let's turn up the juice and see what shakes loose!"
---
Cynthia Lee Fontaine (10th + Miss Congeniality)
Real Name: Carlos Hernandez
"Do you wanna see my cucu?!"
---
Naysha Lopez (9th)
Real Name: Fabian Rodriguez
"Life is all about taking a gamble."
---
Tempting Fate: "If they show me falling during (the roller skating) runway, I'm gonna be furious..."
Took a Level in Kindness: The episode 4 Untucked shows Naysha leaving an outfit and an encouraging message for Chi Chi, because of Chi Chi's lack of budget. She still threw some accidental shade, however, claiming Chi Chi could wear it for a "best drag" look.
We Hardly Knew Ye: First queen to be eliminated this season, subverted in that she's brought back in the third episode... And promptly eliminated again in the fourth.
Acid Betty (8th)
Real Name: Benjamin Ruhren
"No need to adjust your TV sets, this acid trip is all real!"
---
Robbie Turner (7th)
Real Name: Jeremy Baird
"Too real!"
---
Thorgy Thor (6th)
Real Name: Shane Thor Galligan
"Woo!"
---
Derrick Barry (5th)
Real Name: Derrick Barry
"It's Derrick, bitch!"
---
Chi Chi DeVayne (4th)
Real Name: Zavion Davenport
"I love being a Southern queen. Who doesn't love a little smoked turkey neck, baby?"
---
Naomi Smalls (Runner-Up)
Real Name: Davis Heppenstall
"Check your lipstick before you come for me."
---
Kim Chi (Runner-Up)
Real Name: Sang-Young Shin
"I'm here to chop suey the competition!"
---
Bob the Drag Queen (Winner)
Real Name: Caldwell Tidicue
"Walk into the club purse first!"
---