---
Utena Tenjou
Voiced by: Tomoko Kawakami (Japanese), Rachael Lillis (English), Carola Vázquez (Latin American Spanish)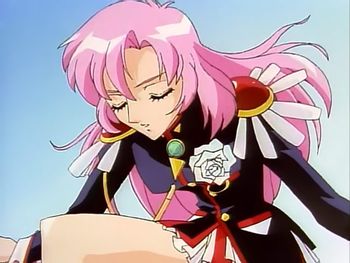 The protagonist and namesake of the series, Utena Tenjou is a 14-year-old girl whose parents died when she was little. After a dashing prince saved her from depression, she vowed to become a prince herself. At the prestigious Ohtori Academy, she gets mixed up with a sinister and revolutionary dueling game played by the Student Council. She's very popular with the vast majority of the students at school, but not so much with the staff.
---
open/close all folders
A-I
K-W
Talking in Bed: She and Anthy frequently converse in their adjacent beds after they move into the planetarium tower.
---