---
Akio Ohtori
Voiced by: Jurota Kosugi (Japanese, series), Mitsuhiro Oikawa (Japanese, Movie), Crispin Freeman (English, episode 13), Josh Mosby (English, series and movie), Gerardo del Valle (Latin American Spanish)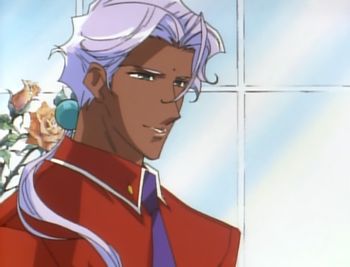 The highly attractive acting chairman of Ohtori Academy, as well as Anthy's brother. A powerful man who oversees the school from his tower. He's a Walking Spoiler, so all entries for this character are unmarked.
---
open/close all folders
A-G
The Chessmaster: He's been directing the duels for who-knows-how-long.
Color-Coded Eyes: He has green eyes, reflecting his exoticness, his status as The Casanova, and the fact that he's a Physical God.
Cool Big Bro: When he's introduced, Akio is an affable gentleman to Utena and a kind elder brother to Anthy. Horribly subverted when we discover what kind of person he really is.
Consummate Liar: He's a very, very good liar, perhaps one of his key traits that goes in-check with his rampant hypocrisy. If not for his suspicious scenes with his sister and Touga, there would be NO reason to suspect him of being anything else but a wise, charming gentleman, especially in the Black Rose arc. He acted very sincerely to Utena and Anthy, genuinely coming across as said wise, charming gentleman, even going as far as listening to Utena's consultation and giving her some wisdom. When the series enters to the Akio arc, he had already cheated on his fiancée with his own sister, his fiancée's mother and Touga, had raped his sister, and had tempted a bunch of insecure teenagers to the dueling game that gives his own sister as the Rose Bride to whoever wins. This even extends towards his own sister, as he manipulates her into staying with him by convincing her that the dueling game is necessary for him to regain his lost powers as the heroic Dios when he has no intention of saving her from her constant suffering.
Cultured Badass: In the anime.
Dead All Along: In the movie, it's discovered he fell out a window and died some time before Utena came to Ohtori Academy.
Evil Mentor: He often listens to Utena's consultation and gives her some wisdom. Played with since she didn't know he was evil until the final duel with him.
Evil Plan: As End of the World Akio manipulates various teenagers to do battle in his duels in order to find someone of true nobility and love. When he finds said person he intends to use their sword of love and nobility to shatter the Rose Gate in order to regain his lost power as Prince Dios and revolutionise the world.
H-W
It's All About Me: As he loses his powers once as Prince Dios after Anthy took the swords of hate for him, he became bitter and selfish over it as he goes under the alias Akio Ohtori years later. He desires to regain it back by manipulating many of the duelists including Utena within Ohtori Academy to duel with each other until he finds a sword with the power of love and nobility. Utena eventually wields it for him to break open the Rose Gates containing his lost power.
Right Through His Pants: He only ever unzips. Likewise, for all the times his shirt opens, it never even leaves his shoulders. This is likely more to illustrate his power dynamic than to "censor" the unwanted sight of male skin, as Utena uses clothing to illustrate a character's status. It's also no coincidence that Anthy is always nude for their trysts.
Satanic Archetype: After Anthy's Heroic Sacrifice for Prince Dios, Akio was born as the corrupt half of Prince Dios called the End of the World. Like how The Bible claims Lucifer can appear as "an angel of light", Akio is gentle, charming and beautiful but only to hide the pure malevolence underneath, that of a selfish manipulator who uses everyone as his own tools to advance him. As the End of the World, he tempts a bunch of insecure teenagers to the dueling game that gives his own sister as the Rose Bride to whoever wins. He wants the power of Dios for himself after he fell in despair and selfishness, abandoned the people whom he used to protect, and became the Big Bad and the person behind Anthy's painful, cruel situation. Furthermore, his name even roughly translates as "Lucifer".
---