Here we're going to list the characters introduced in Guilty Gear Xrd -SIGN- and its Updated Rereleases -REVELATOR- and -REV 2-.
The Captain Ersatz, Expy, "No Celebrities Were Harmed", Mythology Gags, Continuity Nods and Shout-Out references go here
Return to the main character page here.
---
Introduced in -SIGN- (Arcade Version)
open/close all folders
Bedman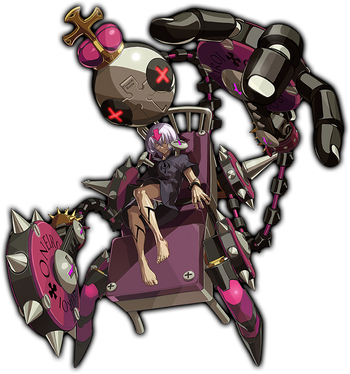 "We talk about survival of the fittest a lot, but all that really means is the skilled live and the unskilled die. Since you're clearly in that second group, maybe pick your fights a bit more carefully? Do you understand what I'm saying? It's never going to matter how much you 'want it' when you're up against someone who can kill you with a sneeze."
A comatose young boy (though he certainly
sounds
much older) piloting a sort of hybrid between a
Mini-Mecha
and a bed. His purpose and motives are shrouded in mystery. All that is known is that he is the subject of horrific experiments that allow him to trap people in nightmare worlds of his own creation.
The plot of
Xrd
reveals that Bedman works for a mysterious third party, later revealed to be the entity known as the Universal Will. He serves as the Will's personal hitman and right hand. He has taken countless lives, yet remembers all their identities out of respect, having committed himself to his goal for an "Absolute World" where he can be with his long-lost sister again, along with everyone he has killed being revived. He and his sister suffered from a rare condition that caused their minds to progress faster than their own bodies could handle, thus causing their bodies to "overheat" in a sense. The two had to be put in a constant state of sleep to ensure their survival. His interactions with various other characters showcase his
Hitman with a Heart
qualities. Sadly, he realizes too late that his ideals and those of his benefactor's are not the same, and he dies tragically betrayed and cast aside by the Universal Will.
In-game, Bedman is an aggressive zoner who thrives when engaging opponents on his own terms. Attacking with his special moves leaves a Déjà Vu seal on the ground which he can 'replay' a copy of that move out of, leading to extremely oppressive combos. He also possesses a unique floating 8-way air dash, and a forward dash that will teleport Bedman behind his opponent if he is attacked while doing so. However, he will suffer heavily if he doesn't gain match control due to his large hurtbox, mediocre defensive options and limited movement speed.
---
Tropes associated with Bedman:
Ramlethal Valentine
"My name is Ramlethal Valentine. I declare war on all the world. All those unworthy to stand upon it will be destroyed. The future of humanity...is the past."

"Surrender your future."

"Resist...the future."
The final boss (essentially) of Xrd -SIGN-. A mysterious girl who comes from the Backyard, another dimension that is said to hold immense knowledge and power. Roughly a year after the "Baptisma 13" incident, which were the events of Guilty Gear 2 Overture, she appears in the sky above Japan and declares war against the entire world, intending to pass judgment upon those who she views as unworthy to inhabit it. The announcement sends mass panic throughout the world, as the instigator of "Baptisma 13" also went by the name of Valentine. Like her predecessor, she wields a strange balloon-like familiar called Lucifero.
The story of Xrd reveals that she is actually a pawn for the Conclave, the advisors to the Pope of Rome, who are orchestrating events from behind the scenes. She and her sister Elphelt, along with the first Valentine, were created by the Universal Will based on her previous host body: the Commander Gear Justice, who in actuality was Sol's lover Aria. Unlike her sister and the first Valentine, Ramlethal was specifically created to not have or show any emotion, instead being stylized in a more bestial manner with shark-like fangs for teeth. Defeated by Sol and Elphelt, she is taken in by the Illyrian government for questioning. Over the course of the story, it's shown that although Ramlethal herself was not given emotions and has no sense of self, she still has the capacity to develop them, and her interactions with Sin and Elphelt slowly but eventually result in her growing out of the "doll" persona her Mother designed her to be, gaining true humanity and sentience. On her own will, Ramlethal rebels against the Universal Will and vows to protect those she cares about, promising to save her sister when she is taken hostage by the Will. In a true show of her newfound humanity, she sacrifices herself during an ambush so that everyone else can escape. Saved and resuscitated by Raven, Ramlethal now lives peacefully within the Kiske household.
She was a time-released secret character in the Arcade version, first available on April 8th. In console -SIGN-, she was a launch character, and moved to the launch roster for all versions of -REVELATOR-.
Confirmed as a returning character in -STRIVE-, now sporting a more military-styled hat with a four-leaf clover adorning it and a more elaborate cloak.
Taking inspirations from 3D fighting games, Ramlethal is a hybrid between a set-play and a combo-oriented character who relies on sending out her slow-but-powerful giant swords to lock the opponent down with disjointed attacks, before moving in for mix-ups with weak-but-fast punch and kick combo chains. However, this results in a distinct lack of proper Gatling Combo routes and poor normal attacks without her swords (which give her both reach and power) by her side, resulting in her struggling when it comes to neutral situations. In addition, Ramlethal getting hit before or during sword swings causes them to return to her side without completing the attack. This makes proper management of her swords and situational awareness a necessity.
---
Tropes associated with Ramlethal:
Introduced in -SIGN- (Console Version)
Elphelt Valentine
"My sister and I possess the same control restraints. I will stop her... I hope my dress doesn't get too dirty."
Ramlethal's sister, sent to be a sleeper agent but who malfunctioned and gained emotions during her infiltration, outing her identity and leading to her capture by the Illyrian Army. A lovestruck girl who wears a wedding dress and wields a shotgun-rifle combination. She tries her hardest to be the pinnacle of femininity, but usually ends up failing.
She was a originally console-exclusive DLC character that came free with first print copies of Sign; in Revelator she became part of the main roster in all versions.
A versatile character with strong pressure game, Elphelt has various tools that forces her opponent to respect both her approach and offense. Much of her special moves involves entering a relatively immobile aiming stance and using either her Miss Travalier shotgun at close range or Miss Confire rifle (the latter she actually has to aim manually) to get at her foe. if the situation doesn't favor her, she can cook and throw a Pineberry grenade either to ward off opponents in neutral or to set up a knockdown combo (okizeme) On the negative side, her lack of reliable reversals means she has difficulty breaking out of a opponent's offense without using up her Tension (Super meter) or Burst mechanic.
---
Tropes associated with Elphelt:
Leo Whitefang
"Grave crime deserves?"

"Grave punishment!"

"Petty crime deserves?"

"Grave punishment!"

"Yes! And only I may pardon!"
One of the three ruling kings of the United Kingdoms of Illyria and a veteran of the Crusades alongside Ky. He assists Ky and the heroes throughout the story, and eventually takes charge in combating the Conclave and their machinations. Confirmed as a DLC character for Sign on November 4, 2014, he was made available for purchase on December 18, 2014 in Asia and on December 23, 2014 in North America. As of Revelator, he is part of the main roster.
Confirmed as a returning character for -STRIVE-, with shorter hair and now sporting a more formal suit with a bomber jacket.
Leo is a high-damage, high-defense rushdown character who can seamlessly switch between a normal stance and the defensive, backward-facing Brynhildr Stance to launch very punishing left-right mix-up combos. On the other hand, he practically has no zoning tools making him ineffective at mid-far range, and also only has a short dash, making it difficult to quickly approach an opponent who is on the other side of the screen.
---
Tropes associated with Leo:
Personal Dictionary: His hobby is making a dictionary with his own definitions. He writes into it during a match as a taunt, along with consulting it after winning a match.
Pride: It is even inscribed on his belt (like "Free" and "Hope" for Sol and Ky, respectively). He was once a very proud man who hated people who were better than him. Meeting Ky changed him for the better, but now he's got legitimate reasons to be prideful.

That said, he still indulges in his ego from time to time. For example, his winning animation is for him to wait for a giant soldier to bring a throne for him to sit on. His stance system involves turning his back to the opponent, which is both supremely arrogant and showcases his utter confidence in his own skills.
Introduced in -REVELATOR- (Arcade Version)
Jack-O'
"Trick or Treat!"

"Sol Badguy... I see. You're only half complete, too."
A mysterious woman with white hair, a ball and chain around her ankle in the shape of a jack-o-lantern, a mask with the same shape, and an equally-mysterious halo above her head. All that is known about her at the outset of -REVELATOR- is that she is an associate of That Man, like I-No and Raven (and is in fact the long-mysterious "third associate" seen briefly, heavily robed, in certain XX endings). According to the developers, her moveset is "comical".
While the "final bosses" of -REVELATOR- tend to be a bit more varied due to the nature of its Arcade Mode (and lacking any Story Mode fights), Jack-O' is the most common final boss among the character routes and so is the nearest thing the game has to a "final boss". She was included with the release of both the arcade and console versions of -REVELATOR-.
An unusual summon-type character. Much of Jack-O's gameplay revolves around putting down 'houses' that continually spawn a horde of Servants who automatically upgrade themselves and move toward the opponent to attack them (a la
MOBA
minions) to start her pressure game and attain match momentum, while using her limited normal and poking Dust attacks to keep locking her foe down.
---
Tropes associated with Jack-O:
Introduced in -REVELATOR- (Console Version)
Kum Haehyun
"Power is meaningless before a tuner."
Voiced by: Hideaki Tezuka (JP, Jonryoku), ?? (JP, Haehyun)
A new character initially introduced in the Arcade Mode of -REVELATOR-. Kum Haehyun, also known as Tuner, is the latest descendant of the Kum family. While Haehyun's outward appearance is that of a large, powerful elderly man named Kum Jonryoku, it's actually a disguise - a robot suit piloted by a young woman. She is being sought out by Leo and Johnny in order to obtain crucial information about the Japanese, their colony, and Ki energy, in Johnny's case largely for the purpose of helping May. Haehyun was a first-print bonus DLC character like Elphelt for the console version, and was later patched into the arcade version.
In-game, Haehyun is a balanced ground-based fighter, boasting intuitive special moves but relying on links instead of the Gatling Combo mechanic, similar to the cast of
Street Fighter
. The Tuner can launch controllable Tuning Ball projectiles for space control and knockdown (okizeme), and has strong and simple poking attacks at her disposal. However, the large hurtbox of the Jonryoku suit and its relatively slow movement makes Haehyun weak to harassment by the opponent.
---
Tropes associated with Kum:
Introduced in -REV2- (Arcade & Console Update)
Answer
Adjutant to self-proclaimed President Chipp Zanuff. He is blessed with a preternatural memory and can remember any fact after hearing it only once. Some refer to him as a human database. When Answer first met Chipp, he was poor and had fallen in with a rough crowd. He found Chipp's incessant preaching irritating, and challenged him to a duel which he then proceeded to lose spectacularly. It was at that moment that he fell under the sway of Chipp's charisma. He has since put his memory to good use in Chipp's service and has sworn to put Chipp in office.
Answer is a footie/set-play character who controls the neutral game by setting up scrolls and business cards which allow him to teleport towards the cards and perform air dashes in-between the scrolls. He shines on the attack with great frame traps, safe pressure, and a command grab where he can truly frustrate the opponent. However, he has a noticeably low damage output and is heavily dependent on the Tension resource and set-ups in order to score knockdowns, and is heavily reliant on the aforementioned scrolls and cards to truly damage the opponent.
---
Tropes associated with Answer:
Non-playable Characters
The Conclave (Senato)
Libraria is voiced by: Tomomi Isomura (JP) /

Tara Platt

(EN)

Chronus is voiced by: Tomonori Tsuboi (JP) /

Liam O'Brien

(EN)
A group consisting of four masked sages, who are the supreme advisers to the Pope. The members of the Conclave consist of Axus (I), Libraria (II), Baldias (III), and Chronus (IV).
It is revealed through supplemental materials that they are behind Ky's appointment as a Puppet King, holding the well-being of his wife and son as leverage to keep him on a leash. Their stated goal is to manipulate events in order to guide humanity to their desired future, which essentially equates to world domination, with them ruling as gods. Their influence is widespread, and it is slowly being revealed that they are, or could potentially be, involved with the backstories of much of the cast.
---
Tropes associated with the Conclave:
Randy
Voiced by: Tomonori Tsuboi (JP)
An associate of Zappa's who works with him in investigating supernatural phenomena. He is a skilled hacker who once hit the headlines for developing the 'Painkiller' program, which spread information about highly sensitive topics throughout the whole world. Naturally, he got in trouble for this, and is now stuck in a job he mournfully refers to as 'the bottom of the barrel in Illyria'. His dream is to become a 'hero'.
---
Daryl
Voiced by: Toshiki Iwasawa (JP)
The last of the three kings of the United Kingdoms of Illyria. Unlike Ky and Leo, Daryl favors pragmatism, or in his own words; 'thinking objectively'. He is the least popular of the three kings as a result, but the people cannot deny his ability to rule.
---
Tropes associated with Daryl:
MAJOR SPOILERS
Aria
Aria Hale
One of the three scientists who worked on the first Gear Project, along with her lover Fredrick / Sol Badguy and their mutual friend Asuka / That Man. After beginning to succumb to a fatal, incurable disease in 2014, she had been cryogenically frozen. But, after decades without a cure found to her disease, Asuka decided to subvert the second Gear Project's research into military applications for gear cells to create a new cloned magitek body for her instead. Unfortunately for Aria, when Asuka attempted to magically fuse her dying body into the new healthy one, the Universal Will used the spell to invade it as well. To carry out its Kill All Humans agenda, the Will then brainwashed Aria to become its Dragon, transforming her into the genocidal villain Justice.

After escaping Asuka's attempt to contain and treat her, she proceeded to wage a holy war against humanity using the Gears she had helped create, only to eventually be sealed away, leading to the events of Guilty Gear: The Missing Link.

She and Sol Badguy are also the biological parents of the half-gear Dizzy, and her attempts to hide her child from the Universal Will would eventually lead to the events of Guilty Gear X. Further, the Universal Will would later use her genetic code as the basis for its Valentine foot soldiers, leading to the events of Guilty Gear 2: Overture and the Xrd series.

In Xrd -SIGN-, the Universal Will attempts to resurrect her - or, rather, Justice - to destroy humanity by overwriting her Soulless Shell with one of it's loyal soldiers, Elphelt Valentine. In Xrd -REVELATOR-, That Man is revealed to have created his own partial copy of Aria, Jack-O', in hopes of freeing his old friend from the Universal Will's machinations. In the climax of that game, Jack-O' successfully merges with her "other half", resulting in Aria being reborn, free from the Universal Will's control for the first time in over a century.

For tropes concerning her earlier appearance as Justice, see the original game's character page.
---
Tropes associated with Aria:
The Universal Will
Ariels (Sanctus Maximus Populi, St. Maximus, The Universal Will, "Mother")
The Pope of Rome, christened as the Sanctus Maximus Populi, and Bedman's client. She is working to create an "absolute world".
In -REVELATOR- it is revealed that she is the true identity of an entity known as the "Universal Will". She is the one responsible for ushering in the Age of Magic by rendering all technology useless in the year 1999, as well as the existence of the Valentines. Ariels is actually a machine created by The Original to help humanity achieve ultimate happiness. She was given two directives: make humanity prosperous, and do it without harming them. Unfortunately, these directives led to her reaching the conclusion that humans don't exist, and that the beings inhabiting the earth are merely failed dolls, or redundancies as she herself refers to them. With this in mind, she has set a grand plan in motion known as the "Merciless Makes Apocalypse", which will destroy humanity and replace them with her own breed of "perfect humans".
---
Tropes associated with the Universal Will:
The Original
The Original
A man whose name is unknown. He is the first person to discover the Backyard, and write his findings in a book of the same name, and tell the world, "no evil should touch this place." He is still alive, working to protect the world from the shadows. That Man appears to be his only ally.
---
Tropes associated with the Original
---