A character sheet for Hasbro's G.I. Joe: A Real American Hero. Split up due to amount of characters, although not all characters are listed yet.
<!—index—>For characters from the IDW comic series, see here. For characters from the rebooted IDW comic series, here.
Oktober Guard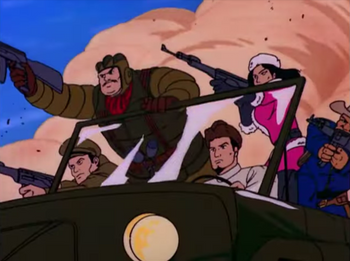 The Eastern Bloc's equivalent of GI-Joe, who depending on circumstances appear as either
allies or opponents
to the Joes.
---
Colonel Brekhov
Real Name: Ivan Nikolevich Brekhov
The Ukrainian-born commander of the Guard, Colonel Brekhov is a consummate soldier with a sharp strategic mind.
---
Daina
Real Name: Daina L. Janack
Voiced By:
The only woman on the original team, First Lieutenant Daina Janack was recruited into the Guard after an impressive showing in the Czech Army. She has
a multitude of talents
, and her skills have gotten the team out of tight spots on numerous occasions.
---
Horrorshow
Real Name: Stepan Drukersky
A
Georgian
specializing in infantry and small-arms, Horrorshow is on the stout side and does not have the brightest mind, but his superiors have come to appreciate his loyalty and willingness to do whatever it takes to get the job done.
---
Stormavik
Voiced By: Stan Jones
The only member of the original team to actually have been born and raised in Russia, Stormavik served as the team's original Airborne Infantry specialist.
---
Wong
Real Name: Wen-Yun Wong
The only Chinese member of the team, born in Urumqi, Xinjiang. Though he is only an Officer Cadet, he is a skilled reconnaissance expert.
---
Others
General Austin
A U.S. Army Major General who played adviser to the G.I. Joe commanders.
---
The Blind Master
An American soldier who is blinded by a combat injury and "stranded in Tokyo", so he's taken in by the Arashikage Clan, eventually becoming one of their Masters.
---
William Kessler
Cobra Commander's son. He was present for his father's Start of Darkness and grew to despise the madman that his father became. Becoming a Ninja Apprentice eventually and occasionally joins forces with others opposed to his father.
---
Jesse Kwinn
An Eskimo mercenary who worked for the CIA, KGB, MI6, and Cobra. Known for his strict code of honor, Kwinn never betrays his clients and always keeps his word, even when given to an enemy.
---
---