Flash Gordon
Played by Buster Crabbe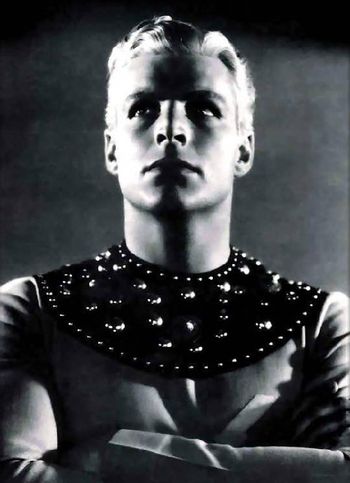 Dale Arden
Played by Jean Rogers in Flash Gordon and Trip to Mars and by Carol Hughes in Flash Gordon Conquers the Universe.
Dr. Alexis Zarkov
Played by Frank Shannon
Emperor Ming the Merciless
Played by Charles B. Middleton
Princess Aura
Played by Priscilla Lawson
Prince Barin
Played by Richard Alexander
Prince Thun
Played by James Pierce
King Vultan
Played by John Lipson
Queen Azura
Played by: Beatrice Roberts
The Clay King
Played by: C. Montague Shaw
Officer Torch
Played by Earl Askam
The Dragon: To Emperor Ming. He is the Emperor's top enforcer and his head advisor.
High Priest of Tao
Sonja
Played by: Anne Gywnne