For the Character Sheet index of Digimon Adventure, go here.
---
open/close all folders
In General
Taichi "Tai" Kamiya
Taichi "Tai" Kamiya (Taichi Yagami)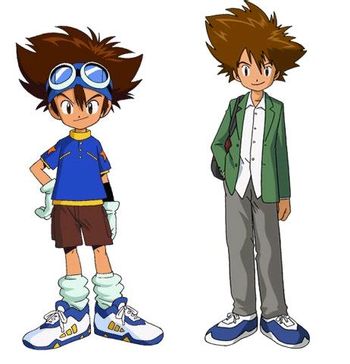 Played by:
"You can do it, and even if you can't, we won't think any less of you, man!"
Tai is the first season's leader, and bearer of the Crest of Courage. He's a reckless blockhead at times, willing to jump into anything, and this gets him into serious trouble when he gets the idea in his head that, since the Digital World is digital, he can't be killed. The realization that this isn't the case freezes him right in his tracks, and when he overcomes it, he makes the proper jump from "not afraid" to "courageous." Despite his recklessness, he's a warm, encouraging guy, very friendly, and the team just doesn't work without him.
He comes from a normal family, living with his parents and little sister, Kari. Kari ends up being a major factor in his character development, as taking care of her forces him to mature from "courageous action guy" into "responsible leader."
In the conclusion of 02, he and Agumon become ambassadors to the Digital World.
---
General Tropes
Yamato "Matt" Ishida
Yamato "Matt" Ishida" (Yamato Ishida)
Played by:
Japanese:
Yuuto Kazama
(
Adventure
&
Adventure 02
),
Yoshimasa Hosoya
(
tri
), Shohei Hashimoto (
tri
stage play)
English:
Michael Reisz (
Adventure
&
Adventure 02
),
Vic Mignogna
(
tri
), Nicolas Roye (
Last Evolution Kizuna
)
Spanish:
Uraz Huerta (Latin America,
Adventure
),
José Gilberto Vilchis
(Latin America,
Adventure 02
), Mariano García (Spain)
"I finally got it figured out. If I'm ever gonna change, I have to do it on my own. On my own. The others can't help me."
Matt wants everyone to think he's a brooding bad boy, but he's actually rather sensitive. He has issues trusting people (himself most of all), and he's very overprotective of his younger brother, T.K. This causes him to be very cautious (although not as cautious as Joe), which results in a lot of clashes with the get-out-and-go Tai. Despite (or perhaps thanks to) all this, his crest is Friendship. The Digimon Adventure PSP game reveals that he has a crush on Sora and believes himself to be competing with Tai for her affections. Tai and Sora are best friends and while Sora has a crush on him, Tai only sees her as a friend.
Matt's parents divorced sometime after the Greymon/Parrotmon fight in Heighten View Terrace, but before the first episode. According to the Radio Drama Two-and-a-half Year Break, Matt was the one who decided that T.K. would go with their mother and he would live with their father. He doesn't have a great relationship with his parents, as he seems to feel abandoned by them. He has very low self-esteem, and seems to feel his only purpose in life is to watch out for T.K.—when T.K. starts feeling smothered by him, he's noticeably dismayed. However, with some encouragement from his partner, Gabumon, he was able to come to terms with his family's divorce, and returned in time to help save the team.
In the conclusion of 02, he becomes the first man on Mars (the first astronaut with a Digimon partner in the original Japanese). He is married to Sora.
---
General Tropes
Curse Cut Short: In the English version of Loss, he's cut off by MetalSeadramon half a second short of calling Tai an asshole.

Tai: Gabumon wanted a special name for you, and I told him you liked to be called "little!"

Gabumon: Yeah!

Tai: Haha...

Matt: Tai, you are such an a—

Foolish Sibling, Responsible Sibling: Nowadays he's the Foolish one to T.K.'s Responsible. He's more aggressive about things and T.K. often tries to calm down his brother whenever he and Tai fight.
Locked in a Room: The others force him and Tai into sitting alone in a ferris wheel to hash out their arguments. It doesn't work.
Number Two: Yamato becomes the leader of the DigiDestined during the first part of Our Future after Taichi's Disney Death.
Ship Tease: With Sora. Piyomon catches them having a heart-to-heart moment and thinks Matt is singing cheesy love songs to Sora. The Valentine's Day section of Otomedia says that Sora would be making chocolates for Yamato's band.
Take Up My Sword: At the end of Coexistence, Taichi is seemingly killed in battle, leaving behind his goggles. Yamato takes his goggles and acts as the new leader of the Digidestined.
Sora Takenouchi
Sora Takenouchi
Played by:
"Don't worry about me, I'll be fine. I'm the only one who can do it."
No, not THAT Sora.
The group's mother figure, and owner of the Crest of Love. Sora is a sweet girl, but doesn't really see that aspect of herself very well. She spends most of her time mediating fights between Tai and Matt, and keeping the group in line. She doesn't always have the patience for it, but she tries anyway.
Sora's relationship with her parents isn't great. Her mom is a very traditional, ladylike figure who wants her to take up flower arranging, while her father is a professor at a college in Kyoto and rarely home. Sora is convinced early on that her mother doesn't love her; it's not until she unconsciously begins treating Biyomon the same way that she realizes her mother just isn't good at expressing it. They make up during the Myotismon saga, when Sora's mom pulls a Mama Bear on some Bakemon.
In the conclusion of 02, she becomes a fashion designer. She is married to Matt.
---
General Tropes
Koushiro "Izzy" Izumi
Koushiro "Izzy" Izumi (Koushiro Izumi)
Played by:
Japanese:
Umi Tenjin (
Adventure
&
Adventure 02
),
Mutsumi Tamura
(
tri
), Kaisei Kamimura (
tri
stage play)
English:
Mona Marshall
Spanish:
Mónica Estrada (Latin America,
Adventure
), Alfredo Leal (Latin America,
Adventure 02
), Raquel Martín (Spain)
"Prodigious!"
Basically, Izzy is the one who can actually think his way out of a paper bag, which is only supported by his Crest of Knowledge. He's very curious and logical, and somewhat unsure of himself socially. He carries around a laptop computer, and his reactions to various problems are nearly always a variation on "If I learn enough, I can fix it."
Izzy is adopted. His biological parents died when he was very young, and his father's cousins adopted him, having recently lost a child of their own. They kept this a secret from him, but he accidentally heard them talking about it, and was devastated. After this, Izzy sank himself into his computer as an escape, probably to learn everything he could. At the same time, he loves his parents deeply and is very well-behaved for them.
Thanks to Character Development and a talk with his parents, Izzy is able to overcome his withdrawn personality better, so that he then can help Tai out of his depression over Kari falling ill during the Dark Masters Arc.
In the conclusion of 02, he has set up a research team to study more of the Digital World.
---
General Tropes
Mission Control: The role he plays in 02 is similar to this.
Noodle Incident: Dub only: He claims in "The Emperor's New Home" that his ethernet configuration somehow managed to completely collapse. Note that it's pretty much impossible for that to just randomly happen.
Sempai/Kohai: He's Yolei's sempai in the Computer Club.
Mimi Tachikawa
Mimi Tachikawa
Played by:
"If someone's in trouble, you help them out, even if they tried to pummel you into oblivion."
She's "the girl", basically. Somewhat prissy and spoiled, she doesn't always seem to "get" the situation, and is sometimes rather selfish without really realizing it. Often considered the weakest character in the English dub due to her more girly elements being overplayed in translation. She matures into a kind, sweet, pacifistic figure, befitting her status as holder of the Crest of Sincerity/Purity. However, once she realizes how high the stakes are, she breaks down and refuses to continue, but comes to realize that some fights simply must be fought.
Mimi's family life isn't delved into much. Her parents are hopelessly in love and, like her, not always fully in-tune—but when the danger is ramped up, they prove very brave.
In the conclusion of 02, she becomes a famous chef with her own TV show.
---
General Tropes
Joe Kido
Joe Kido
Played by:
"I tried positive thinking once. I was positive about one thing: I positively hated it!"
Because he's the oldest, Joe thinks he should be the responsible one and take care of the other kids—too bad he's a total pushover with no self-esteem. He's cut deeply whenever he realizes that people think of him this way, and tries to make up for it with acts of reckless selflessness that make Tai look positively cowardly. Perhaps the closest thing to a father figure in season one. His crest is that of Reliability.
Joe's family isn't a big focus, either—it's worth noting that, out of the 12 Digidestined in the first two seasons, his parents are the only ones never shown on-screen. His father is quite strict, being a doctor who wants all of his sons to be doctors, too. Joe's two older brothers, Shin and Shuu, rebelled in their own ways, while Joe is (as always) indecisive.
In the conclusion of 02, he becomes a Digimon doctor (i.e, a doctor for Digimon).
---
General Tropes
Image Song: His image songs are "Chigau Boku ga Iru" note in Digimon Adventure and "Kaze ni Mukatte" note in Digimon Adventure 02, plus "Sora wo Crawl" note with Gomamon. In Digimon Adventure tri., his image song is "I can't."
Inconsistent Dub: In the Japanese version, Joe's rest was translated as "honesty" on merchandise. However, since tri., they decided to settle on "reliability", just like the English version.
Leitmotif: His theme songs are "Blue Faith ~Joe no Theme~" and "Blue Faith ~Joe no Theme~ #2."
Like Brother and Sister: With Mimi. She walks all over him and he basically lets her, but they also confide in each other and are pretty indulgent of each other's eccentricities. The English version implies that Joe has a bit of a crush on Mimi, but nothing comes of it.
Lost in Translation: His crest's Japanese name, "Seijitsu", can mean "sincerity," "honesty," or "faithfulness." The dub ended up going with "Reliability," which, while not a direct translation, is a pretty good catchall term.
Nerd Glasses: While Izzy is the actual Smart Guy, Joe is the one most concerned with academics, has a dweebier personality, and wears glasses.
Nerdy Nasalness: Has this sort of voice in the English dub, the nasalness gets slightly lower in 02.
Nervous Wreck: He mellows out in 02 as he matures.
Nice Guy: To the point of self-sacrifice sometimes.
Not So Different: With Gomamon interestingly. If they see someone in need, they'll help them even though they got their issues (Gomamon being seal-like on land, and Jou having his anxiety), which is why they became doctors (Well with Gomamon more like his kinda assistant doing the best he can) despite Jou's sort of Daddy Issues which emotionally affected Gomamon.
Odd Friendship: With Gomamon. Joe clashes the most with his Digimon but they both truly embody Faithfulness and are great partners.
Papa Wolf: He's a big wuss until one of the other kids is in trouble. Then the badass comes out. See The So-Called Coward.
The Power of Trust: Faithfulness/Reliability, actually. As in, he's the one you're supposed to have faith in.
The Reliable One: He possess the Crest of Reliability, and is always ready to help a friend in need.
Sempai/Kohai: He's sempai to the entire group, though only Sora and Mimi addressed him as such originally. In tri., Kari and Izzy do, as well.
Sickly Neurotic Geek: In the dub, he's nervous, jumpy, and sickly.
The So-Called Coward: Despite an oft-stated aversion to danger - Joe is always vouching for the safest route, choice, etc - he's always the first to throw his own body at these monsters. Because all Joe cares about is everyone's safety, she stated that even when the Mega level Digimon Piedmon is bearing down on them, you knew what Joe was going to do even before it happened-trying to get the other kids out of there without any regards to his safety. Joe is the real badass of Digimon!
Spell My Name with an "S": While the English version was able to evade this with no problems, Joe's name has been spelled inconsistently in various Japanese material. The official website, the opening of Digimon Adventure tri., and some of the shots in tri. romanize Joe's name as "Joe." The official subtitles for Digimon Adventure 02 spell it as "Jyou." The preview trailer and official subtitles for Digimon Adventure tri. spell it as "Jo." Recent marketing seems to favor "Joe" as the preferred spelling.
Team Dad: He's the one that keeps the team together by mediating between Tai and Matt.
Undying Loyalty: To his friends, this being the nature of his crest; the other digidestined can always count on him to be there for them, and he always puts their safety on top priority.
You Gotta Have Blue Hair: The only one among his friends with blue hair.
Takeru "T.K" Takaishi
Takeru "T.K." Takaishi (Takeru Takaishi)
Played by:
Japanese:
Hiroko Konishi
(
Adventure
), Taisuke Yamamoto (
Adventure 02
),
Hiroaki Hirata
(Adult),
Jun'ya Enoki
(
tri
),
Megumi Han
(PSP game), Kenta Nomimiya (
tri
stage play)
English:
Wendee Lee
(
Adventure
),
Doug Erholtz
(
Adventure 02
),
Johnny Yong Bosch
(
tri
and
Last Evolution Kizuna
)
Spanish:
Lupita Leal (Latin America,
Adventure
),
Irwin Daayán
(Latin America,
Adventure 02
),
Diana Torres
note
(Spain)
"I don't want to fight, ever!"
Matt's little brother, and the youngest Digi-Destined. As the quote may say he doesn't like to fight... but when he does, hoo boy. His crest is Hope.
In Adventure 02, T.K. has grown up a little and serves as the warm, friendly The Lancer of the new Chosen team. Nonetheless, he is a bit more cynical and a bit shellshocked from his previous adventures. Together, he and Kari often explain how the Digital World works to the new kids.
In Adventure tri., he is still separated from Matt but they still get in touch. He also runs a blog where he contacts with Digi-Destined from all around the world and the girls faint over him.
In the conclusion of 02, he becomes an author. He was also Narrator All Along for the 02 series.
---
General Tropes
Alliterative Name: Takeru Takaishi.
Big Little Brother: While Takeru is shorter than Yamato in the anime, Takeru's actor in the stage play, Kenta Nomimiya, is taller than Yamato's actor, Shohei Hashimoto. However, the character description for the 2019 Digimon Adventure movie states that he's now grown taller than Yamato.
Bishōnen: Thanks to him becoming a Chick Magnet after He Is All Grown Up in Digimon Adventure 02, Takeru invokes the Bishōnen trope, especially in Digimon Adventure tri..
Break the Cutie: Watching his partner die right in front of him, even if he didn't stay dead for more than a day, left some very nasty scars. And that's without mentioning the other horrible things that happen during his time in the Digital World. In Part 3 of tri., he is the most visibly affected by the infection and the reboot and spends a good portion of the movie trying to pretend everything is okay when he's close to breaking down completely.
Chick Magnet: His official character description from 02 explicitly mentions that he's popular with girls, and in tri., he mentions hanging out with some of them. In the official character polls, he ranked in #3 as the "Person I'd Want as My Boyfriend/Girlfriend", with the description mentioning that his partner might get jealous since he's nice to everyone.
Color-Coded Characters: The only inconsistent character. He's Yellow in the context of the first generation in Adventure and tri, and Green in the context of the second gen in 02.
Did Not Get the Girl: Word of God confirmed that Takeru did not end up with Hikari in a magazine interview.◊
Divorce Is Temporary: He never gives up hope that his parents will remarry.
Dub Name Change: In the English dub, he was given the nickname "T.K." In the Korean dub, his name is changed to Ricky along with an Adaptational Nationality change, where he was made part Western in order to comply with South Korean broadcasting regulations.
Hair of Gold, Heart of Gold: Takeru is depicted with blond hair, and he also has a generous, easygoing personality that makes him popular with girls.
He Is All Grown Up: The first thing Hikari says when they meet again in Digimon Adventure 02 is that he's grown taller. Hikari brings it up again in Confession.
Image Song: His image songs are "Be All Right" in Digimon Adventure and "Focus" in Digimon Adventure 02, plus "Steppin' Out" with Patamon. In Digimon Adventure tri., his image song is "Kibou no Tsubasa" note .
Leitmotif: His theme songs are "Little Brightness ~Takeru no Theme~" and "Little Brightness ~Takeru no Theme~ #2." In Digimon Adventure 02, his theme songs are "Happy Friends ~Takeru no Theme" and "Happy Friends ~Takeru no Theme~ #2."
Nice Guy: T.K. is very kind, and it's his kindness that makes him popular.
Nice Hat: T.K. wears different hats in every series, and the fandom routinely mocks him for it. The one from Adventure is a reversed cap that has a blue like oval gem in its front. In Adventure 02, he wears a white bucket hat. In Tri, he has at least two different hats that he wears, a fedora on the one hand and a backwards baseball cap on the other.
Nom de Mom: Since his mother got custody of him after the divorce, he uses her surname.
Spear Counterpart: To Kari. Both have an angel Digimon as their companion's evolution.
Tareme Eyes: Which contrast with Matt's. T.K. is much more cheerful and less introverted than his brother. This trait is mantained in Adventure tri.'s design, even if his eyes design is smaller.
Theme Naming: Along with his brother, named after folk hero Yamato Takeru.
---
---
---
The Eighth Child
Kari Kamiya (Hikari Yagami)
Played by:
Japanese:
Kae Araki
(TV Series),
Mao Ichimichi
(
tri
), Yuna Shigeishi (
tri
stage play)
English:
Lara Jill Miller
(
Adventure
&
Adventure 02
), Tara Sands (
tri
and
Last Evolution Kizuna
)
Spanish:
Cristina Hernández
(Latin America,
Adventure
), Tamara Guzmán (Latin America,
Adventure 02
), Rocío Azofra (Spain)
note
Tai's younger sister, and the Eighth Child, not that anyone knows it at first. Very kind and innocent, but also often wise beyond her years. She has the Crest of Light, which is only fitting.
In Digimon Adventure 02, even though she has grown up, Kari remains sweet and gentle, having tempered her innocence with wisdom. However, she still has issues that come back to haunt her, usually when she least expects it.
In the conclusion of Digimon Adventure 02, she becomes a kindergarten teacher.
---
General Tropes
---