---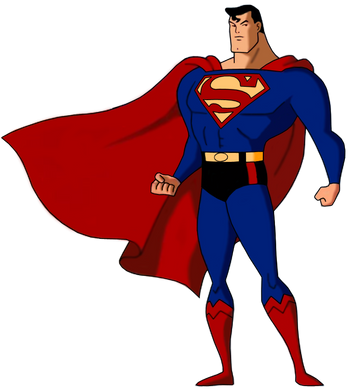 Click here to see him in Justice League
Click here to see him in Batman Beyond
Real name: Kal-El / Clark Kent
Species: Kryptonian
Abilities: Solar energy absorption, vast superhuman strength, speed, stamina, near invulnerability, super hearing, super breath, x-ray vision, telescopic vision, microscopic vision, heat vision, flight, voice synthesization
Voiced in Latin-American Spanish by: Orlando Noguera (Superman: The Animated Series), Luis Miguel Pérez (Batman Beyond, Justice League and Justice League Unlimited), Víctor Hugo Aguilar (Static Shock), José Durán (Justice League vs. the Fatal Five)
Voiced in French by: Emmanuel Jacomy (Superman: The Animated Series, Justice League, and Static Shock), Damien Boisseau (teenage Clark Kent in "The Last Son of Krypton Part II"), Pascal Germain (Batman Beyond), François Bourcier (Justice League Unlimited), Tanguy Goasdoué (Justice League Unlimited; magically rejuvenated), Adrien Antoine (Justice League vs. the Fatal Five)
Voiced in Japanese by: Hikaru Hanada
"I always try to help people whenever possible."
Superman is the quintessential Cape and Flying Brick of the DC Animated Universe.
He was a Kryptonian orphan named Kal-El who was launched to Earth as an infant to avoid suffering a cataclysmic death on his home planet of Krypton. His spacecraft landed in a Kansas field, where he was discovered by Jonathan and Martha Kent, who raised the boy as their son under the name "Clark". As Clark matured under Earth's yellow sun, he gained the Flying Brick powerset. As an adult, he moved to Metropolis to work as a newspaper reporter at the Daily Planet. It was here that he became aware of the corruption and evil in the world, deciding he must use his gifts to right these wrongs and taking the name "Superman" after a story of his deeds is published in the Daily Planet by Lois Lane, who uses the term.
After having to work long and hard to regain the world's trust in him as of a result of being brainwashed by Darkseid into leading his second invasion of Earth, Superman was the one who first suggested that he and other superheroes form the Justice League in order to deal with future threats as great as the Imperium. He was shown to be the face of the Justice League as well as the peacemaker for the other members.
open/close all folders
---
A-F
G-L
M-R
S-Y
Sarcastic Confession: He does this in "The Last Son of Krypton":

Lois: How'd you get here before me?
Clark: Well, I just flew.

In the first part of "The Main Man", Clark tells Lois every single thing about his secret identity to explain why he always gets better scoops than her. Of course, she just blows him off.

Secret Identity: Clark Kent, obviously.
Shooting Superman: His comic book counterpart is the Trope Namer for a reason. As early as the first season of Superman: TAS, he tells a mook who pulls a gun on him, "You must be new in town." In "Question Authority", Doctor Moon pulls a gun on Superman, who shouts, "Don't be stupid! Drop it." Moon meekly drops the gun. The reason? Bullets are ineffective against him, thus the mooks are effectively wasting ammo on him
Signature Move: The famous single or double-fisted flying punch, actually called a "Superman punch" in real life. He uses it against Darkseid in "Destroyer".
Skilled, but Naïve: He is this during the early point of his career, always thinking the best of everyone and often having people take advantage of him. Because of this, he gets a lot more cynical as time goes on to the point of receiving a What the Hell, Hero? speech from Captain Marvel in JLU. Eventually, he finds a middle ground, though some alternate versions of himself took it to much more extreme lengths.
Still Believes in Santa: When Martian Manhunter spends Christmas with the Kents, he learns that Superman (an otherwise mature superhero) genuinely believes Santa Claus is the one who wraps his presents in lead (so he can't see through them with X-Ray vision). This is an indicator of Clark's down-home wholesomeness as a person. Of course, given the world he lives in, it's about even odds that he's right.
Strong as They Need to Be: Somewhat justified by his famous "World of Cardboard" speech, where he explains that he's almost always holding back.

Superman's strength seems to be all over the place sometimes. In "Paradise Lost", Wonder Woman was a match for him and there was no cause to hold back as they were both seeing each other as monsters. In "For the Man Who Has Everything", Wonder Woman gets curb-stomped by Mongul, whom Superman nearly beats to death right afterwards.
Depending on the chapter, Superman can vary between being the most powerful member or the Worf of the team.
In the final episode, he beats up Darksied with a level of power that he has never shown before.

Strong Family Resemblance: He looks (and, at the proper age, sounds) almost exactly like his Kryptonian father Jor-El.
Superhero: As always, he is the Trope Codifier and Trope Namer.
Superheroes Wear Capes: Just like most versions, he is the Trope Codifier.
Superpower Lottery: He is Earth's most devastating Flying Brick and has a generous helping of additional powers. In general, his only serious challenges are beings of the Dimension Lord or galactic conqueror level.
Taking the Bullet: This is discussed in "Secret Society". Superman admits that he refuses to let the other Justice League members take any hits in a battle because of his superior invulnerability. In "Hereafter", Toyman takes aim at Batman and Wonder Woman. Superman throws himself in front of them and takes the blast, disappearing without a trace leading to his supposed death. Unknown to any of them, Superman had not been destroyed and was sent into the future.
Thou Shalt Not Kill: He is a very, very strong believer in this code, and most of the time he makes it work. "A Better World" revealed what he'd be like without it - essentially, Big Brother. There are a few cases where he felt obliged to use lethal force, but as he admits in "Divided We Fall" that he cannot bring himself to abandon his code - even though it's tempting. However, there are still exceptions: He will kill Darkseid and Brainiac if he gets the chance, and he comes extremely close to doing so to Mongul and Lex Luthor. He doesn't save the Joker, though he survives anyway. And he doesn't really try to spare his enemies under wartime conditions (when fighting the Imperium, Nazis or Thanagarians).
Time-Shifted Actor:
Tranquil Fury: In "Twilight", Superman's fight with Darkseid.
Turn the Other Cheek: In "War World"...

Draaga: Pathetic. The whole lot of you. Not a real warrior in the bunch. And you, the Kryptonian, you're the biggest disappointment of all. (spits on Superman and walks away; as soon as he is out of earshot, Superman breaks out of his chains)
Alien: Why didn't you do that when Draaga was here?
Superman: It's called "turning the other cheek."

Unrelated in the Adaptation: Because of Executive Meddling (DC's then-current policy of taking Superman's nickname of "Last Son of Krypton" literal), Supergirl reimagined as an adopted cousins rather than a biological one.
Unstoppable Rage: In "For the Man Who Has Everything", nearly blind with rage after waking from his dreamworld, Superman batters Mongul, even using his heat vision to burn Mongul's chest. However, before he can strike the decisive blow, Superman is distracted by a statue-his parents holding Krypton aloft and is saved by Wonder Woman.
Unwitting Pawn: In "Clash", the purpose of the Kryptonite power source was to arouse Superman's suspicion and cause an incident that would tarnish the League's reputation. Superman and Captain Marvel's clash not only caused the destruction of Lexor City, but embarrassed Superman and boosting Luthor's "benevolent" public image as well.
Voice Changeling: Superman is able to mimic voices thanks to precise muscle control and a really good ear, which severely creeps out Robin when he demonstrates it in "Knight Time".
Weirdness Magnet: Wherever he goes, the weird stuff that probably wouldn't bother Earth comes in search of him.
What the Hell, Hero?:

In "Twilight", to the shock of his teammates, Superman is willing to let Apokolips be destroyed due to his grudge against Darkseid, but Darkseid notes that Brainiac will not stop with Apokolips. Batman has to lecture Superman to help him stop Braniac.
In "The Doomsday Sanction", Batman calls him out for casting Doomsday into the Phantom Zone.
In "Clash", Captain Marvel is disgusted by Superman's actions and calls a meeting with the League founders.

Captain Marvel: My whole life, I've looked up to the League. You were my heroes. Every one of you. And you [Superman]... you were more than a hero. I idolized you. I wanted to be you. Whenever I was out there facing down the bad guys, I'd think, "What would Superman do?" Now I know. I believe in fair play. I believe in taking people at their word and giving them the benefit of the doubt. Back home, I've come up against my share of pretty nasty bad guys, but I never had to act the way they did to win a fight. I always found another way. I... I guess I'm saying I-I like being a hero, a symbol, and that's why I'm... quitting the Justice League. You don't act like heroes anymore.

Willfully Weak: Superman has a tendency of holding back his powers during most of his battles in order to prevent people from getting killed, which also allows villains to get the best of him in some occasions. There is also the fact that the first season of Justice League subjected him badly to The Worf Effect.
Wolverine Publicity: Averted in Justice League and JLU.
The Worf Effect: Throughout the first season of Justice League, Superman was portrayed as being unnaturally weak and vulnerable to the point where he was was often the first to be defeated in battle. The writers apologized for it and did their best to make up for it in the second and Unlimited seasons.
Would Hit a Girl: Although, he's willing to put up with a lot more from them before he resorts to it.

In "Livewire":

Livewire: At least we know you hit girls.

In "Secret Society", he hesitates against Giganta who brings this up, so Wonder Woman ends up hitting her instead.

Wounded Hero, Weaker Helper: This is often the case whenever Kryptonite is around and Superman needs assistance from an ally.
Your Heart's Desire: In "For the Man Who Has Everything", Superman is subdued by a telepathic plant from a distant galaxy that renders its victims helpless and delusional in a dream world created from their heart's desires. Superman's fantasy is a Krypton that never exploded. He lives on a small farm, is married to a Kryptonian woman named Loana, and has a son named Van-El.
---