Johnny Van Owen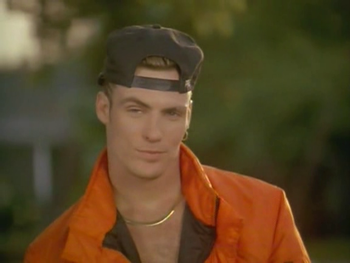 A biker and rapper, who drifts from town to town with fellow biker friends. Johnny's a rebellious type who prefers not to be tied down anywhere, but regardless, while stuck in a small, milquetoast town, he falls hard for do-gooder Kathy.
Sir D, Jazz & Princess
Played by: Deezer D (Jazz), Kevin Hicks (Sir D), Allison Dean (Princess)
Johnny's posse, who travel with him.
Kathy Winslow
Played by: Kristen Minter
A straight-A student and equestrian who had rather conservative upbringing, in contrast to Johnny, whom she becomes attracted to. The resulting relationship brings out her hidden desires to "do something crazy."
Gordon Winslow
Played by: Michael Gross
Kathy's father, (apparently) an insurance salesman. Formerly a cop, but was put in the Witness Relocation Program after exposing chicanery between two fellow police officers. However, he's discovered early in the movie when he appears on television with Kathy. Believes Johnny to be associated with the bad guys.
Tommy Winslow
Played by: Victor DiMattia
Kathy's little brother, whom she has a playfully antagonistic relationship with. He's immediately fascinated by Johnny.
Nick
Played by: John Newton
Kathy's boyfriend. Is immediately disgusted by Johnny's rebellious attitude, but is so standoffish and antagonistic about it that Kathy starts preferring Johnny.
Roscoe & Mae
Played by: Sydney Lassick (Roscoe), Dody Goodman (Mae)
A very kooky old couple whose home is one of the most bizarre pieces of architecture since Pee-wee's Playhouse. When Jazz' bike breaks down, it's Roscoe who lets them stay while he and Mae work on it.
Clark & Morrisey
Played by: Jack McGee (Clarke), S.A. Griffin (Morrisey)
The aforementioned bad cops, who discover Gordon's location and become a threat to him and his family.
---