open/close all folders
Main Characters
Chucky/Charles Lee Ray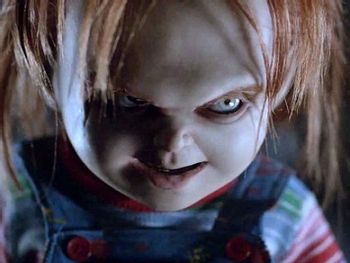 "Think about it, what's so great about being human anyway? You get sick, you get old, you can't get it up anymore. I'm not looking forward to that! As a doll, I'm fucking infamous! I'm one of the most notorious slashers in history! And I don't wanna give that up. I am Chucky, the killer doll! And I dig it!"
The main antagonist of the franchise, as well as the most recurring character. Originally a human serial killer known as "The Lakeshore Strangler" who practiced Voodoo, he was chased down by the cops one night that resulted in him being shot by Detective Mike Norris in a toy store. Wanting to escape death, Chucky proceeded to use a Voodoo spell to transfer his soul into a Good Guy Doll. Ever since, Chucky has continued to rack up a body count in his quest to find a human host suitable for him to transfer himself back into while also getting revenge on those he feels has wronged him.
---
Chucky/Buddi
Portrayed by
:
Mark Hamill
"If I can't be your best buddy... then nobody can."
A Chucky from a brand-new continuity. In contrast to the Mancini series, this doll is an AI companion, designed to make life easier for its owner by the Kaslan Corporation; the doll is meant to connect to all of the company's devices. Unfortunately, a vengeful sweatshop worker tampers with Chucky's protocols, rendering him an insane and vengeful murderer with no boundaries and a jealously possessive attitude regarding his "best friend".
---
Andy Barclay
Portrayed by
: Alex Vincent (
1
,
2
,
Curse
,
Cult
), Justin Whalin (
3
)
"This is the end, friend."
The secondary protagonist of the first film, main protagonist of the next two, and returning protagonist of the seventh film, Andy is the second most recurring character in the series. On his 6th birthday, he receives a Good Guy Doll from his mother as a present. Unfortunately, it turns out it's possessed by a serial killer named Chucky who wishes to use Andy as a human host. Throughout the first three films, Andy is relentlessly pursued by Chucky in an attempt to either kill or transfer his soul into him while Andy constantly fights back to stop him.
---
Karen Barclay
Portrayed by
: Catherine Hicks
"Goddamn it! My son's life is at stake!"
Andy's widowed mother.
---
Tiffany Ray (nee Valentine)
"Barbie, eat your heart out."
Chucky's girlfriend from when he was human, Tiffany is the secondary antagonist of the next four films. Madly devoted to Chucky, she spent the next 10 years after the events of the first film searching for her lover in hope of reuniting with him. When she finally finds him, things eventually turn sour and Chucky ends up transferring her soul into a doll like him as revenge. Her and Chucky attempt to find human host for themselves while exploring their complicated relationship.
---
Other Notable Characters
Mike Norris
---
Kyle Simpson
An orphan being fostered by Phil and Joanne Simpson. She becomes close to Andy after he comes to stay with the Simpsons.
---
Dull Surprise: More or less. Once Chucky reveals himself to her, the scene cuts to him forcing her to drive at the foster care center.
Expy: Some note her similarities to Karen.
Phil Simpson
A foster parent and husband of Joanne.
---
Abusive Foster Dad: Downplayed. He is the emotional type due to his Obstructive Bureaucrat nature and is really, really attitude-wise and judgmentally harsh on Andy. However, it's downplayed moreso (or even averted) in the television cut, where it reveals Phil has a Hidden Heart of Gold and makes it clear that Phil's harshness on Andy is a result of lack of confidence to take care of a child who is a Hero with Bad Publicity rather then just out of narrow-minded dislike of Andy for being a Hero with Bad Publicity that the theatrical cut interprets instead.
Actor Allusion: Gerrit Graham's character Phil drives a red Ford Taurus station wagon, ironically a decade ago, Graham's previous character Jeff was superstitious about red cars being bad luck in Robert Zemeckis' Used Cars.

Considering Phil would later get killed, maybe Jeff was right about red cars being bad luck if associated with one.

Also, Graham's past character Jeff mentions Valium which Phil jokingly responds to Joanne's question to calm Andy down.
Adaptational Nice Guy: Is portrayed more of a Jerk with a Heart of Gold in the television cut then in the theatrical cut.
Kristin De Silva
---
Official Couple: With Andy in Child's Play 3.

That Andy keeps a photo of her in his house possibly indicates that they ended up together for some period of time.

Only Sane Woman: She shares this with Andy in the third film.
Theme Naming: With Karen and Kyle as the female leads with "K" names who're close to Andy in the first three movies.
Ronald Tyler
---
Brett C. Shelton
---
Badass Normal: For all his unsavory traits, he's one of the few characters to be totally unfazed, let alone amused, when

Chucky springs to life

, and was generally shown to be one of the tougher cadets.
The Bully: Particularly towards Whitehurst and Andy.
Death by Irony:

Sternly states that a soldier's rifle is his best friend. When Chucky replaces the marker rounds with real bullets during the war games, he's the only one to get killed by it.
Dying Smirk: Smirks smugly at the realization that Chucky is alive just before getting killed. In addition, his corpse is seen with what it looks to be a faint dead smile on his face.
Enemy Mine: When they realize Andy isn't lying, he and the other cadets team up with Andy to rescue DeSilva.

Not that it saves him.

Expy: Of the Trope Namer of The Neidermeyer, Douglas C. Neidermeyer himself, from Animal House (which was distributed by Universal, the distributor of the third film). Both of them shared that they're Drill Sergeant Nasty Smug Snakes and

even suffered the same fate of being shot by their own troops (well, students for Shelton)

.
Locked Out of the Loop: Like everyone else except Andy, De Silva, Tyler and Whitehurst, he is completely oblivious to the existence and danger of Chucky.
The Neidermeyer: He is a military school cadet officer and a Jerk Jock. He even share similar characteristics

and fate

with the Trope Namer himself. In addition, it's worth noting that Shelton was a very poor leader by any military standard. He stole from a cadet under his authority, forced cadets under his authority to do menial tasks it was actually his own responsibility to perform and actually struck a cadet under his authority. Shelton is precisely the sort of capricious, bullying incompetent who "slips down ladders" when there are no witnesses.
Sacrificial Lion: He maybe The Bully and The Neidermeyer, but he was one of the tougher military cadets who does not fear Chucky and would have easily beat him in a Curb-Stomp Battle in his favor if

Chucky did not replaced the marker rounds with bullets that would eventually kill him.
Harold Aubrey Whitehurst
---
Colonel Cochrane
---
Jesse
---
Jade
A teenaged orphan who decides to elope with her boyfriend Jesse.
---
Glen Ray
---
Glenda Ray
---
Nica Pierce
The youngest daughter of Sarah, sister of Barb, sister-in-law of Ian, and aunt of Alice.
---
Alice Pierce
Nica's niece, the daughter of Barb and Ian, and granddaughter of Sara.
---
Cheerful Child: She's generally shown to be a happy little girl.
Death of a Child: Played horrifyingly straight, as revealed in Cult. Chucky managed to Body Surf into her at the end of Curse and killed a few people in her body before someone managed to fight back and kill him, and effectively her.
Too Dumb to Live: Her bafflingly misplaced trust in Chucky gets her killed shortly before the events of Cult of Chucky.
Barb Pierce
---
Jill
---