---
open/close all folders
General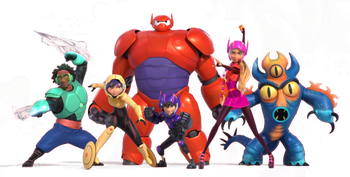 The six main heroes of the franchise.
---
Hiro Hamada
Hiro Hamada
A teen genius who initially spent his free time participating in illegal robot fights, he organizes a team of heroes to catch the villain Yokai.
---
Baymax
Baymax
A gentle, naïve robot created by Tadashi to be a healthcare companion. Hiro enlists him to help catch Yokai.
---
GoGo Tomago
Ethel "GoGo" Tomago
A tomboyish mechanical engineer, her mag-lev skates allow her to move with great speed and flexibility and she has discs that can also be used as a shield or a thrown weapon.
---
Wasabi
"Wasabi"
A big, neurotic plasma engineer and sushi chef, Wasabi wields plasma blades that can slice through anything.
---
Honey Lemon
"Honey Lemon"
A perky and brilliant chemist, Honey uses all kinds of chemical concoctions in battle. Her main weapon is a purse that can infuse throwing balls with whatever properties she needs.
---
Fred
Frederick "Fred" Flammarion Frederickson IV
"The name's Fred; school mascot by day, but by night... I'm also the school mascot."
School mascot by day, school mascot by night, Fred wears a special suit that grants him various powers.
---
---