open/close all folders
Scotland Yard
Liz Garvey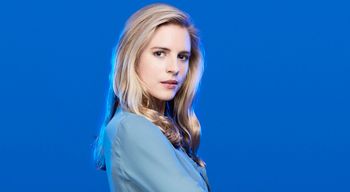 The newly-appointed Head of Communications. An American who was previously employed at Instagram, Liz garnered attention for her TED Talk on transparency. She believes that a modern police force has to be more forthcoming with information and more willing to admit when it makes mistakes. The challenge is convincing her co-workers, especially since she isn't being entirely truthful herself.
Naïve Newcomer: In the pilot, with hints of it in Episode One.
Oral Fixation: Not to Finn's extent, but she has a habit of biting her lower lip and raising her fingers to her mouth.
Socially Awkward Hero: For someone in Communications, Liz is surprisingly susceptible to foot-in-mouth moments.
Statuesque Stunner: She's 5'8 and played by the gorgeous Brit Marling.
Trauma Conga Line: Liz has a near-breakdown in almost every episode. The time lapse between them is short.
Richard Miller
Played By: James Nesbitt
"I've got a map in my head of all the trouble in the world."
The current Head Commissioner of the Metropolitan Police Service. Richard does his best to keep the police efficient and honest, but he faces constant pressure from City Hall, plus worries over his own tumultuous private life. He's hoping that Liz's ideas will help.
Cool Old Guy: He's open to Liz's ideas about transparency, and seems to have less trouble with tech-related things than Charles. In his good moods, he's charming and cracks jokes around his staff.
Driven to Suicide: At the end of Episode Three, after a journalist discovers

his affairs

and decides to run the story the next day, on top of a bomb going off on his watch.
Kick the Dog: He rarely has an interaction with Tom which doesn't involve Richard yelling or giving him a withering glare.

In Episode One, Liz counters Finn's reasonable criticism by unleashing a series of insults about Finn's competence, ending by asking Richard to back her up. Richard nods.
In Episode Three, Richard agrees to Liz's plan to give Caroline Carey the story about Charles accidentally shoplifting

in place of the one about Richard's own affairs.

He decides not to, in the end.
Supporting Leader: In Episode Three, he tells Liz that this is his role in her implementation of transparency.
Charles Inglis
"We know who we are. We know what they are. So fuck them."
The Deputy Commissioner, Richard's second-in-command and old friend. Charles is ambitious, but he knows that Richard probably isn't going to give up the job anytime soon, and he doesn't plan on fighting him for it. He's later the Acting-Commissioner, and eventually the new Head Commissioner.
A Father to His Men: Demonstrated in Episode Six, during his speech to Armed Response. He's both stern about their sense of duty and compassionate towards their frustration. Out of all the people sent to speak to them, he's the one who inspires their return to work.
The Fettered: Most obvious in the last two episodes, where he repeatedly shows restraint in his bid for

Head Commissioner

. Unlike Finn and

Sharon

, he has clear lines he won't cross, like using Karl Jeffries for publicity or taking advantage of the chaos in Episode Six to help his campaign.
Good Is Not Nice: He describes himself as 'basically unlikable'.
Finn Kirkwood
Played By: Bertie Carvel
"There's no grey in a newspaper headline."
The longtime Deputy of Communications, functionally Liz's second-in-command, really a constant thorn in her side. Finn has it out for Liz from day one, since he was next in line for Head of Communications when Richard chose to hire her instead.
Sharon Franklin
Played By: Nicola Walker
"We need to be able to play rough."
The Assistant Commissioner, the third-highest ranking position in the Met. Unlike Richard and Charles, Sharon is content to stay out of the limelight, though her underlying tension with Charles may change that.
Badass Bookworm: Based on her philosophy references and journal pieces.
Bad Boss: In Episode Six,

she plans to use traffic wardens to arrest the police who are on a legal sort of strike.
Defrosting Ice Queen: Towards Liz, who makes a special effort to increase Sharon's visibility in order to combat Charles. They quickly bond during the aftermath of

Richard's death

.
Drunk with Power: She's hardworking, reasonable, and modest,

until she starts getting a taste of the power she'd have as Commissioner.

As Liz puts it:

Liz

: Some people, when they get up high and the air's too thin,

they start throwing stuff out of the balloon.
Tom Oliver
Played By: Jonny Sweet
"I'm fearful as a default."
The Commissioner's Aide. Meek, kind, and perpetually terrified.
Mia Conroy
Played By: Ella Smith
One of Liz's high-ranking subordinates. Her exact role is unknown, though she seems to be next in rank after Finn.
All There in the Manual: She's become jaded in the process of reaching a top position in the Met's PR department. She's torn between Liz's idealistic vision and Finn's cynical realism.
The Conscience: Liz's, in Episode Six.
Only Sane Woman: Within the PR department. She's frequently left to hold the line as Liz and Finn make their power plays.
Pet the Dog: Many of her interactions with Liz, when they're not Cringe Comedy. Mia tries to protect Liz from the beginning.
Ground Forces
Warwick Collister
A Specialist Firearms Officer. Warwick recently shot a toy gun-wielding man who was attempting a robbery. As a result, he's experiencing PTSD, and he's finding it difficult to pull the trigger.
Neil 'Banjo' Bancroft
Played By: Andrew Brooke
A Specialist Firearms Officer. He's married to Davina.
Tony Forbes
Played By: Stuart Martin
"In the orchestra of life SC 019 are the piccolo players - always getting fucked by the top brass."
A Specialist Firearms Officer.
Robbie Vas
Played By: Adam Deacon
"I will verbally dominate you!"
A member of the Territorial Support Group who undergoes weapons training in Episode Two, and joins Specialist Firearms Command in Episode Three.
Davina Bancroft
Played By: Jill Halfpenny
A member of the Territorial Support Group. She's married to Banjo, but it's revealed in Episode One that she's cheating on him with Clarkey.
Damien 'Clarkey' Clarkson
Played By: Cavan Clerkin
A member of the Territorial Support Group.
Nobbo
Played By: Owain Arthur
A member of the Territorial Support Group. While his team members are busy getting embroiled in personal and professional drama, Nobbo serves as the comic relief.
Others
Matt Coward
A director who's shadowing various police officers for an officially-sanctioned documentary. Matt doesn't care for the police, and he dislikes that his company is sucking up to them.
Anti-Climax Boss:

Throughout the series, it's set up that his renegade documentary will pose a threat to the Met's image. Then, in Episode Six, Specialist Firearms Command raids his home, arrests him, and confiscates all of his footage. Officially, he's charged with marijuana possession.

Bystander Syndrome: Robbie accuses him of this.
Flat Character: Unlike the ground forces and the police higher-ups, he isn't presented sympathetically at all. His sole purpose in the plot is to

film Robbie's confession without his knowledge

.
Grant Delgado
Played By: Ralph Brown
The Deputy-Mayor, presumably for Policing and Crime. Grant isn't exactly Richard's boss, but he's a powerful figure with influence over the Met's direction and budget. And he and Richard happen to hate each other.
Affably Evil: He's friendly towards Liz after she helps him out of a tricky PR situation, offering her a warning about Richard and eventually a job.
The Dragon: To the unnamed, unseen Mayor, who seems to clash with the Met even more than Grant does.
Nice Job Fixing It, Villain: In Episode Six, he offhandedly mentions Sharon's

plan to arrest police officers

to Liz, which is the final push Liz needs to

switch sides

. He probably isn't hoping for the destruction of the Met or anything, but he did say that the Mayor preferred Sharon.
Jerry
Played By: Jim Howick
Miles
Played By: Martin Trenaman
The Alleged Boss: If their slap fight is anything to go by, Matt doesn't respect him very much.