Heroes and allies in the Azure Striker Gunvolt Series. For the Luminous Avenger iX counterparts of Copen, Lola, Mytyl, and Asimov, see the respective character page.
Beware of unmarked spoilers!
---
open/close all folders
Main Characters
Gunvolt
Gunvolt, the Azure Striker
Voiced by: Kaito Ishikawa (Japanese), Josh Keller (English, OVA)
Septima: Azure Striker/Azure Thunderclap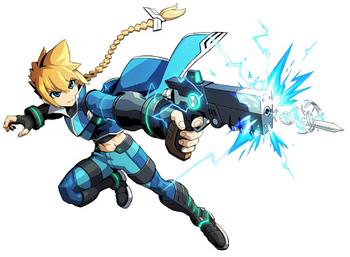 "Give me power, Azure Striker, so I can strike down my enemies!"
A 14-year old hero of the Azure Striker Gunvolt series, and the title character. He is most commonly known by the codename "Gunvolt", although his real name has been lost in history. He harnesses the power of one of the strongest Septima in the world, known as Azure Striker, a power that allows him to manipulate lightning and electricity. Initially allied with a resistance group named QUILL, he breaks from the team when he decides to protect a young Adept named Joule, and proceeds to fly solo while living with Joule, taking on a dangerous team of Adepts controlled by Sumeragi known as the "Sumeragi Swordsmen".

In the sequel, he is now living with a girl named Quinn. Events of the first game had caused him to fuse with the spirit of Joule and gain the power of Joule's Septima, The Muse. During a mission where a Sumeragi airship is hijacked by mysterious forces, he is intercepted by a group of rogue Adepts allied with Eden, consequently losing most of Joule's power due to their interference. With QUILL ally Xiao Wu and his friends at his side, he embarks on a new quest to retrieve the missing Shards and restore Joule.

He fights with a gun that fires Dart Bullets, which helps him lock onto enemies and then use his signature Flashfield ability to zap the locked foe from a distance. His Flashfield will also help him hover, shield him from physical projectiles, and solve puzzles in the stages. His other abilities include Prevasion, which lets him evade attacks as long as he has enough energy, and Special Skills, techniques that requires SP to perform and either deals heavy damage to enemies or supports him.
---
Yellow Lightning, Blue Lightning: If "Azure Striker" isn't clear enough for you, his lightning is also colored blue. However, his lightning changes color depending on the bullet he's using.
You Gotta Have Blue Hair: As mentioned above, his design in the second game sports blue hair at the tips.
You Must Be Cold: In one of the chats in the second game, Gunvolt and Quinn were looking to the night sky outside. When she sneezes, he offers her his coat.
Copen/Acura
Copen/Acura, "The Avenger"/ The Adept Slayer
Voiced by: Kosuke Masuo (Gunvolt/Gunvolt 2), Peter Von Gomm (English, OVA)
'"I've come here to deliver your sentence... Azure Striker!"
The 14-year old rival to Gunvolt, a regular human and precocious young scientist who follows in the footsteps of his late father, Dr. Kamizono. After the death of his father at the hands of an Adept, Copen deems Adepts a threat to humankind and sets out on a journey to eradicate all Adepts with extreme prejudice, whether dangerous or otherwise. To do so, he harnesses the power of a hand-crafted shield named Aixgear, with has the power to copy the abilities of Adepts via Glaive shards. In his initial journey, he crosses paths with Gunvolt numerous times, whom he forces into fights to destroy him.

In the sequel, Copen engages his mission anew. Armed with Voder II gun, the White Tiger Jacket that enables flight, and his Autonomous Combat Pod "Lola", he intercepts a hijacked Sumeragi airship carrying his kidnapped twin sister, Mytyl. While recovering Mytyl, he has a chance encounter with Gunvolt and the forces of Eden, who split the power of The Muse into Shards, one of which he steals for himself. After discovering that the Shard he has gained has improved his ill sister's condition, he sets out on a mission to capture the Shards held by Eden in hopes that he may cure Mytyl.

He serves as Gunvolt's rival character; in the first game he's encountered as a boss twice, before becoming playable in the second game. Copen's playstyle is similar, but different in some aspects, from Gunvolt: His gun shoots high-powered lasers that can home in to a marked enemy. You do marking by air-dashing towards the foe and then rebound back; aside from that, his rocket boots helps him hover and dash to different directions in the air. His combat bot, Lola, also provides him Flashfield-like protection as well as Prevasion, and lets him assimilate the power of fallen Adepts for his use.
---
Team Gunvolt
Joule/Cyan
Joule/Cyan
Voiced by: Megu Sakuragawa (Japanese), Diana Garnet (English, OVA)
Septima: The Muse
"My songs will give you wings to fly."
The 13-year old heroine of Azure Striker Gunvolt, an artificial human created in a lab operated by the Sumeragi Group. She was imbued with the Septima "The Muse" ("Cyber Diva" in Japan), a power that enables her to give other Adepts enhanced strength with song, even going so far as being able to bring back the deceased. After being rescued by GV from the Sumeragi Group, she begins to live with Gunvolt, and grows fond of him as he journeys with QUILL to stop the dangerous Sumeragi Swordsmen.

In 2, Joule now co-exists with Gunvolt as a spirit. She continues to protect him with her Septima, The Muse, which grants him great strength through song. Previously in the form of Lumen, her alter ego, a chance encounter with the agents of Eden causes her power to be split into fragments known as Shards, severely limiting her strength and forcing her to assume a younger-looking form. Regardless, she travels with Gunvolt to protect him in his mission to retrieve the eight Shards and restore Joule's power.
---
Lumen/Morpho
Lumen/Morpho
Voiced by: Megu Sakuragawa (Japanese), Diana Garnet (English, OVA)
Septima: The Muse
"Could you rescue this girl... my other me... from this place?"
An elegant-looking young woman who is promoted by Sumeragi as a pop idol, garnering fans all across the country with her moving, powerful songs. In reality, she is the humanoid spiritual manifestation of Joule's Septima, The Muse, the enhancing properties of which Sumeragi harnesses in order to track down and capture Adepts. As a result of Joule's body being unable to fully control her Septima, Lumen takes form to extend her power to Gunvolt on his quest to defeat the Sumeragi Swordsmen.
---
Quinn/Ouka
Quinn/Ouka
Voiced by: Reina Kondo
"I'll fix you a snack when you come back, okay?"
A somewhat ditzy 16-year old girl that Gunvolt begins to live with prior to the events of 2. Quinn is a normal human, possessing no Septima of her own, although this does not prevent her from being able to see Joule. The daughter of a wealthy financial conglomerate, she is rich in money, but poor in common knowledge, having grown up sheltered the majority of her life. In spite of this, her heart flies straight and true, as pure as the eye can see. When she is confronted by a particularly murderous Adept, Gunvolt steps in to save her life. Out of gratitude for him, she helps Gunvolt mend the wounds in his heart and takes him in. When Gunvolt embarks on his new mission to stop the Seven, Quinn provides her utmost emotional support to help him tough through his ordeal.
---
Xiao Wu
Xiao Wu
Septima: Unknown
"GV, do you copy? How are things on your end?"
Gunvolt's personal support operator in 2. A former 12-year old QUILL operative in his own homeland, he was driven out when the forces of Eden attacked, spurring him to travel overseas to partner with Gunvolt. While normally level-headed and serious, his deep-rooted hatred for Eden can sometimes bring his emotions forward.
Unlike Gunvolt and Quinn, he can't see Joule despite being an adept.
---
Team Copen
Lola/RoRo
Lola/RoRo
Voiced by: Yurika Endo (Gunvolt 2)
"I think it's time for me to see some action!"
An ACP (Autonomous Combat Pod) imbued with a human-like artificial intelligence, developed by Copen as a support partner in battle. As an ACP, she controls Copen's EX Weapons, utilizing Shards obtained from Eden's Seven as the basis of her power. During a rescue mission with Copen, she obtains a Shard of Joule's power, and through its power subsequently gains both a humanoid appearance and the ability to harness a Septima, that of The Muse.

Lola is an excitable spirit, possessing both the appearance and the mentality of a middle-school girl. She has a tendency to show off her sarcastic side to Copen in the heat of battle, something that Copen doesn't typically appreciate. Regardless, Lola views herself as Copen's guardian and vows to protect him.
---
Mytyl/Michiru
Mytyl/Michiru
"HI, COPEN. I'M ALL RIGHT. :)"
Copen's twin sister, who, much like him, is a Muggle. Her unusual birth conditions have caused extreme fraility and loss of voice, causing her to stay in a medical care facility for much of her time. Her growth also appears stunted as a result, which causes many people to believe that Copen and Mytyl were born many years apart.
---
Aerith and Bob: Even amongst a cast filled with weird names, "Mytyl" sticks out.
Nori/Nowa
Nori/Nowa
"Sorry to keep you waiting, Copen."
Copen's personal support operator, as well as his maid. From typical work to backup, she can handle it all. Due to Copen and Mytyl's lack of parents, she sometimes also takes the role of Parental Substitute, usually not in the nicest way. She has no objections to Copen's usage of former family assets to exact revenge on Adepts.
---
QUILL
Organization as a Whole
QUILL is an armed resistance force founded by members of a foreign human rights organization to combat the increasingly radical measures being taken by the Sumeragi Group. Through guerrilla warfare and rescue operations involving Adepts imprisoned within Sumeragi facilities, QUILL intends to eventually free all Adepts from the clutch of Sumeragi.
---
Asimov
Asimov
Voiced by: Masashi Yukita (Japanese), Maxwell Powers (English, OVA)
Septima: Azure Striker
"Your mission is to assassinate the virtual pop star Lumen. Good Luck."
Asimov is a team leader at QUILL and also one of the founding members. He is a skilled marksman who is deadly with a sniper rifle. Although he displays no emotion in the line of duty, his passion for the group's cause is well known among the QUILL members who look up to him. Gunvolt owes his life to Asimov, who rescued the boy from a Sumeragi facility where he was put through horrifying experiments. To GV, Asimov is a savior, teacher, and father. He is 24 Years old.
---
Zeno/Gino
Zeno/Gino
Septima: Unknown
Voiced by: Haruki Ishiya (Japanese), Stephen Wiley (English, OVA)
"Hey, if I had powers like yours, I'd be pretty unstoppable, too."
Zeno/Gino is the life of the party at QUILL. He loves manga, anime, and video games. Gino tends to make frivolous jokes at the expense of others, but he does care for his colleagues, even GV after he left QUILL. He is 16 years old.
---
Moniqa/Monica
Moniqa/Monica
Voiced by: Moemi Otaka (Japanese), Hannah Grace (English, OVA)
"Don't over do it, GV."
Moniqa/Monica is an operations officer at QUILL and one of few members who doesn't have septimal powers. She is like an older sister to GV and Zeno. Despite generally being a serious and highly capable officer, Monica has a clumsy side that reveals itself occasionally. She deeply admires Asimov. She is 22 years old.
---
---