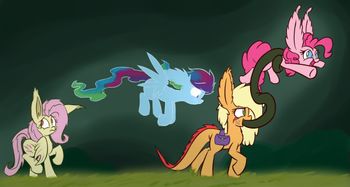 Miss Pie's Monsters
is a Tumblr webcomic and Ask Blog by Heir of Rick
, based on My Little Pony: Friendship Is Magic.
The comic takes place in an alternate Equestria where there are two different subgroups of ponies: Equestrian ponies (the 'normal' ponies seen in the show) and Everfree ponies, a diverse group of ponies that have traits of fantasy creatures and monsters.
In this universe, Pinkie Pie is a psychic Equestrian pony who is on a mission to make friends with Everfree ponies, and attempt to reconcile the two groups. The rest of the Mane Six appear as Everfree pony counterparts of their canon selves, each with the traits of a different creature from the show:
Applejack's counterpart is Tatzlpony, a pony with Tatzlwurm traits, most notably a very long tongue.
Fluttershy's counterpart is Flutterbat, a vampire bat pony.
Rainbow Dash's counterpart is Aurora Dash, a windigo.
Rarity's counterpart is Clarity, a crystal golem pony.
Twilight Sparkle's counterpart is Twilight Breezie, a breezie.
The comic is deliberately lighthearted in tone with a cartoonish atmosphere, and doesn't take itself too seriously. Pinkie Pie can receive questions from the Tumblr audience through her Crystal Ball, and the Monsters are also usually happy to answer if they're near it.
There are also some non-canon fanworks based on the comic:
Twilight Breezie and the Big Dumb Smelly: A short story featuring Twilight and Aurora Dash, about a secret that Twilight is trying to keep from everypony.
Miss Pie's Prankster: A short story by FillyD featuring Pinkie Pie and Aurora Dash, in which Pinkie discovers the surprising answer to why Aurora is always pranking everypony.
---
Tropes
---